After this post went viral…ok, popular is probably a more accurate term
and a friend emailed me that I was 'genius', I must confess.
Truth is, I'm not genius at all. I'm really just forgetful so I have to date everything.
I blame it on 'pregnancy brain',….
Does it matter that I was last pregnant 7 years ago?
Well, I just think you never get some of those brain cells back.
Here's another tip: Date your running shoes.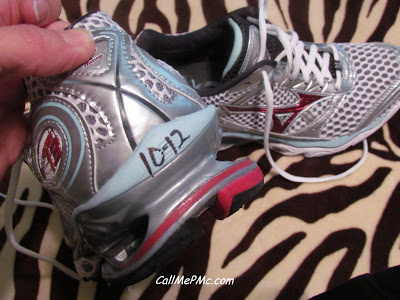 Worn out running shoes may be the culprit if all of a sudden you're more tired than normal after a run or if your legs, feet, or back begin to ache. It is recommended that your replace running shoes every 500 miles. However, this is a general recommendation; other variables to consider are terrain, body weight, shoe composition, running style, and if you run in rain or wet areas. (Getting your running shoes wet will greatly reduce the mileage. Never wash your running shoes.)
Here are some tips to get the most out of your running shoes:
Write the month and year on the back or side of my shoes with a permanent marker.
Track your mileage – mapmyrun.com or myfitnesspal.com has programs and apps to track
Check the bottom of your shoes for wear
Alternate  2 pairs of shoes in your workout program. Start a new pair of shoes half way through the life expectancy of an old pair
Wear the older shoes on short runs; new shoes on long runs
Only wear your running (or workout shoes) to run (or workout) in. Don't wear the shopping, mowing, etc.
Try on a new pair of shoes that are the same brand and make of your old ones to compare cushioning, support
Place new shoes beside old shoe to check mid-sole height. When mid-soles wear out you lose shock absorbency and stability and greatly increase the risk of injury
Try to twist your shoe. A worn out shoe will twist more easily than a new shoe
These same tips apply if you're a walker. Don't walk on worn out shoes.
Laugh, Love, Exercise!
Linking up
here
!