Lime & Coconut Icebox Cake with Fresh Whipped Cream recipe combines the ever popular Icebox Pie with a layer cake. This dessert is cool and refreshing. Spiked with tropical flavors of citrus and coconut this makes a tasty hot weather dessert.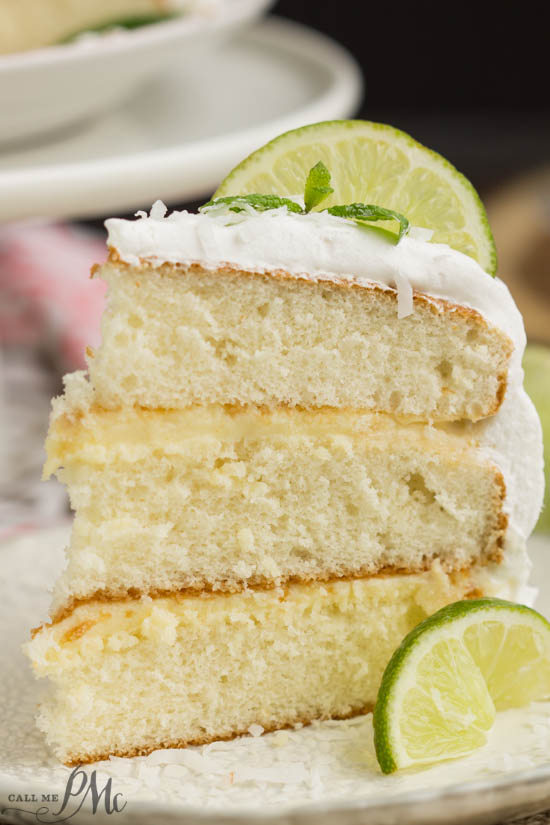 I made this white cake from scratch. If you prefer, you can just as easily use a white cake mix. It will still be delicious.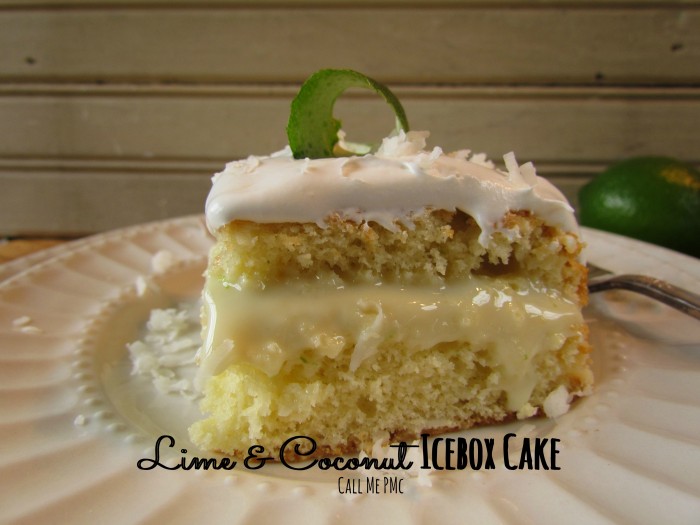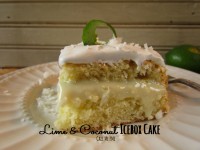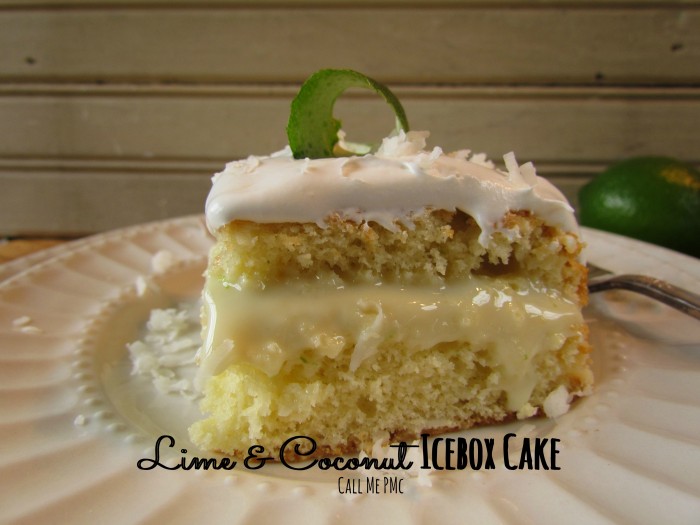 Lime & Coconut Icebox Cake
Ingredients
1/2

cup

butter

1/2

cup

shortening

2

cup

sugar

2/3

cup

coconut water

unsweetened

2/3

cup

milk

3

cup

all-purpose flour

1

Tablespoon

baking powder

1/2

teaspoon

salt

1

teaspoon

lime zest

juice of one lime

about 1 T

6

large egg whitesLime Filling:

3/4

cup

milk

1/4

cup

cornstarch

14

oz

can sweetened condensed milk

3

large eggs

1/2

cup

fresh lime juice

3

Tablespoon

butter

1

Tablespoon

lime zestHomemade Whipped Cream

1

pint

heavy cream

2

Tablespoon

confectioners sugar

1

teaspoon

vanilla

1/3

cup

flaked coconut
Instructions
For cake:
Beat butter and shortening at medium speed until fluffy; add sugar and cream until fluffy.

Combine coconut water and milk. Stir together flour, baking powder and salt. Add butter mixture alternately with milk mixture. Begin and end with flour mixture. Add lime zest and juice.

Beat egg whites at medium speed with an electric mixer until stiff peaks form; fold in to batter.

Pour batter into a 9x13 pan.

Bake at 350 degrees 25 to 30 minutes or until wooden skewer inserted in center comes out clean.

Cool in pan 10 minutes.

Remove cake from pan onto a wire rack. Cool completely.
Lime Filling:
Whisk 3/4 c milk and 1/4 c cornstarch in a 3 quart heavy saucepan, whisking until cornstarch dissolves. Add sweetened condensed milk and eggs until blended. Whisk in lime juice.

Boil 1 minute, whisking constantly or until mixture thickens. Remove from heat. Whisk in butter and lime zest. Pour filling into a bowl and place bowl in a larger bowl filled with ice. Stir until cold about 10 minutes.

Cut cake horizontally into 2 equal parts. Spread lime filling on bottom layer. Replace top. Spread Whipped Topping over entire cake and sprinkle coconut over topping.
For Whipped Topping:
In a large bowl, whip cream until stiff peaks are just about to form. Beat in vanilla and sugar until peaks form. Stop. Do not over-beat, cream will become lumpy and butter-like. Sprinkle 1/4 c flaked coconut on top.