PANTRY ESSENTIALS
This post may contain affiliate links that won't change your price but will share some commission.
Pantry Essentials – foundation basics for recipes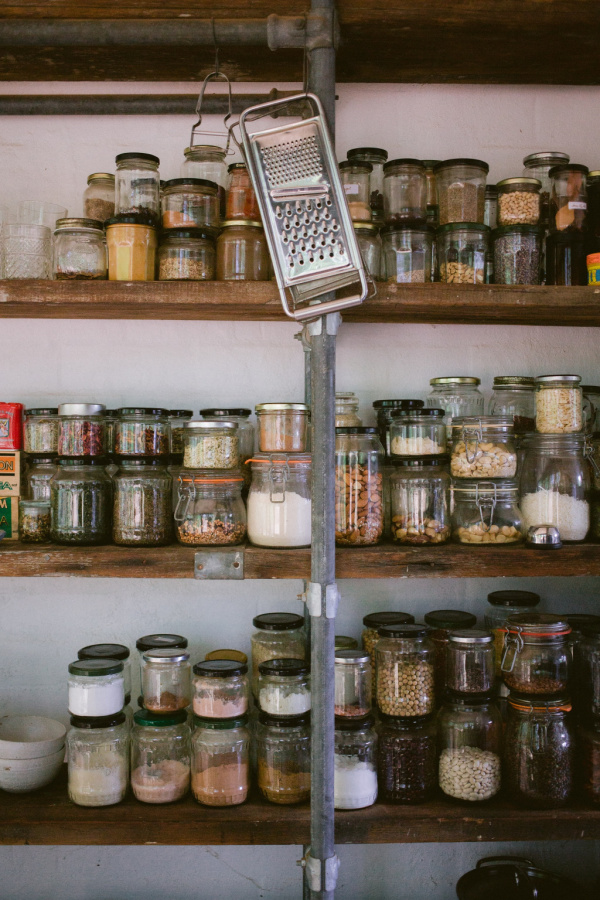 I find it difficult to run an efficient kitchen if I'm always running to the store or don't have what I need to put a nutritious meal on the table. Below is a list of the pantry, baking, fridge, and freezer staples that you should always keep on hand. Buy the best ingredients that you can afford. I purchase organic and whole grains whenever possible. I also use Name brand not Store brands. Store brands are cost-effective but use inferior ingredients to keep the price down. Check the ingredient list and you'll see the difference. You can't have a superior product with substandard ingredients, remember that!
Pantry Essentials
Spices and Seasonings
Balsamic Vinegar
Cider Vinegar
Basil
Beef and chicken bouillon cubes (or granules)
Chili Powder
Cinnamon
Dehydrated onion flakes (or onion powder)
Dry mustard
Garlic powder
Italian dressing mix (like Good Seasons)
Italian seasoning blend
Onion soup mix
Parsley
Pepper
Ranch Dressing Mix
Rosemary
Salt
Taco Seasoning Mix
Worcestershire sauce
Baking
Almond and vanilla extract
Baking powder
Baking soda
Biscuit Mix *recipe follows
Bread crumbs (plain- you can always season in dish)
Confectioners' and granulated sugar
Corn Starch
Cocoa powder (unsweetened)
Chocolate Chips
Evaporated milk
Sweetened condensed milk
Flour (all-purpose and self-rising)
Honey
Jello (various flavors) *recipe follows
Non-stick vegetable spray
Olive oil
Canola oil
Canned & Boxed Items
Black beans
Kidney beans
Corn
Individual fruit cups (add to plain yogurt, top ice cream)
Pineapple
Mandarin oranges
Peaches
Raisins
Noodles (various shapes)
Rice
Success® Rice
Grits (quick cooking)
Low sodium beef and chicken broth (couple cans of each)
Green Beans
Sliced mushrooms
Pimiento
Rotel tomatoes
Tomatoes (diced, sauce and paste)
Cream of soups (mushrooms, chicken, celery – low fat)
Green chiles
Salsa
Spaghetti sauce
Paper
Aluminum foil
Zip top bags (various sizes)
Plastic wrap
Paper Plates
Refrigerator Items
Cheese slices, Cheddar cheese, Parmesan cheese
BBQ sauce
Ketchup
Hot sauce
Lemon juice
Mayonaise
Salad dressing (Vinaigrettes make great marinades)
Banana peppers
Pickles
Mustard
Jelly
Butter
Cream cheese
sour cream or Greek yogurt
Milk
Eggs
Orange or apple juice
Crescent or pizza dough
Tortilla wraps
Smoked sausage (freezes well)
Miscellaneous
Onions
Potatoes
Peanut butter
Tea
Garlic bulbs
Frozen
Berries (various kinds)
Vegetables (broccoli, peas, spinach)
Frozen biscuits (if you don't make homemade)
Shrimp, medium, uncooked
Chicken breast
Stock up weekly on milk, bread (or buns, or both), lettuce, green onions, or peppers
See Fall Tablescapes, How to paint bottles, and my recipe index.