PERFECT POUND CAKE RECIPES
This post may contain affiliate links that won't change your price but will share some commission.
Perfect Pound Cake Recipes is a compilation of a lot of different pound cake recipes that I thought you would enjoy! Pound Cakes are my favorite dessert to make. There is nothing like a homemade pound cake, do you agree?
I have a series in which I've tested and shared my results for over 30 pound cake recipes. You can view them all there> Pound Cakes Reviewed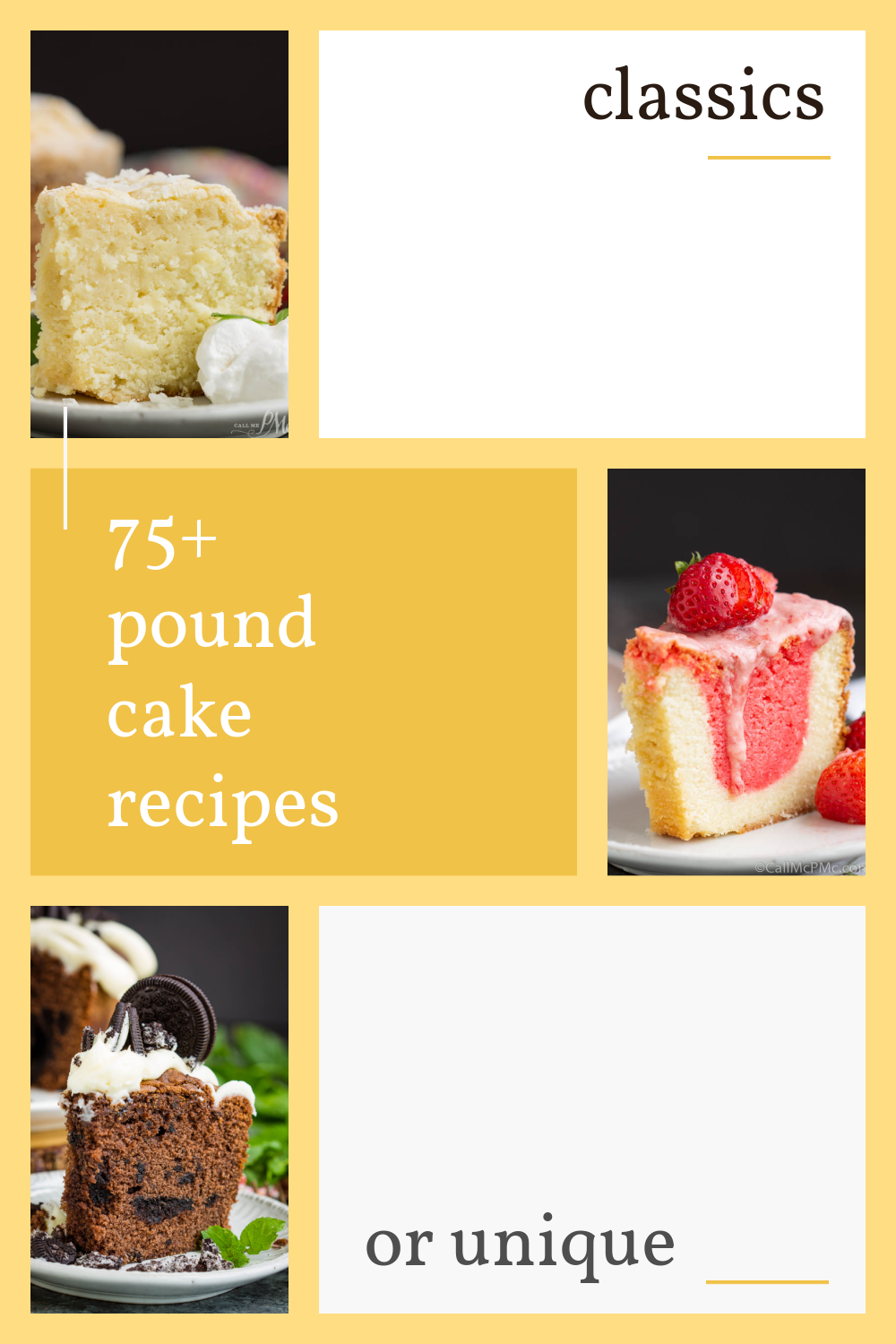 PERFECT POUND CAKE RECIPES
Pound Cakes are one of my favorite cakes to make and eat. I just like the process of making a Pound Cake; it's a stress reliever for me. For this reason, I have started a series of testing pound cake recipes and sharing them with you. Here are the pound cakes I tested so far. Click the photo of each and it will take you to the recipe and my review of it. (It may take it 5 or so seconds to load.)
POUND CAKE
Did you know that the name Pound Cake developed because originally there was a pound each of butter, sugar, eggs, and flour? There was no leavening agent like baking powder or soda. Only the eggs and the air whipped into it made it rise. Because of their dense nature, baking in a loaf pan or bundt pan was necessary in order for the cake to cook completely throughout.
What about that little history lesson? 🙂
I actually do like to know where food originated, how it developed etc. It's the nerd in me, I suppose. I watched an entire 2-hour show on the history of coffee the other night. Granted, I probably would have changed it but the dog was asleep on my leg and my husband fell asleep hogging holding the remote.
However, I don't even drink coffee, but that show made me want to! For those of you that do drink coffee, I hear it's great with Pound Cake! I just so happen to have a variety of Pound Cake recipes to share with you today. You'll find lighter cakes and traditional cakes, simple cakes, and cakes with nuts, fruits, and spices. I hope you find just the right one to bake!
ALTERNATIVE WAYS TO SERVE YOUR POUND CAKE
You can also change up a plain Pound Cake by adding a wonderful sauce like this Caramel Sauce
Fresh Strawberry Sauce