A classic, Beefy Tomato Soup Recipe, is thick, hearty, beefy, tomatoey, satisfying goodness! It is perfect for a cold day!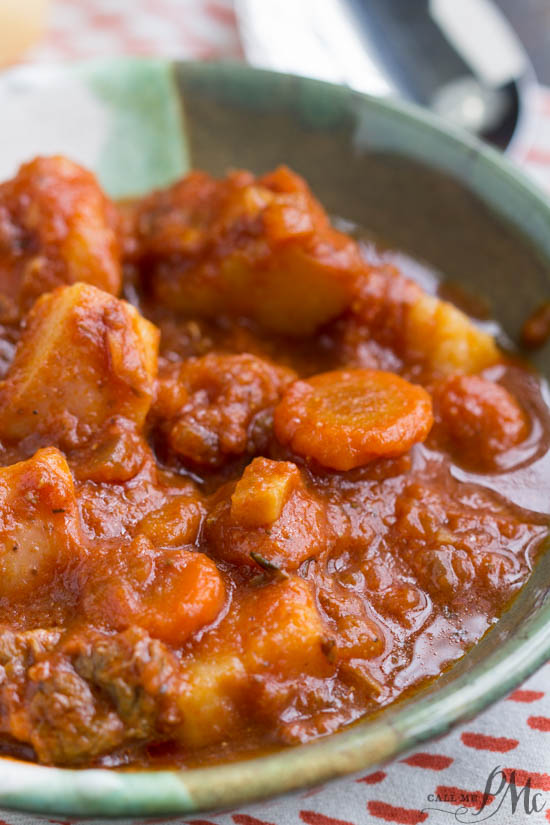 I'm about to give you a little family info. Skip on down if you want just the recipe.
You may also like
So… obviously, I'm a foodie since I have this blog and all. You may not know that Bid Daddy, my husband, is a foodie as well. And, he's a great cook. He has actually won a cooking competition and placed in a smoking competition before. Therefore, our boys have always been around us talking about food, cooking food, and planning vacations around eating at a certain restaurant. They really had no choice but to be foodies as well.
I don't just want them to know good food. I want them to be able to cook good food. Hence, we started 'cooking school' on Sundays at our house. Now, don't show up ready to learn to cook. This class is just for them with either me or Big Daddy supervising. They take turns and cook the meal, which most of the time is just one dish like lasagna or this Beefy Tomato Soup Recipe.
This soup was Ryder's meal, with Big Daddy's help. He They did an outstanding job.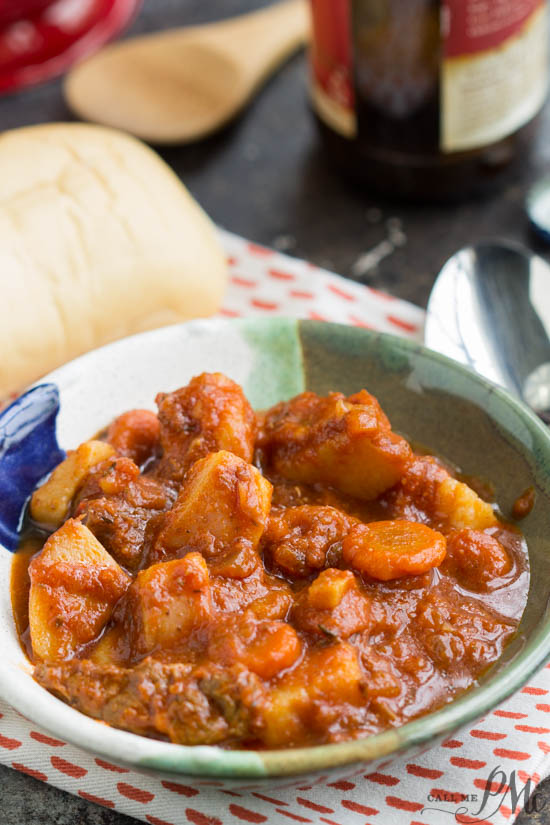 Beefy Tomato Soup Recipe is easy & budget friendly. You can add whatever vegetables you want to it, green beans, corn, root vegetables. Whatever you like, or if you're like me whatever needs to be eaten out of the fridge!
As well, it warms up great and I think it better the day after you make it. More incentive to make a huge pot of it!
It's rich, meaty, hearty, and so satisfying on a cold day. And, was a big hit on Cooking School Sunday!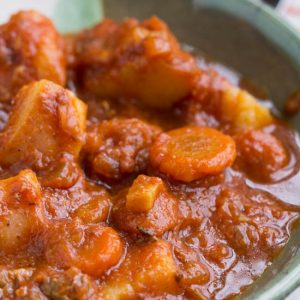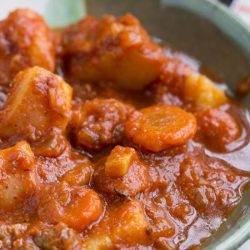 Beefy Tomato Soup Recipe
A classic, Beefy Tomato Soup Recipe, is thick, hearty, beefy, tomatoey, satisfying goodness! It is perfect for a cold day!
Ingredients
2-1/2

pounds 

sirloin cut into chunks

1

whole Large Onion

Diced

2

stalks Celery

Diced

3

cloves 

Garlic

Minced

1

can 

14.5 Ounce Can Whole Tomatoes

3

cups 

Beef Stock Or Beef Broth

Plus More As Needed

1

whole Yellow Bell Pepper

Seeded And Diced

1

whole Red Bell Pepper

Seeded And Diced

1

whole Green Bell Pepper

Seeded And Diced

4

whole Carrots

Peeled And Sliced On The Diagonal

5

whole Red Potatoes

Cut Into Chunks

3

Tablespoons 

Tomato Paste

1/2

teaspoon 

Kosher Salt

more To Taste

1/2

teaspoon 

Black Pepper

More To Taste

2

teaspoons 

Dried Parsley Flakes

1/2

teaspoon 

Ground Oregano

1/4

teaspoon 

Cayenne Pepper

more To Taste
Instructions
In a large pot over medium-high heat, brown the meat with the onion, celery, and garlic.

Remove the pot from the heat and drain off as much fat as you can. (Discard the fat)

Return the pot to the heat and add the rest of the ingredients.

Stir to combine, then bring to a boil.

Reduce the heat, then cover the pot and simmer the soup for 15-20 more minutes, until potatoes are tender but not mushy. (Cook time depends largely on the size you cut the potatoes)

I like the soup to be thick, but if you'd like it to be more "soupy," add 1 to 2 cups more broth OR hot water and heat through.

Taste and adjust seasonings, adding more salt if needed.
Recipe Notes
Recipe from Paula @CallMePMc.com All images and content are copyright protected. Please do not use my images without prior permission that includes copying the ingredient list or entire recipe and posting in the comments on Pinterest for Facebook. If you want to share this recipe, please simply link back to this post for the recipe.
Sharing with friends at Weekend Potluck and Meal Plan Monday.