Healthy doesn't have to mean bland. This Grilled Balsamic Shrimp with Roasted Vegetable Quinoa
is full of flavor but doesn't take hours to prepare! Simple yet flavorful, this is sure to become a favorite!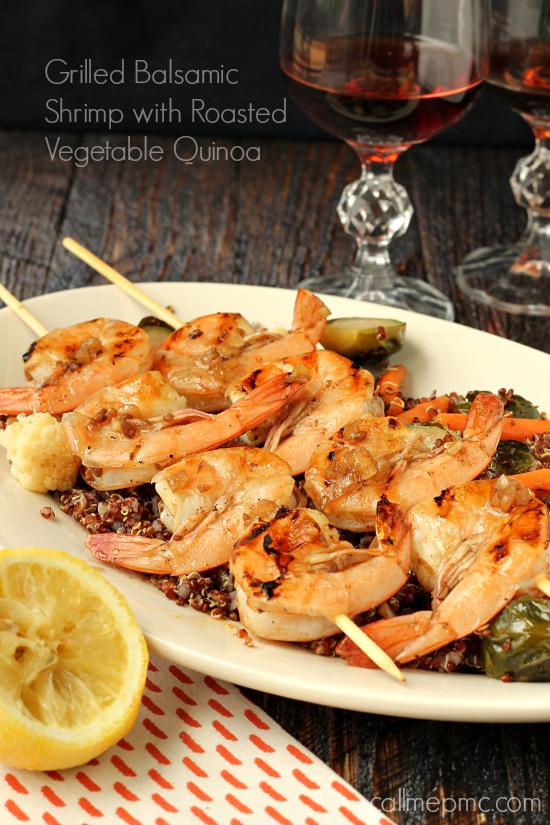 There is just nothing quite like balsamic vinegar and garlic. No other flavor combo tastes as good in my opinion!
I've been craving shrimp lately. I think it's a summer thing. At least it's not cookies or a decadent cake, that's what I usually crave! I wanted shrimp and started looking in the pantry for flavors that sounded good to me. I came up with this little diddy and love the way it turned out.
I also decided to serve it with quinoa instead of potatoes or a green salad. Those two seem to be my go-to sides. I'm trying to mix it up here. I mixed in roasted veggies with my new favorite red quinoa and was pleased with the result.
If you haven't tried red quinoa, it's stronger than the regular quinoa. I do suggest trying the regular first. Even though regular quinoa is 'earthy' it's not quite as strong as the red.
Normally, if I'm grilling anything, I throw at least a couple different meats and vegetables on the grill. By doing this, I have extras for a few meals. It just makes it easier on all of us. Having said that, I would usually mix in grilled vegetables with the quinoa, but I had roasted that I wanted to use. Roasted vegetables it was. Choose the cooking method, grilled or roasted, for the vegetables that you prefer for this recipe.
What I do when roasting vegetables is roast as many as my oven will hold. That's four sheet trays of veggies. I mean if I heat my oven in this hot weather, I want to take full advantage and cook as much as I can. I know I'll eat the veggies whether by themselves or mixed in quinoa or pasta. It's just a great way to conserve energy.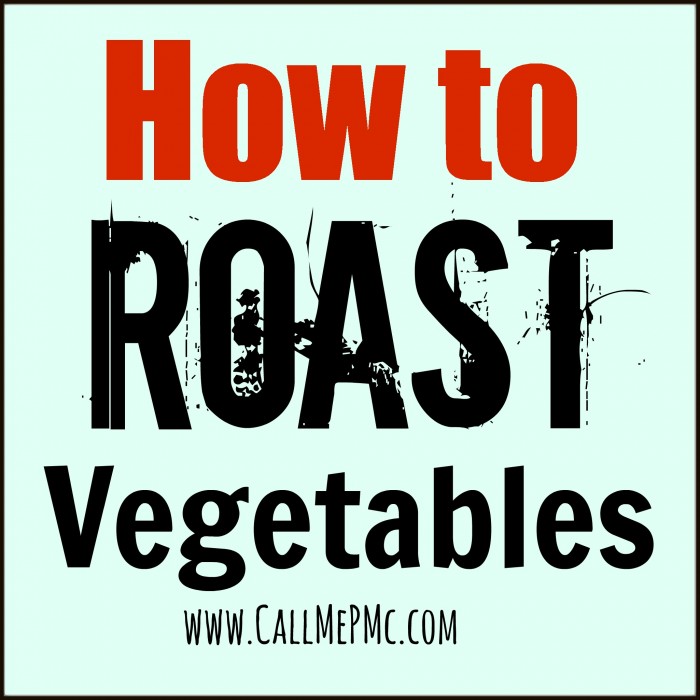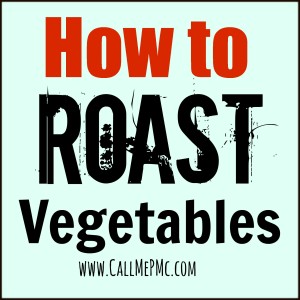 If you're unfamiliar with roasting vegetables, read this post. It's super easy and once you start roasting, you'll be hooked. Roasting vegetables really brings out the natural sweetness in them. I didn't eat carrots except cooked slow in a roast, but once I started roasting them I'm totally in love with baby carrots now. They're so good for you too!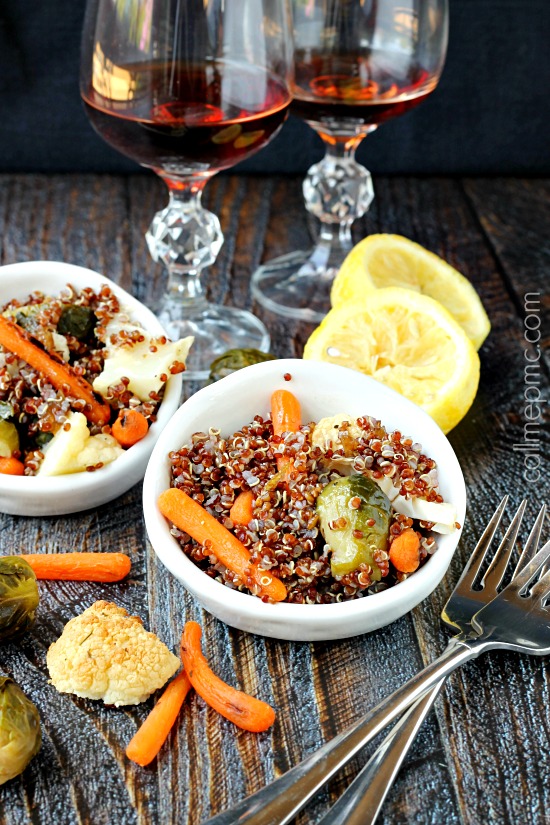 I received three grilling products from Grate Chef. The Grate Chef team has over 40 years combined experience in the food service and retail food sales business. Most products from Grate Chef are consumer-friendly versions of "methods" that have been used by the restaurant industry for years. Using these methods the home chef can achieve the same professional results that many executive chefs.
Grate Chef products that I received to test are
Fire Starter works on charcoal grills, fireplaces, and campfires. They light even when wet, are odorless, tasteless and environmentally safe.
Stainless Steel Wipes cleans, shines and protects. The unique formula removes dirt and grease, helps prevent fingerprints and polishes stainless steel surfaces. As well, they restores and preserves factory finishes. I found them to do all these things with 'little elbow grease'!
Non-stick Grill Wipes cleans and oils your grill grates. By heating your grill on low, placing a Non-stick Grill Wipe on the grate then scrubbing it with your regular grill brush, cleans and oils the grate beautifully. I grilled burgers and shrimp and neither stuck!
The company launched its first product, Grate Chef® Grill Wipes, in March 2003 at the Hearth, Patio, & Barbecue Association Expo in Nashville, TN. Grate Chef Grill Wipes are the only product on the market that work to keep all types of foods from sticking and keeping your grill grates clean. Today the growing line of grilling accessories can be found in most hardware and supermarket retailers in North America, as well as, they can buy online.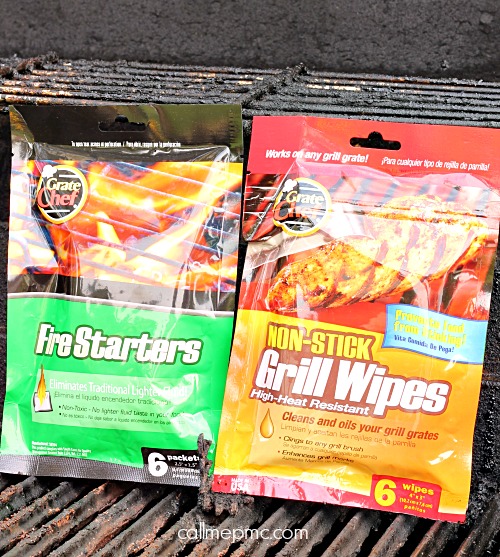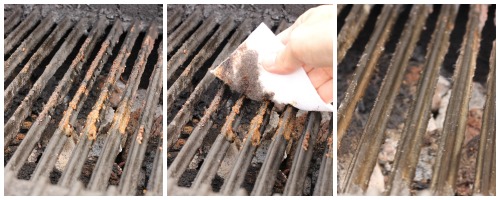 Pictured above is my grill. On the left is the crusty, burnt on remnants from our last barbecue. In the second picture, I'm cleaning the grill with a Grate Chef Cleaning Wipe. With just a couple of wipes, the cloth turns black and easily cleans the grate. In the right picture, is the clean, smooth grill ready for this shrimp!
About Grate Chefs:
All of the Grate Chef Products are designed for the everyday backyard griller.
All of our products work on all types of grills, charcoal, gas, electric.
There are no other products like these on the market.
All of our products are easy to use and make backyard grilling easy and fun.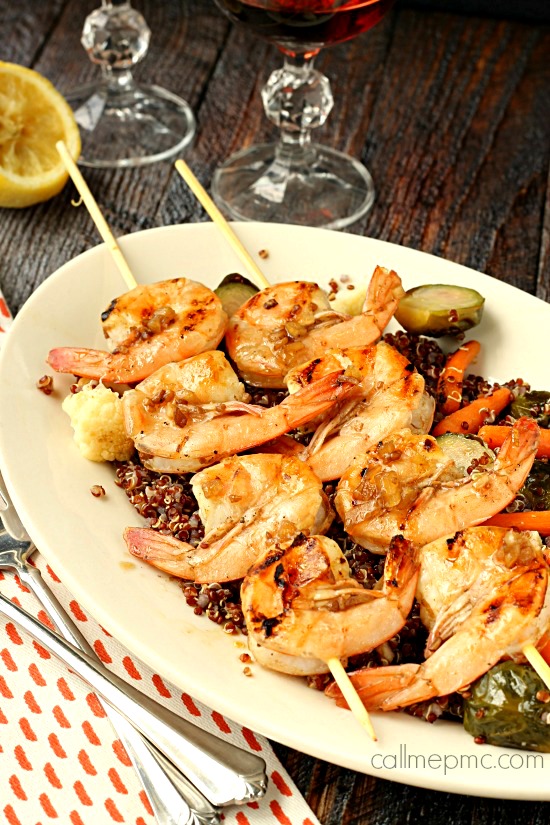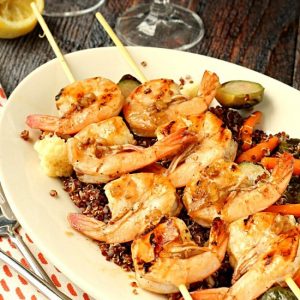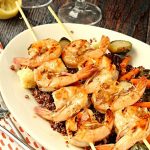 Print Recipe
Grilled Balsamic Shrimp with Roasted Vegetable Quinoa
Healthy doesn't have to mean bland. This Grilled Balsamic Shrimp with Roasted Vegetable Quinoa is full of flavor but doesn't take hours to prepare! Simple yet flavorful, this is sure to become a favorite!
Ingredients
2

lbs

large shrimp

3

tablespoon

minced onion

I used a sweet Vidalia but you could substitute a red or green onion

2

tablespoon

minced garlic

zest and juice of 1 lemon

1/4

cup

olive oil

3

tablespoon

balsamic vinegar

1/4

teaspoon

freshly ground black pepper*

1

cup

quinoa

2

cups

water or chicken stock

2 to 3

cups

roasted or grilled vegetables

I used brussel sprouts, carrots and cauliflower
Instructions
Mix onion, garlic, lemon, oil, vinegar, and pepper together.

Add half of the mixture to the shrimp and marinate 10 to 30 minutes, but not more than 30 minutes or the vinegar will begin to cook the shrimp.

Soak wooden skewers in water.

While they're marinating, cook the quinoa and vegetables.For the Quinoa

Cook quinoa in water or chicken stock according to directions on package.For the vegetables

Roast or grill assorted vegetables until fork tender

Mix vegetables with quinoa and toss with half of the marinade mixture.Grill Shrimp

Heat grill to medium.

Skewer shrimp onto wooden skewers.

Grill shrimp 1 and 1/2 minutes to 2 minutes on each side, watching carefully.

Remove when shrimp turn pink.

Serve with Roasted Vegetables and quinoa
Notes
*freshly ground pepper really does make a huge difference. I highly recommend it. Recipe from Paula @CallMePMc.com All images and content are copyright protected. Please do not use my images without prior permission that includes copying the ingredient list or entire recipe and posting in the comments on Pinterest. If you want to share this recipe, please simply link back to this post for the recipe. Thank you, Paula
For more scrumptious recipes, fun projects, and exciting news, subscribe to Call Me PMc
Facebook, Twitter, Pinterest, Google+, Bloglovin'
Hungry for more? click picture for recipe