Salted Caramel Candy Brownies Recipe have a rich brownie base made with real melted chocolate. They're topped with Chocolate Caramel candies, toasted pecans and salted caramel. Salted Caramel Candy Brownies Recipe are great for sharing… or hoarding all for yourself!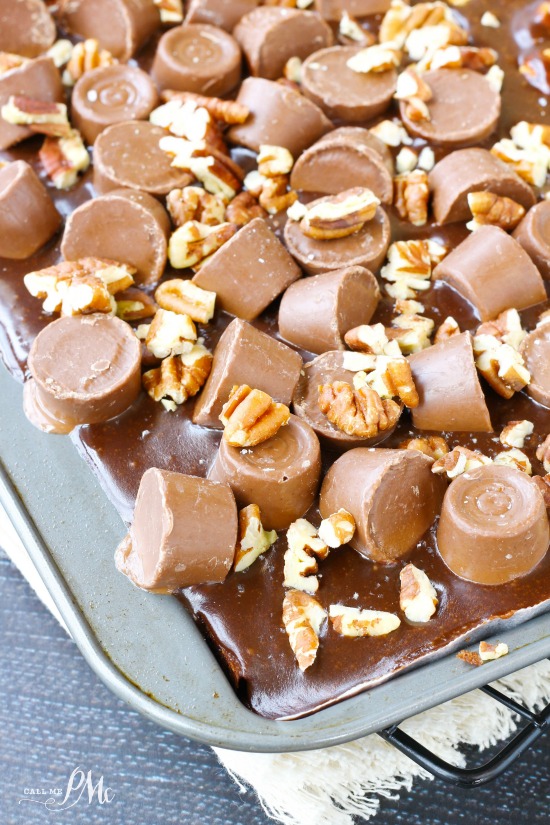 Way back in September I got a new car. Want to know a secret? We got it 1. because my car was 10 years old and 2. we thought it was about to blow up. Turns out the perpetual beeping we heard for about 3 weeks was just my son's cell phone not the engine about to explode. #truestory Yeahhhh, we realized it was the phone after we purchased the new car!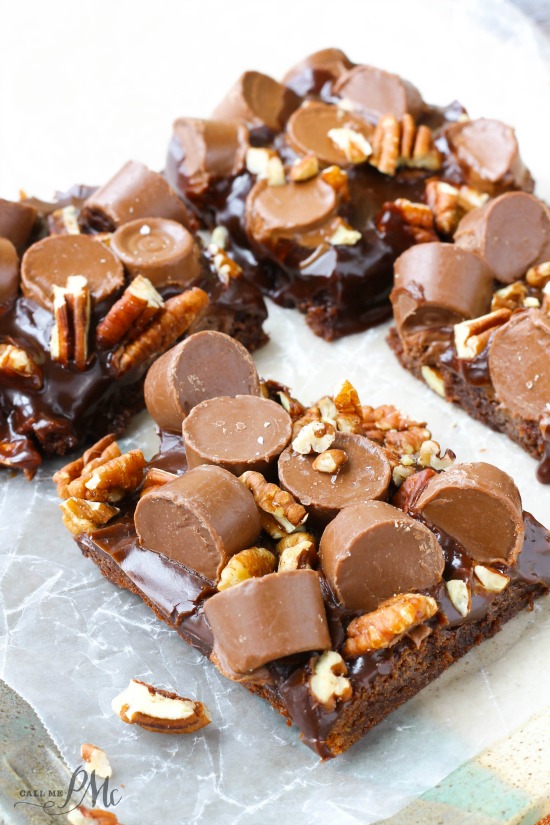 So this car has a keyless start, which means it doesn't have a key. But it does have this keyless thing and this thing has to be in the car (or very very close) for the car to start. Now tell me, why not just have a key? I hate it. The Thing is never where it's supposed to be… in the car. I try to keep it in my purse, but sometimes it's in my jacket which is inevitably in the house. And, now when I run I don't have just a key to have on my person, I have this Thing to keep up with. Idunno maybe I'm just…. old and don't like change. I want a key!
And, you guessed it, I'm talking about my keyless car key because I just got in my car for the 50th time to go somewhere and had to go find the keyless key.
Salted Caramel Candy Brownies Recipe
But in the bright side, I have brownies! Salted Caramel Candy Brownies Recipe to be exact! And, they are worth drowning my keyless sorrows in and worth running that extra mile or three.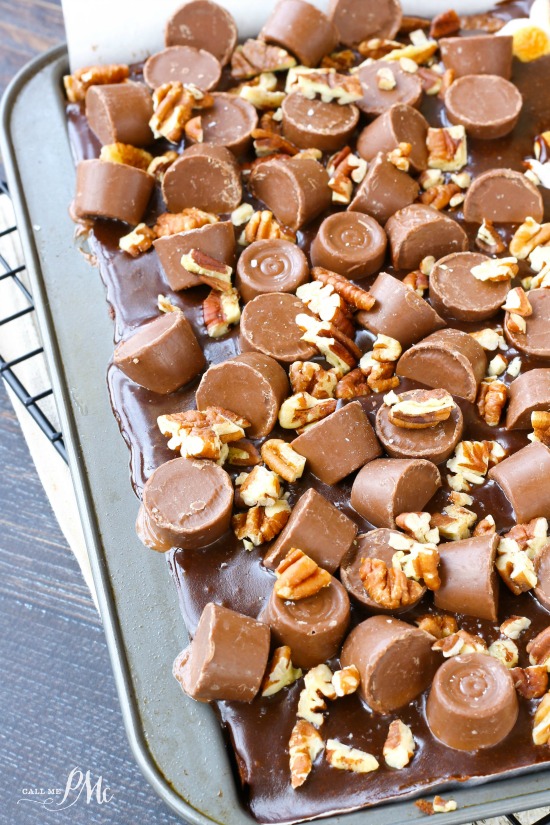 The brownie base for these Salted Caramel Candy Brownies Recipe is my all-time favorite brownie. I've made Praline brownies, Rocky Road Brownies and Three Musketeer Brownies all that have the same basic brownie recipe. They are all very different because of the toppings though.
Instead of a brownie that has only cocoa powder, this brownie base recipe has real chocolate in it. I always use a premium chocolate and believe me you can tell a huge difference in taste.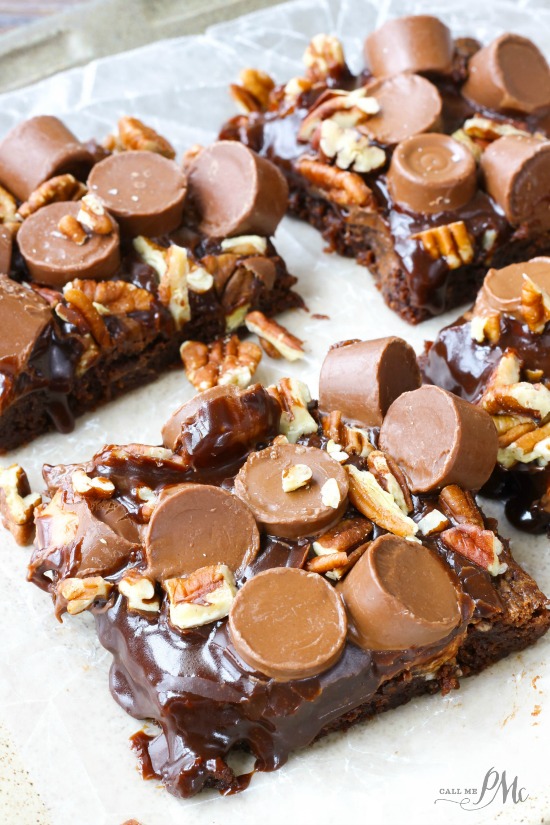 Melt the chocolate and allow it to cool before mixing it into your recipe.
I like to use a flaked sea salt sprinkled on top of the brownies after they are removed from the oven. You can also use table salt.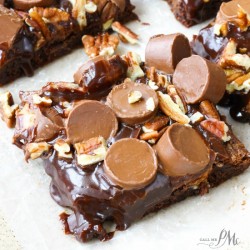 Salted Caramel Candy Brownies Recipe
Ingredients
1

cup

butter

at room temperature

4

ounces

semisweet chocolate

chopped

2

cups

granulated sugar

1

and 1/2 cups all-purpose flour

1/2

cup

unsweetened cocoa

4

large eggs

1

teaspoon

vanilla extract

3/4

teaspoon

salt

2

cups

pecans

toasted and chopped

3

cups

caramel filled candies

Chocolate Frosting

1/2

cup

butter

1/3

cup

milk

1/3

cup

unsweetened cocoa

sifted

4

cups

confectioners sugar

1

teaspoon

vanilla extract

1

tablespoon

flaked sea salt
Instructions
Preheat oven to 350 degrees.

Line a 15x10x1 inch sheet pan with foil or parchment paper. Spray with non-stick spray.

Microwave 1 cup butter and chocolate in a microwave-safe bowl at 30 second intervals until melted. Stir to combine and allow to cool.

Combine sugar, flour, cocoa and salt.

Combine eggs and vanilla with cooled chocolate.

Add egg mixture to flour mixture and mix until combined and smooth.

Pour onto prepared sheet pan.

Bake at 350 degrees for 30 minutes.

Remove from oven allow to cool 10 minutes.

Make Chocolate Frosting: Combine butter, cocoa and milk in a small sauce pan over low heat. Cook 2 to 3 minutes until butter is melted and mixture thickens slightly.

Add confectioners sugar one cup at a time, whisking to combine.

Add vanilla and whisk until smooth.

Pour over slightly cooled cake.

Evenly sprinkle caramel candy, toasted pecans and sea salt over chocolate frosting.
Recipe Notes
I used Rolos brand candies©CallMePMc.com All images & content are copyright protected. Please do not use my images without prior permission. If you want to republish this recipe, please re-write the recipe in your own words, or link back to this post for the recipe
See my Community Table Posts –
20 Chicken dinners in 30 minutes or less
and pictured below the best cinnamon and sweet rolls!