Do you have a Guilty Pleasure List? Like brownies for breakfast or staying in your 'night night' clothes all day? That's one of Lincoln and my favorites! Recently, we had a competition on who could stay in their 'night night' clothes the longest. Lincoln won. I had to run an errand. (dang!) Although, he's also had a contest with classmates on who could go the longest not washing their socks.
I wasn't involved in that!
The winner lastest 2 weeks.
I'm sure a Mom intervened.
Sometimes, my guilty pleasure is cooking something very easy!
Sometimes I just like a simple recipe. One that doesn't require much time or thought!
That's why I like this Blue Cheese Caramelized Onion Tart.
The bonus? Every time I make it for guests, they rave over it!
That makes me feel good.
I like to feel good.
This Blue Cheese Caramelized Onion Tart could be prepared as one large tart, individual servings or appetizer portions.
You could also have one as your meal as I did!!
I'm the cook. It's my prerogative.
It's also super simple!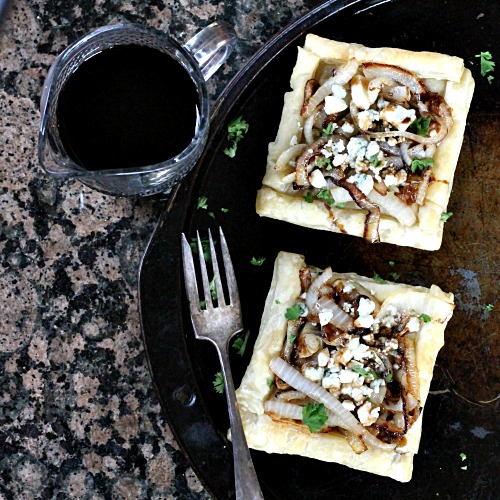 I have made it with just caramelized onions.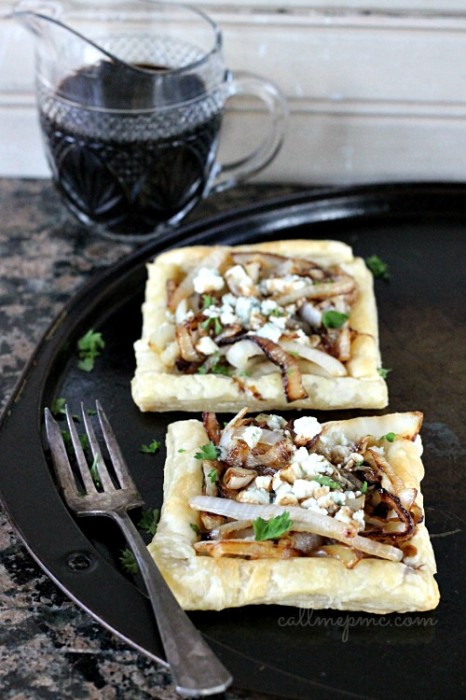 If I'm serving it as a side, I cut the sheet of puffed pastry into fourths.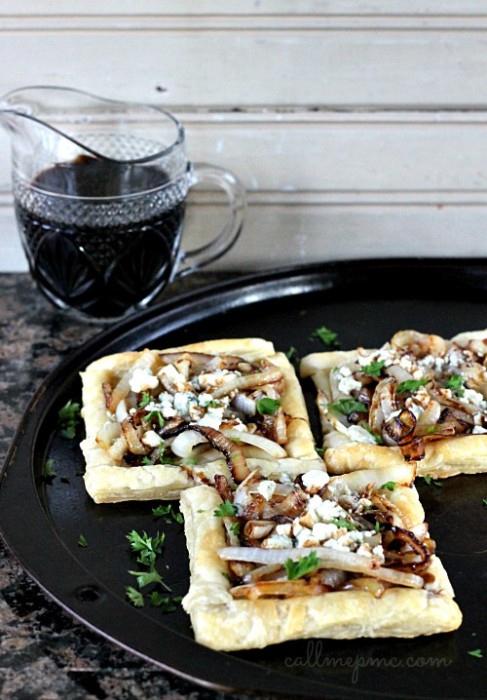 I prefer it with blue cheese and balsamic reduction.
It is such a wonderful mix of flavors.
If you like a wonderful mix of flavors.
Caramelized Onion Tart
An easy appetizer recipe made with puff pastry and filled with caramelized onion and blue cheese.
Ingredients
3 sweet onions, such as Vidalia, sliced
1 package puff pastry
¼ c blue cheese
Instructions
For 8 servings, roll out one sheet puff pastry. Roll with a rolling pin until smooth and flat. Cut into 4 equal portions. Take square and fold over each side about ½ inch so that the edges are double thickness. This will better hold the ingredients in the center. Bake in 400 degree oven until golden brown about 20 minutes.
Meanwhile, caramelize onions over low heat in 1 T butter or coconut oil until golden brown about 15 to 28 minutes
Once pastry squares are golden, remove from oven and spoon onions in center of square. Top with blue cheese. Return to oven and bake until cheese melts. Serve immediately.
Notes
Recipe from Paula @CallMePMc.com All images and content are copyright protected. Please do not use my images without prior permission that includes copying the ingredient list or entire recipe and posting in the comments on Pinterest. If you want to share this recipe, please simply link back to this post for the recipe. Thank you, Paula
To keep your eyes from stinging and watering while cutting onions, place the onion in the freezer for 15 minutes before you plan to start cooking. Chilling the onion slows the release of the enzyme responsible for teary eyes.
This is one meal plan that I like to make this Blue Cheese Caramelized Onion Tart as a side dish with.

It would also be good with Grilled Steak with Red Wine Sauce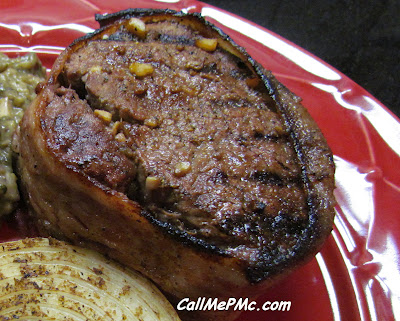 and Romaine Toss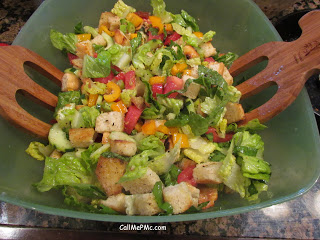 For more scrumptious recipes, fun projects, and exciting news, subscribe to Call Me PMc
Facebook, Twitter, Pinterest, Google+, Bloglovin'