Candied Orange Slices are chewy and sweet. They make a beautiful, edible garnish for cakes and drinks. Or, simply dip them in chocolate for an easy dessert treat.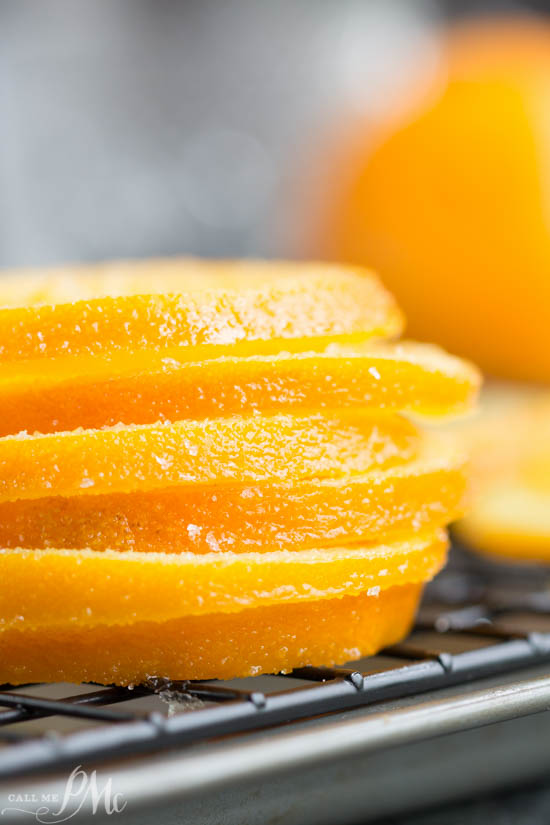 I have wanted to make Candied Orange Slices for a long time now. I made an Orange Juice Pound Cake for my Pound Cake Series and decided this was the perfect time to accessorize that cake with Candied Orange Slices as the garnish.
You may have seen Candied Orange Slices used as a garnish before and wondered if they're edible. They are completely edible and very tasty. The inside pulp is soft; the rind is chewy. They are sweet from the sugar coating and are very similar to gummy candy that most kids like.
Oh! And, they're a little sticky. Sprinkling a coat of sugar over the orange slices before they dry helps with the stickiness, but regardless of the amount I cover them in, they are still somewhat sticky.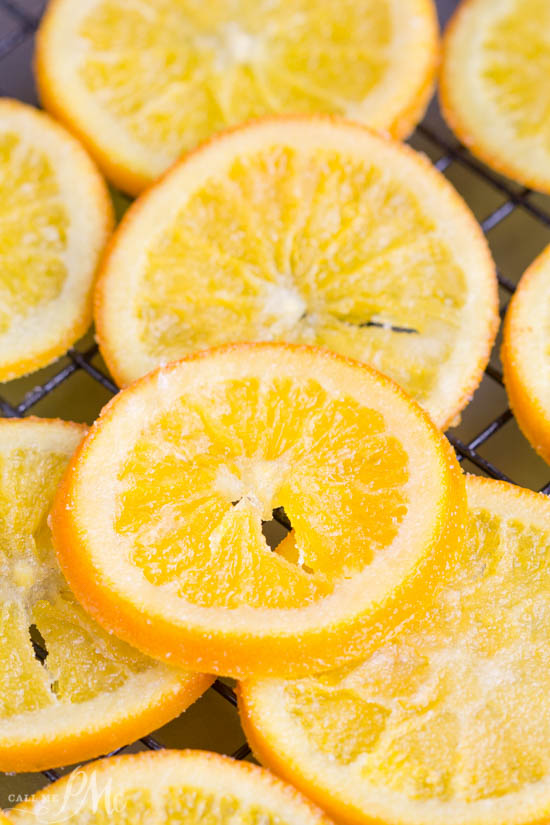 Candied Orange Slices aren't hard to make, they just take a little patience. The process is to slice, boil, and chill. This softens the oranges. Next, you'll simmer them in sugar and water 45 to 50 minutes or until the rind is translucent. This process turns them into candy.
Finally, you'll need to account for drying time before you can use them. They'll dry in a couple of hours.
Super simple.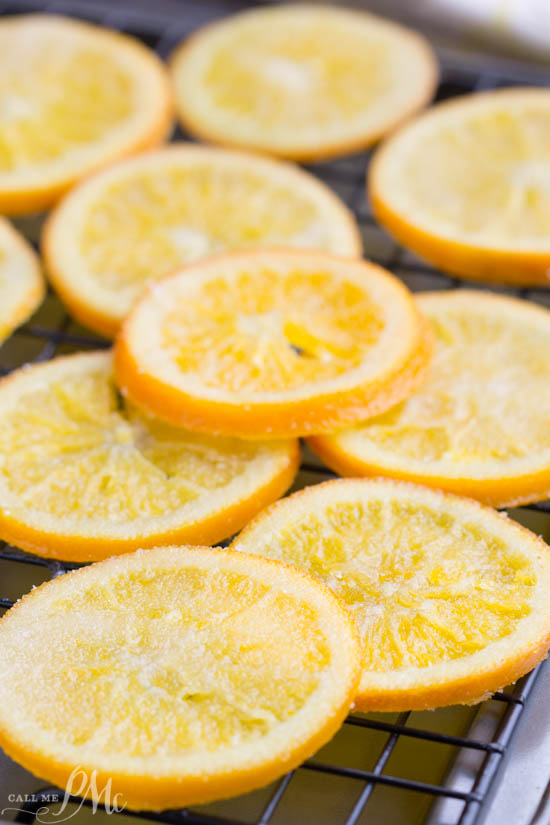 You'll have leftover syrup from the final cooking step. Don't throw it away. It's basically an orange flavored simple syrup and it will be great in cocktails. Simply replace regular simple syrup with this orange-flavored simple syrup in any cocktail. Also, use it drizzled over a plain cake, in vanilla milkshakes, or poured over ice cream. It will last 2 weeks in the refrigerator.
Can you think of another way to use this orange syrup?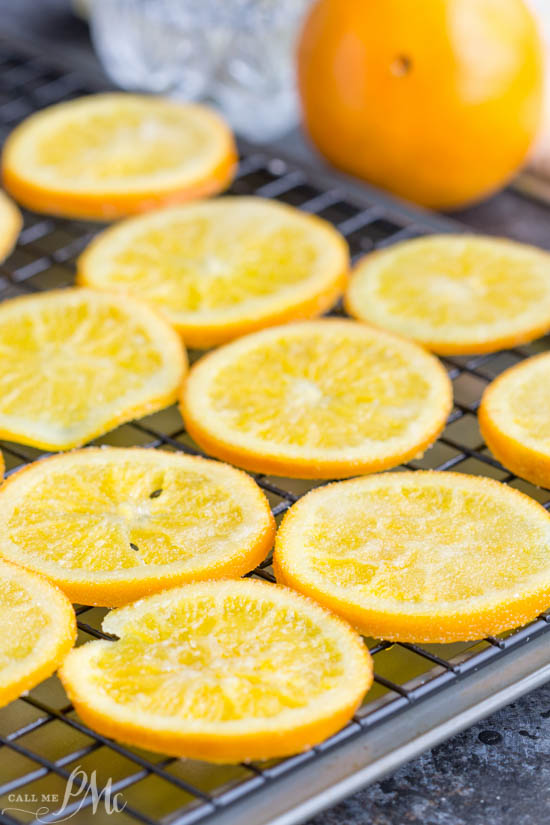 Candied Orange Slices
Candied Orange Slices are chewy and sweet. They make a beautiful, edible garnish for cakes and drinks. Or, simply dip them in chocolate for an easy dessert treat.
Ingredients
2

Oranges

Large bowl of ice water

2

cups

granulated sugar

2

cups

water

Extra granulated sugar

optional
Instructions
Wash and dry oranges. Sliced into 1/8-inch rounds.

Discard any seeds and ends.

Fill a large bowl with ice water and set aside.

Bring a large saucepan of water to a boil and add orange slices.

Boil the orange slices for 1 minute then place in the bowl of ice water until cooled.

Drain on a wire rack.

In a large skillet over medium heat, bring 2 cups sugar and 2 cups water to a low boil.

Heat until sugar dissolves stirring occasionally.

Turn heat to low and place orange slices in the sugar-water mixture in a single layer. (You may need to do this in batches or in two pans.)

Simmer but do not boil the orange slices 45-50 minutes or until rinds are slightly translucent, turning every 15 minutes.

Place orange slices on a cooling rack and allow to cool completely. (This will take a couple of hours or just leave them on the rack overnight).

I sprinkled my slices with extra granulated sugar so they would not be sticky. This is completely optional.

Use immediately or keep orange slices refrigerated in an airtight container until ready to use up to 1 month.
Recipe Notes
Reserve orange syrup, in the fridge, for another use being sure to discard after 2 weeks.Recipe from Paula @CallMePMc.com All images and content are copyright protected. Please do not use my images without prior permission that includes copying the ingredient list or entire recipe and posting in the comments on Pinterest for Facebook. If you want to share this recipe, please simply link back to this post for the recipe.