Gourmet Candy-Coated Caramel Apple Creations is a classic fall treat made from in-season apples with a sweet candy shell of caramel, chocolate, and candy.
They're as much fun to make as they are to eat!
There is a printable recipe card at the end of the post.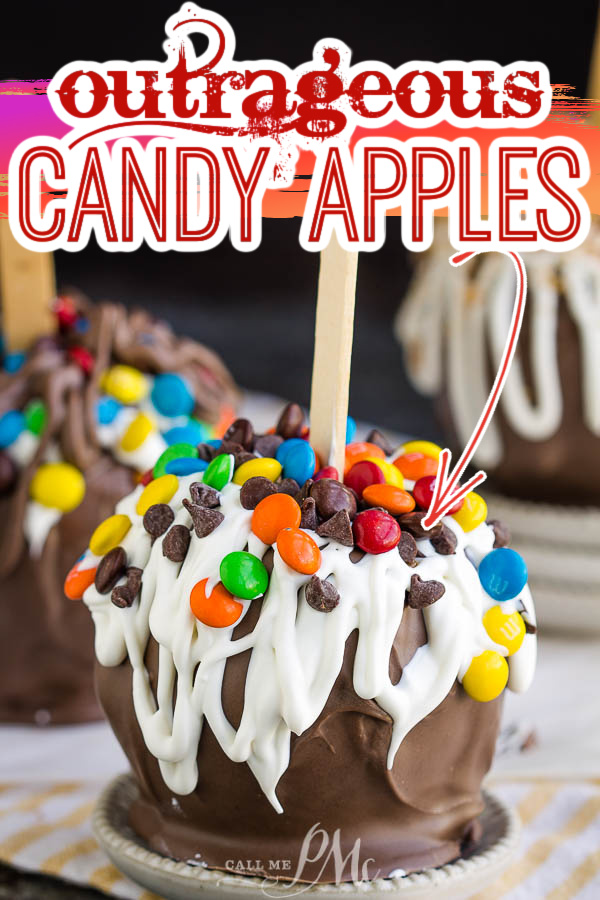 You see them in all the chocolate stores on vacation. There are display cases full of decadent caramel apples. You may also be shocked if you've priced or bought these candy caramel apples! They range in price from $7 to $20, depending on what and how much candy is on them.
GOURMET CANDY-COATED CARAMEL APPLE CREATIONS
You can make them for a fraction of the cost. I'll teach you how. They're really simple and fun to make. They make great gifts any time of year. As well, they double as a fun activity and party gift for sleep-overs, birthday parties, etc.
There are literally dozens of combinations of candy to personalize your caramel apple and no wrong way to do it!
You can save even more if you'll stock up on chocolate candy after the holidays when they go on half price. After Christmas, I stock up on all the red candy and use it for Valentine's Day.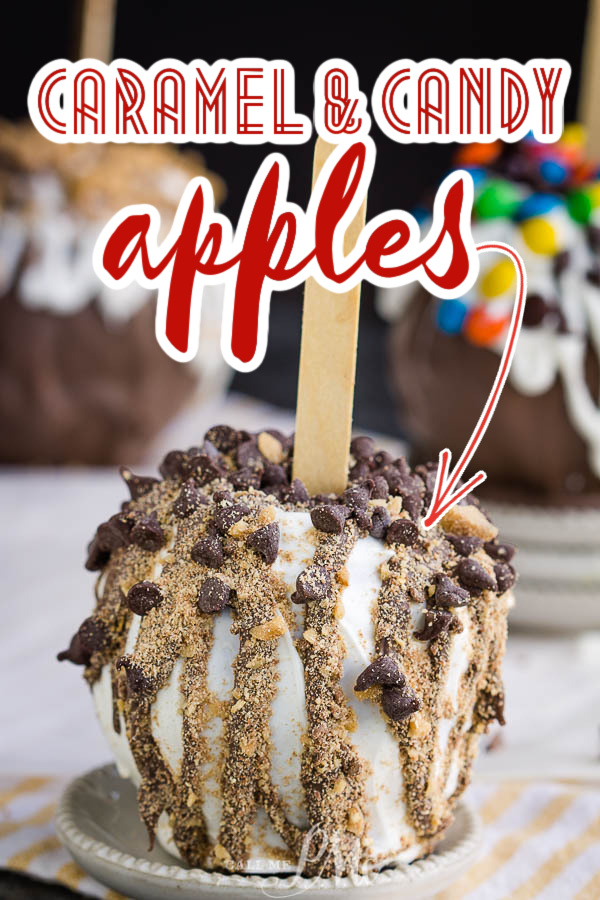 WHAT APPLES ARE BEST FOR MY CARAMEL APPLES?
Tart apples like Granny Smith and Fuji pair wonderfully with the sweet toppings. However, you can use any variety of apples.
PROCESS FOR GOURMET CANDY-COATED CARAMEL APPLE CREATIONS
I'm sure if you make caramel from scratch you can save even more on these candy apples. However, I prefer to use these Caramel Apple Wraps or individually wrapped caramels.
Pop over to my article How to Melt Chocolate before you start this project. This candy melting pot makes it super simple to melt chocolate.
First, wash the apples and allow them to dry thoroughly.
You'll want a large sheet of waxed paper or parchment paper to sit the apples on.
Next, get all your candy out opened, and in bowls. If it needs to be opened, open it. If it needs to be crushed, crush it.
I use Caramel Apple Wraps as mentioned above. They come with the sticks you'll need. If you're making caramel from scratch, you can purchase the popsicle sticks here. Now, go ahead and push each stick down into the apple far enough that it's secure.
After you have the sticks in all your apples, take the caramel wraps and wrap them from the bottom up. The caramel wraps are stretchy so you can pull them slightly if your apples are large. You can fold over any parts that you need to and press them so that they are relatively smooth. They don't have to be perfect because you'll cover it with chocolate.
NOW FOR THE CHOCOLATE
Now, melt your chocolate. I work with one chocolate at a time because it cools quickly. You can melt it in a double broiler. However, I find it easier to melt in the microwave. I use a small bowl with tall sides that the apple will fit down into. Once you have the chocolate melted, dip one apple at a time into the chocolate. I cover them almost to the stick.
Now sit the apple on the parchment paper and move on to the next apple. I dip half of my apples in dark chocolate then melted white chocolate and dipped the other half in white chocolate.
You need to allow this first chocolate coat to dry before moving on. Most of the time by the time you get the last apple dipped the first apple will be dry.

FOR THE TOPPINGS
For the chocolate drizzle on top, you will need zip-top freezer bags. I recommend freezer bags because regular and/or cheap no-name brands sometimes split at the seams. You don't want that! Put about 1/2 cup of Wilton candy melts or other chocolate in your zip-top bag and melt it in the microwave. Smush it with your hands to make sure it's melted completely. Next, snip a corner off. You want the opening to be small.
Drizzle over the top of the apples in any kind of pleasing pattern.
Immediately sprinkle nuts, crushed cookies, chocolate chips, or candy over the drizzle before it melts. Set it aside to harden.
You can do as many layers and toppings as you want.
IDEAS GOURMET CANDY-COATED CARAMEL APPLE CREATIONS
Apples
Wilton Candy melts in white chocolate and dark chocolate (1 bag will cover approximately 8-10 apples)
White, milk, or dark chocolate chips
Mini chocolate chips
Walnuts, chopped
Pecans, chopped
Sunflower seeds
Candy bars, crushed or cut small
Coconut, toasted or plain
Granola
Oreo cookies, crushed (or any cookie)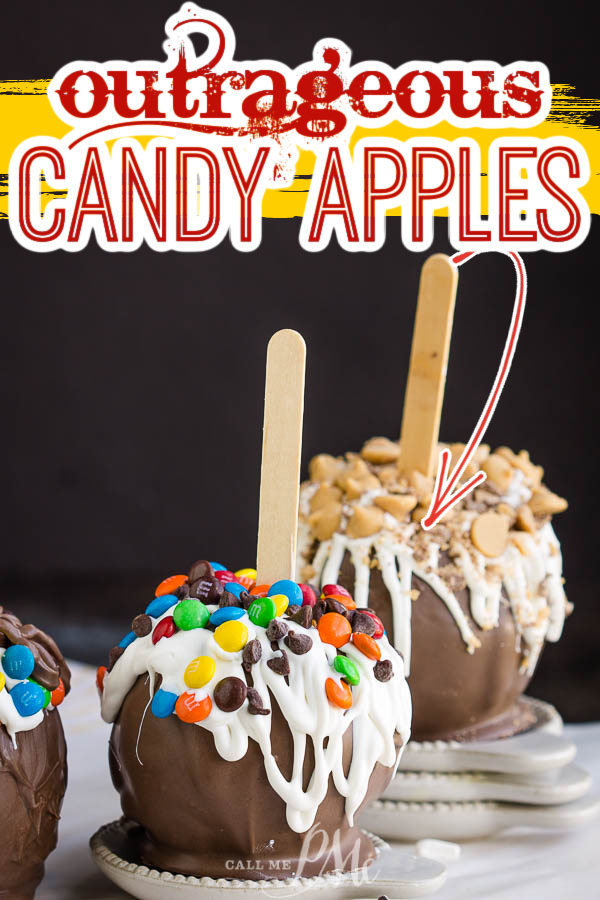 CAN I USE KRAFT CARAMELS?
Yes! Here's how!
Insert the craft stick into the top of each apple.
In a microwave-safe bowl, heat caramels and milk for 4 minutes. Stir and heat again for 1 minute. Allow the caramel to cool slightly. Roll each apple in the caramel sauce until coated. Set aside to cool and harden before proceeding with the chocolate layer. (continue with step 4 below)
Enjoy these too!
Have fun and enjoy! The best way to eat an apple this fall!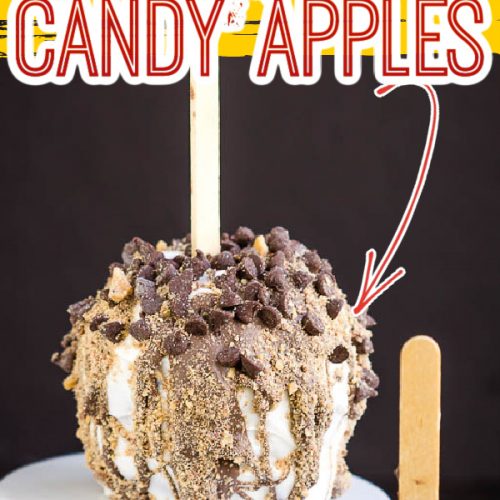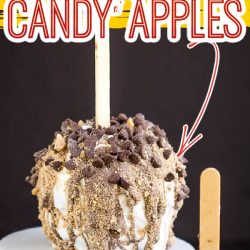 Ingredients
1

package

caramel wrappers

1 package has 5 wrappers

5

medium

apples

1

package

chocolate

Wilton candy melts

1

package

white chocolate

I use these Wilton Candy melts

crushed cookies, mini chocolate chips, m&ms, small-cut candy bars, etc

It takes about 1 tablespoon per apples.
Instructions
Please read the post above for substitutions and tips.

Line a baking tray or counter with wax paper or parchment. Pour candy (M&Ms, etc) and nuts into small bowls or ramekins and set aside. Place a craft stick into each apple.

Wrap each apple with caramel.

In a microwave-safe bowl, heat half of the package of dark chocolate for 1 minute then stir. Heat again for 30 seconds and stir. Repeat if needed until chocolate is thoroughly melted. Don't just look at it - you need to stir it.

Roll each caramel-covered apple in the melted chocolate until well coated. Set on the parchment paper to dry.

In a zip-top plastic bag, heat half of the package of white chocolate for 1 minute then smush it with ou hands. Heat again for 30 seconds and smush again. Repeat until melted. Snip the very tip of one corner off. You want a small hole.

Drizzle the white chocolate over the top of the apples in any pattern you want.

Quickly sprinkle over any toppings that you want - crushed cookies, nuts, candy pieces, M&Ms, etc - You can do all the apples the same or you can do each one differently. Have fun!

Allow the chocolate to dry completely before storing.
Notes
You can purchase pretty boxes like these clear gift boxes or the white boxes with a window. They're especially nice.
As well, you can use these clear cellophane bags and tie a pretty ribbon around them.
Ideas for topping your apples
White, milk, or dark chocolate chips
Mini chocolate chips
Walnuts, chopped
Pecans, chopped
Sunflower seeds
Candy bars, crushed or cut small
Coconut, toasted or plain
Granola
Oreo cookies, crushed (or any cookie)
Nutrition
Calories:
272
kcal
|
Carbohydrates:
50
g
|
Protein:
2
g
|
Fat:
9
g
|
Saturated Fat:
5
g
|
Polyunsaturated Fat:
1
g
|
Monounsaturated Fat:
2
g
|
Cholesterol:
6
mg
|
Sodium:
57
mg
|
Potassium:
290
mg
|
Fiber:
4
g
|
Sugar:
42
g
|
Vitamin A:
111
IU
|
Vitamin C:
9
mg
|
Calcium:
76
mg
|
Iron:
1
mg
Tried this recipe?
Please take a moment to comment letting me know how you liked it & consider giving it a 5 star rating. I love hearing from you!
You can also find great recipes at my Recipe Box or Weekend Potluck