Buttery, full of cinnamon and chocolate, Chocolate Chip Crescent Roll Monkey Bread makes an easy breakfast recipe.
Chocolate Chip Crescent Roll Monkey Bread is a tasty and quick way to enjoy monkey bread for breakfast.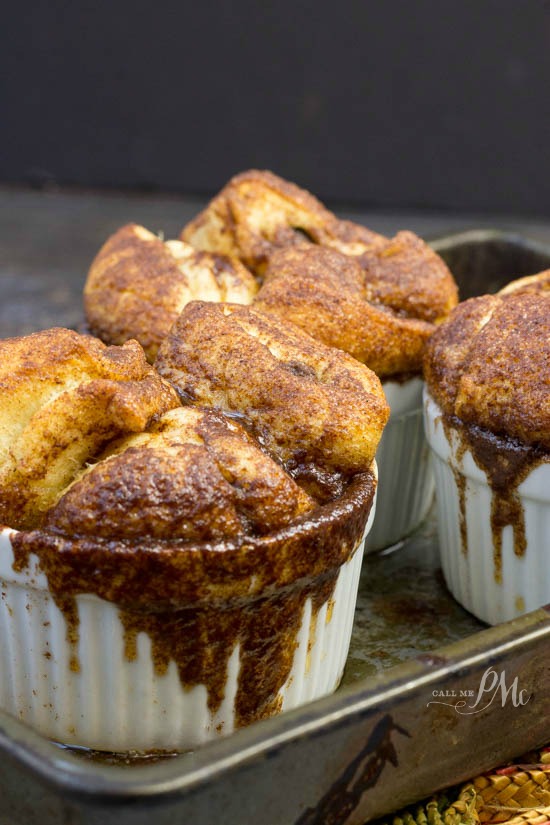 This recipe has evolved from traditional monkey bread made with biscuits to being made with crescent rolls to adding chocolate chips. This evolution is thanks to my boys. They kept talking over breakfast and changing the traditional monkey bread. I'm actually just fine with that. They have given me a lot of great ideas to share on Call Me PMc.
Chocolate Chip Crescent Roll Monkey Bread
I make Chocolate Chip Crescent Roll Monkey Bread in individual portions in ramekins because my boys said, "This feels gourmet when you make it in these cups."
Hey, they eat better when food is in individual portions so I'm all for it!
Baking this pull apart bread in ramekins also cuts down on the cook time making it work for weekday breakfasts.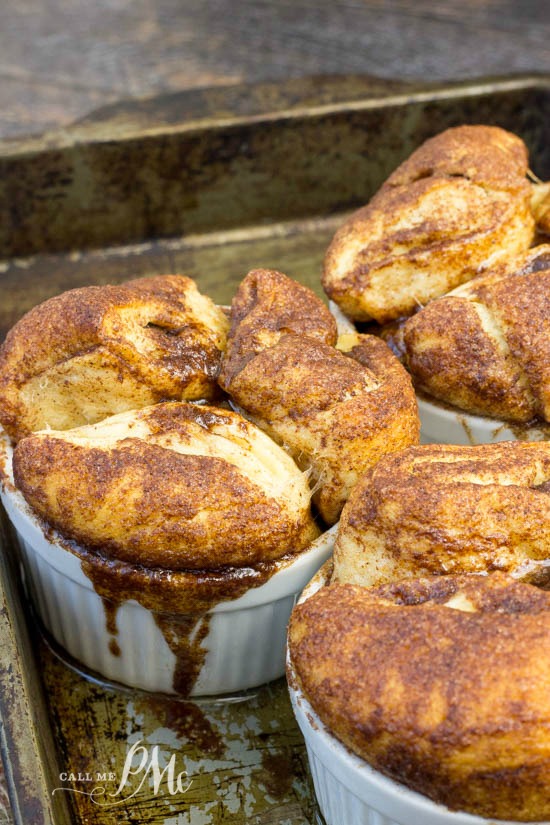 Chocolate Chip Crescent Roll Monkey Bread is buttery, chocolatey and full of cinnamon. I love pull-apart breads. The top gets crispy while there is always extra butter, chocolate, and cinnamon in the very bottom. That's the equivalent to frosting on a cake!
Chocolate Chip Crescent Roll Monkey Bread is a sweet, gooey, and a sinful treat. There's just something about eating foods with your hands that makes them better! Do you agree?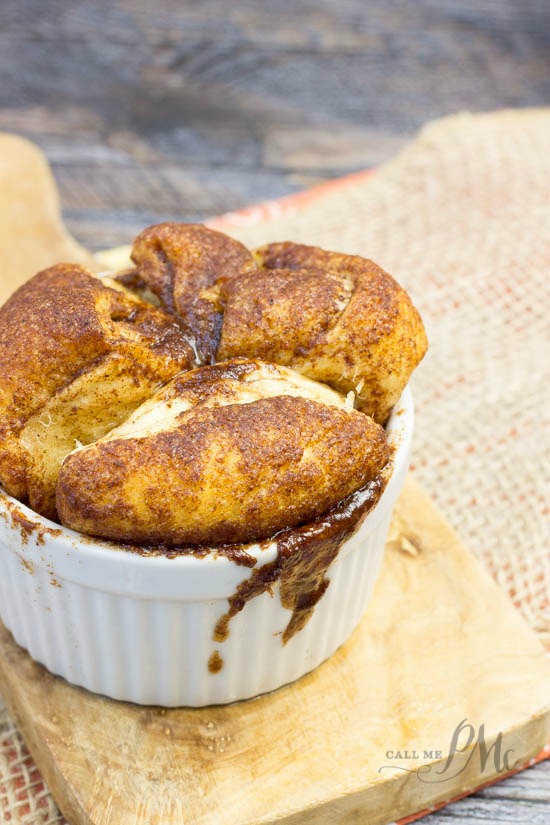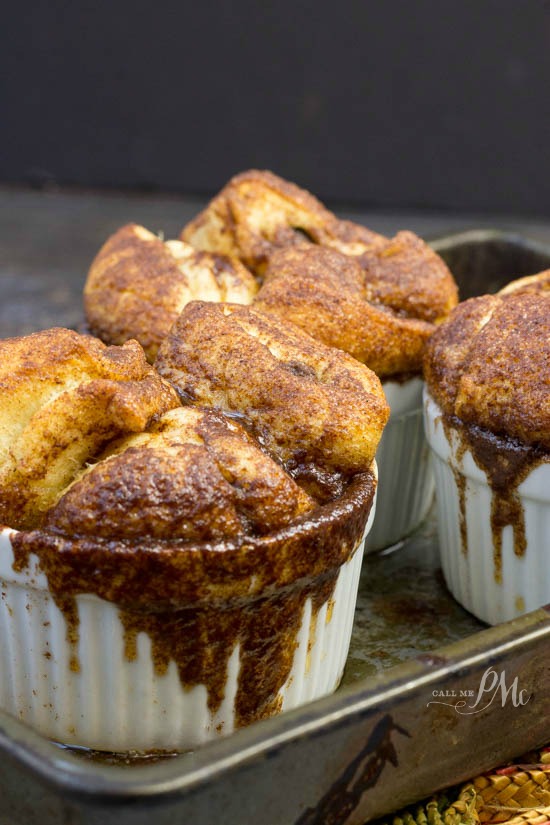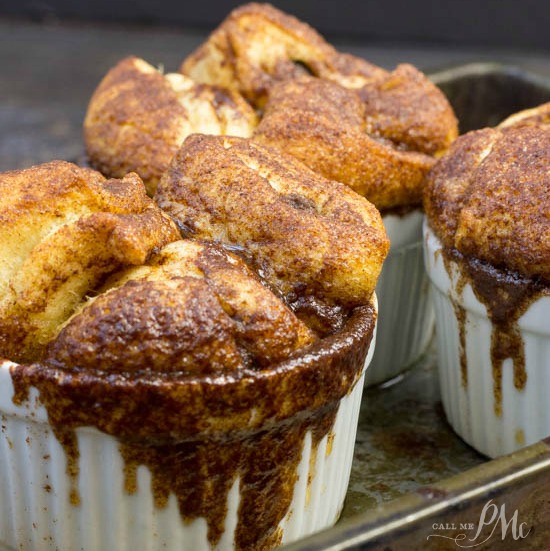 Thanks for reading CallMePMc.com! To stay current on what's going on in my kitchen, you can follow me on
Pinterest, Facebook, Twitter, Instagram, Google+, Bloglovin'
or follow me on email…
[wysija_form id="1″]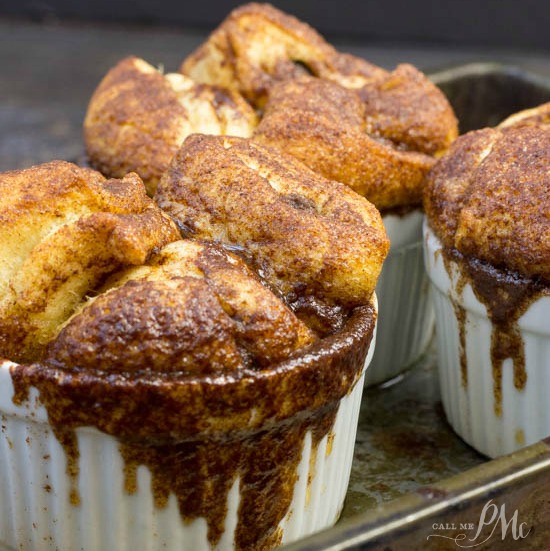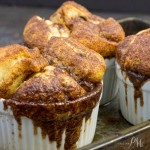 Print Recipe
Chocolate Chip Crescent Roll Monkey Bread
Quick and easy this Chocolate Chip Crescent Roll Monkey Bread is ready in 20 minutes. It's quick yet impressive and a good recipe for weekday breakfasts or brunch entertaining.
Ingredients
1 - 8

ounce

can crescent rolls

6

tablespoon

butter

1/4

cup

brown sugar

1

tablespoon

ground cinnamon

4

tablespoon

chocolate chips
Instructions
Preheat oven to 375 degrees F.

Spray 3 ramekins or 4 or 5 muffin tins with non-stick spray.

Place ramekins in a larger casserole dish to catch any spills.

Roll crescent roll dough out into four rectangles.

Spread 1 tablespoon of chocolate chips on each of the four rectangles.

Roll the rectangle up and cut into 5 or 6 even pieces.

Put butter, brown sugar, and cinnamon in a microwave-safe

bowl

. Microwave 30 to 40 seconds until butter is melted. Stir.

Dip each crescent roll piece into the cinnamon mixture then place in ramekin. Repeat with all.

Pour any remaining butter/cinnamon mixture over crescent roll pieces.

Bake 15 to 17 minutes or until cooked through.