EATING OUR WAY THROUGH SANDESTIN FLORIDA
This post may contain affiliate links that won't change your price but will share some commission.
Eating our way through Sandestin Florida – Great places to eat while you're visiting Sandestin, Florida.
Save this post for your Spring Break and Summer beach trips.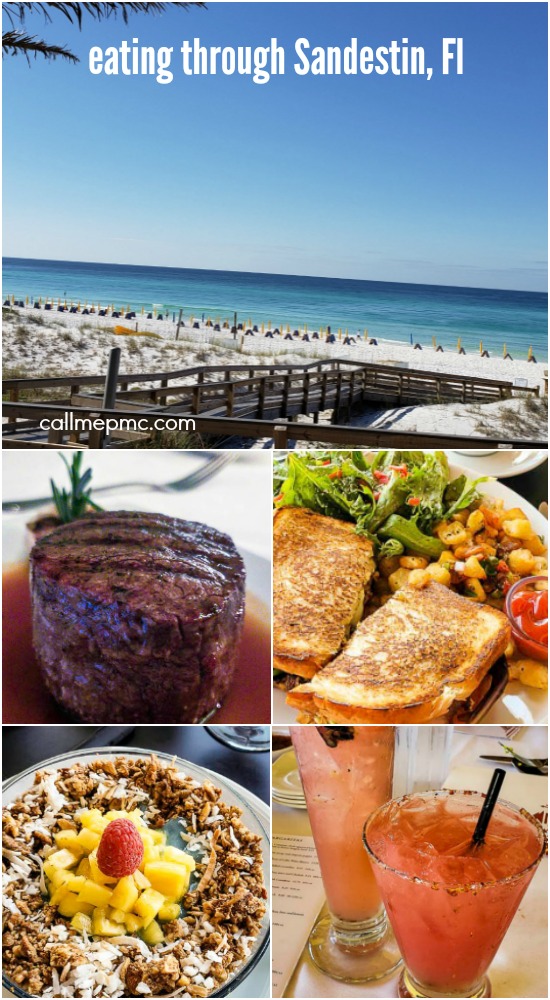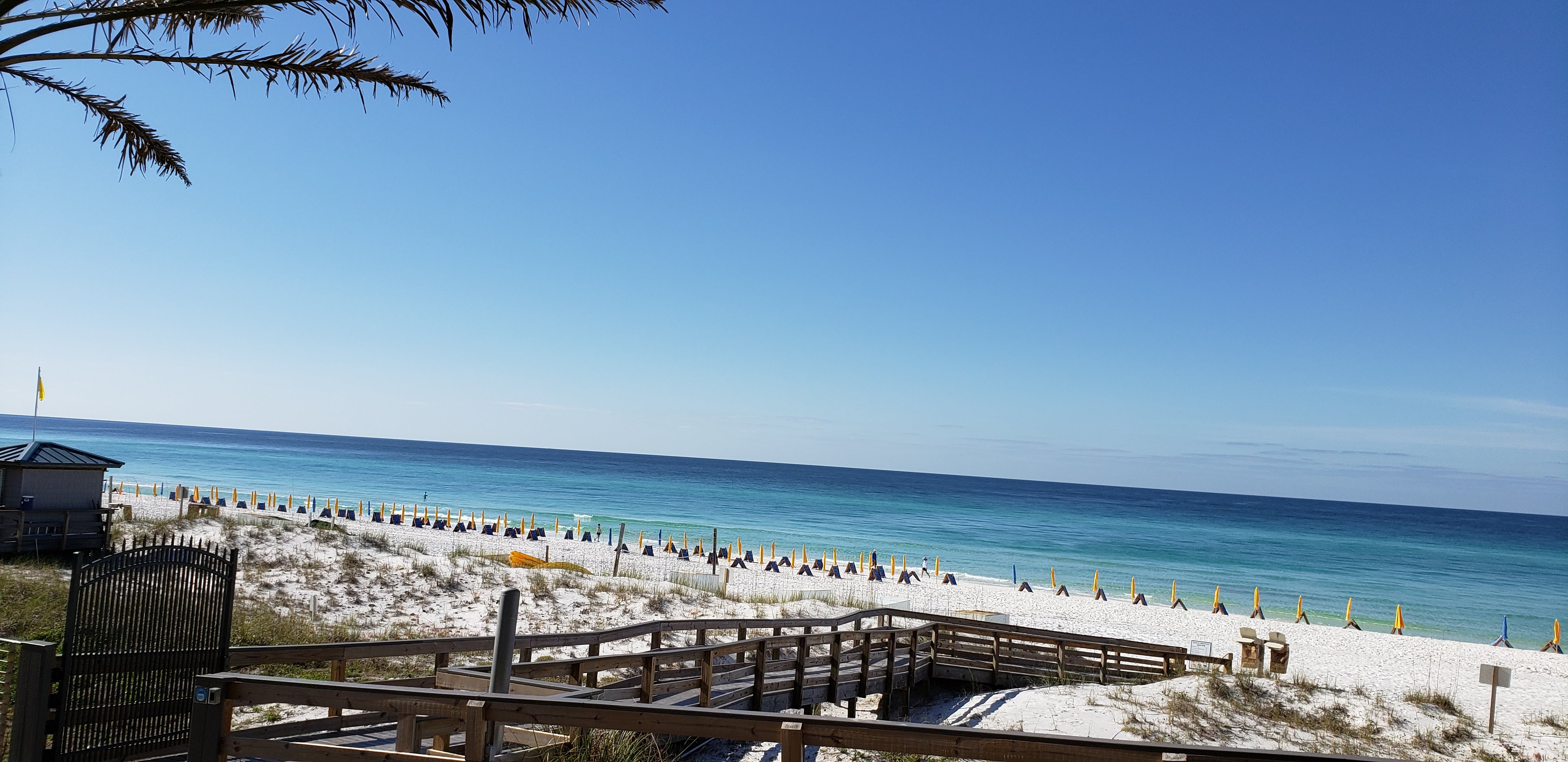 We got to escape to the beach for a quick couples weekend a couple of weeks ago. It's one of our favorite places to go and was warmer than at home the weekend in April that we went.
We stayed at the Hilton Sandestin. It's one of our favorite places to stay. In fact, we used to stay there every year when the boys were little.
The Hilton is in the heart of Sandestin, some may argue that The Hilton Resort IS Sandestin. Basically, it's true if you consider Baytowne Wharf part of the resort. There are so many activities options on the resort that you don't have to leave. You don't even have to get out of your car once you're there. The Hilton has a shuttle that runs to Baytowne Wharf where there is shopping, dining, bars, boating, tennis, and activities for children.
At home, there's not a convenient area that's safe to ride bikes, but we hopped on the super-wide sidewalk for an hour bike ride the first morning we were there. It was a much-needed workout since we overindulged at Seagar's the night before!
Seagar's
Seagar's in the in-house steak restaurant at the Hilton. It was raining, cold and we had driven all day. All we wanted was good, hot food that was close. We didn't have reservations but we got lucky and they accommodated us at a romantic table in the back.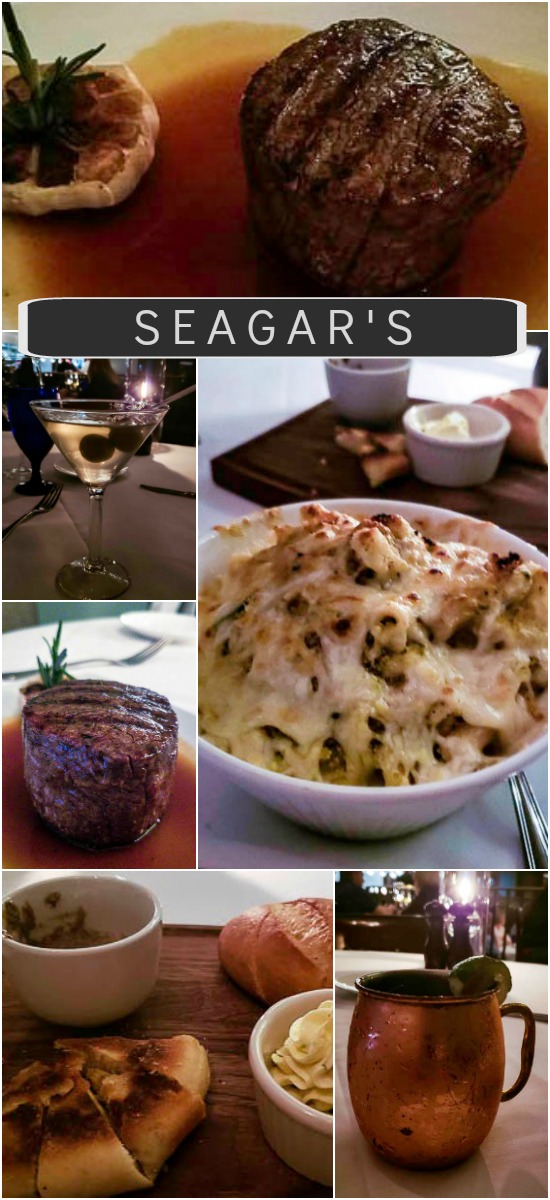 Big Daddy started with a Dirty Martini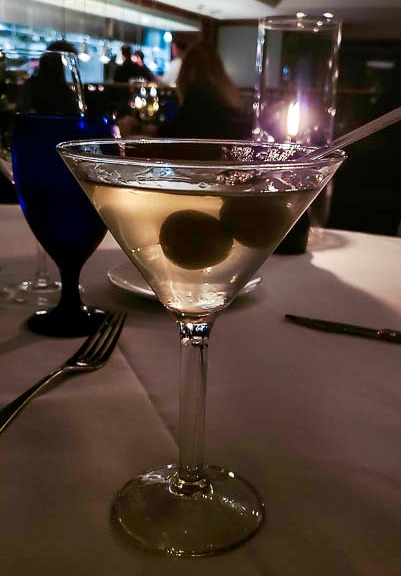 While I enjoyed one of my favorite cocktails, a Moscow Mule.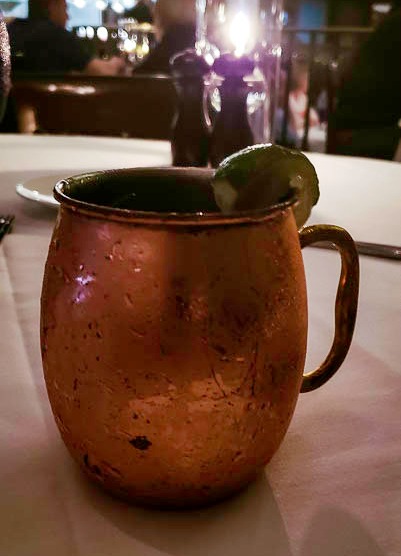 We enjoyed a selection of bread with our drinks.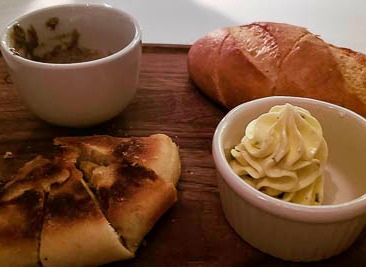 I'm not a big steak eater. However, Big Daddy said this is one of the best beef filets he's ever had.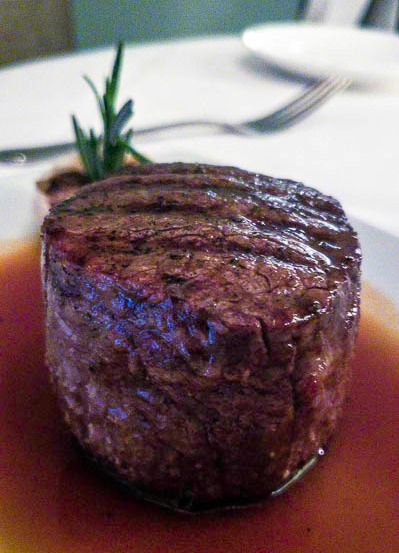 It was cooked perfectly.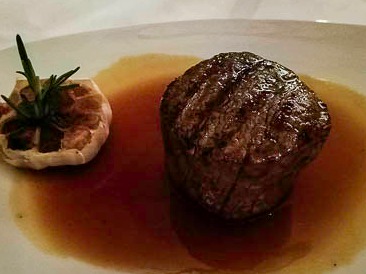 And, what foodie goes to a 5-star restaurant and just orders Mac n Cheese?
Well, that would be me! But, in my defense, this was the best mac n cheese I've ever had!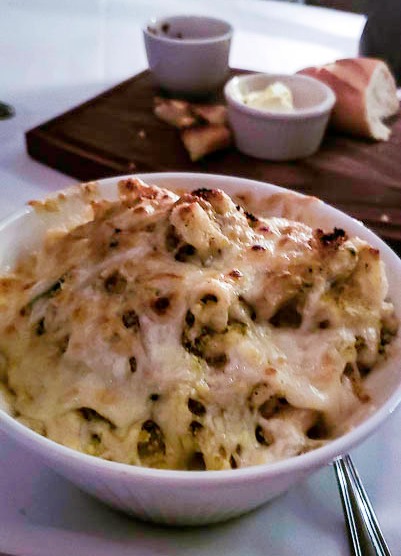 Grand Boulevard Shopping Center at Sandestin
Located inside Hilton Sandestin Beach Golf Resort & Spa
4000 Sandestin Blvd. South
Miramar Beach, Florida 32550
850-622-1500
Vin'tij
I'm a little embarrassed to say that we ate at Vin'tij twice in the three days we were in Sandestin. Embarrassed but not sorry. Vin'tij is so good with a creative menu. They have seasonally inspired menu options sourced locally that range from comfort foods to healthy foods.
Big Daddy couldn't resist the Fried Oyster BLT. He enjoyed a green salad and skillet potatoes with it.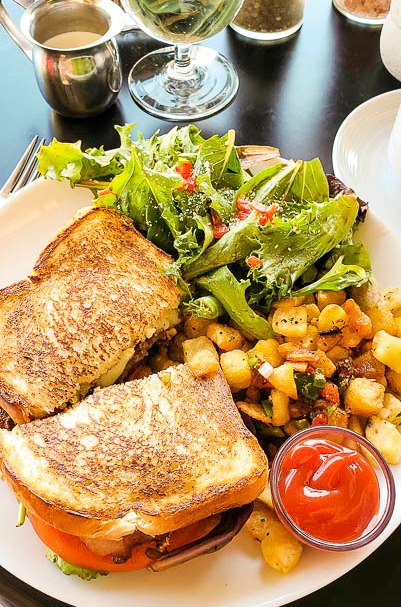 This was my first taste of a Mermaid Smoothie
Bowl
. I'm hooked.
In fact, I liked it so much I came home and developed my own recipe for it!
Southern biscuits and gravy with fried eggs and greens was delish.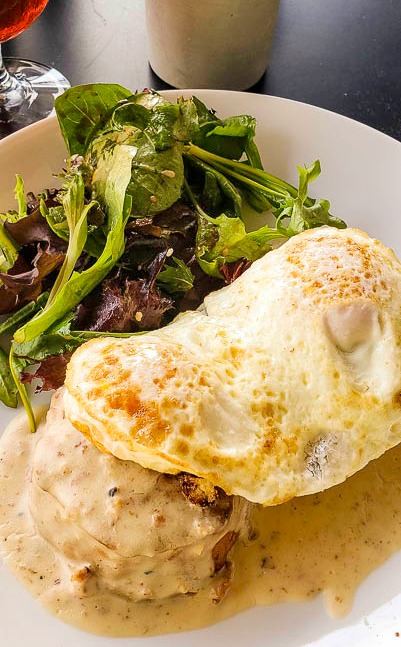 I enjoyed the Acai Smoothie
Bowl
, but honestly, nothing compares |
to the goodness of the Mermaid Bowl.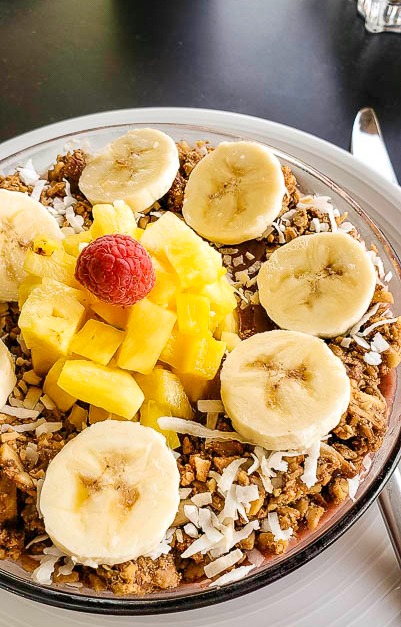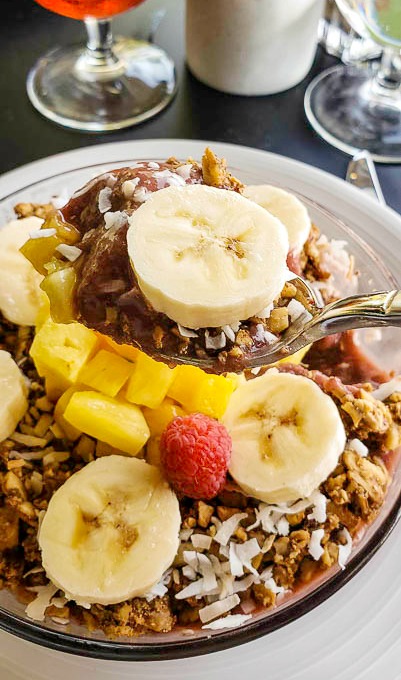 This is the wine case wall at Vin'tij. So cool!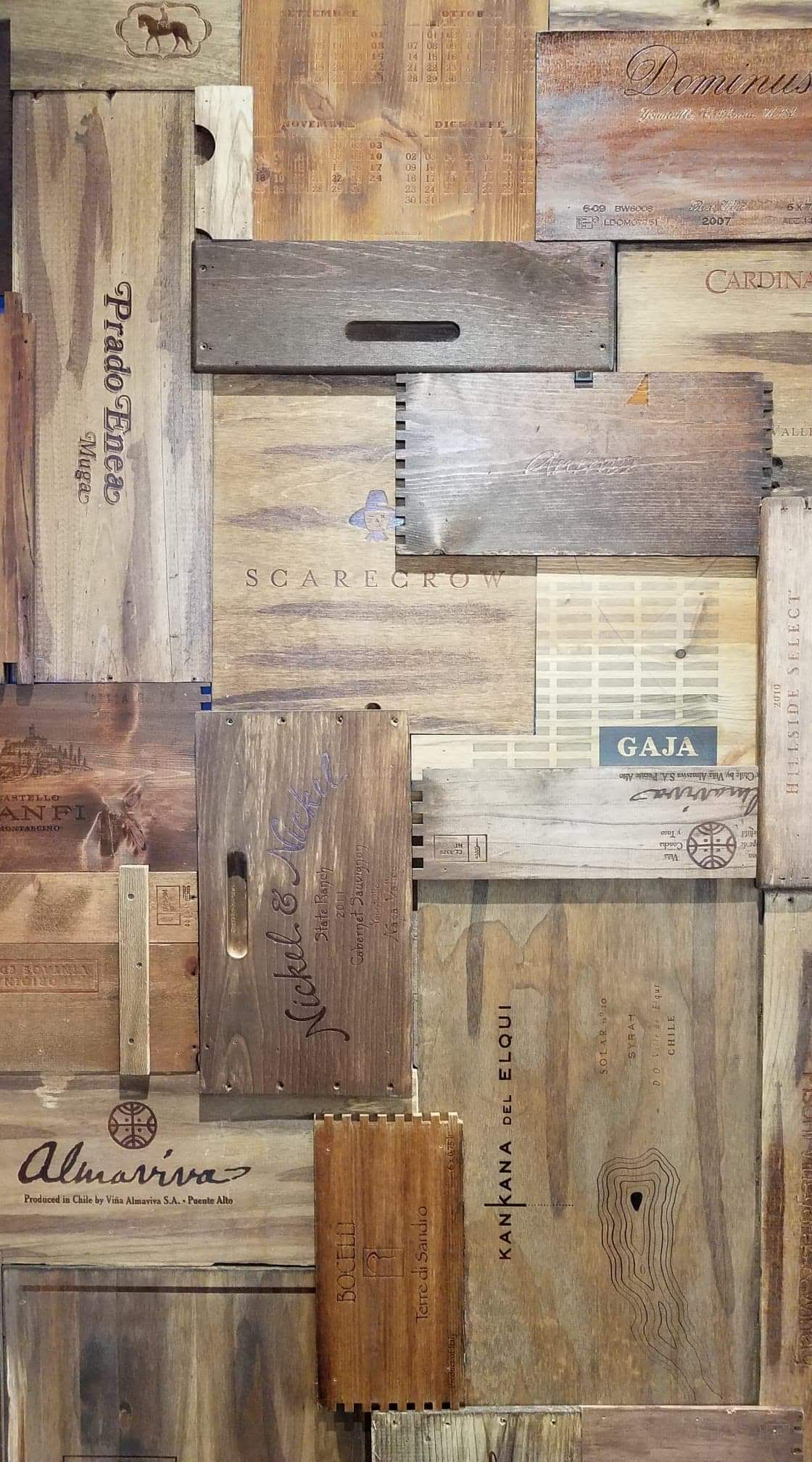 850-650-9820
Barefoot's
Barefoot's Beachside Bar & Grill is the beach restaurant in the Hilton Sandestin. There are beautiful views of the beach at Barefoot's as well as tasty food and drinks.
We got our fill of seafood with Barefoot's Sampler.
It had delicious oysters, snow crab, and shrimp.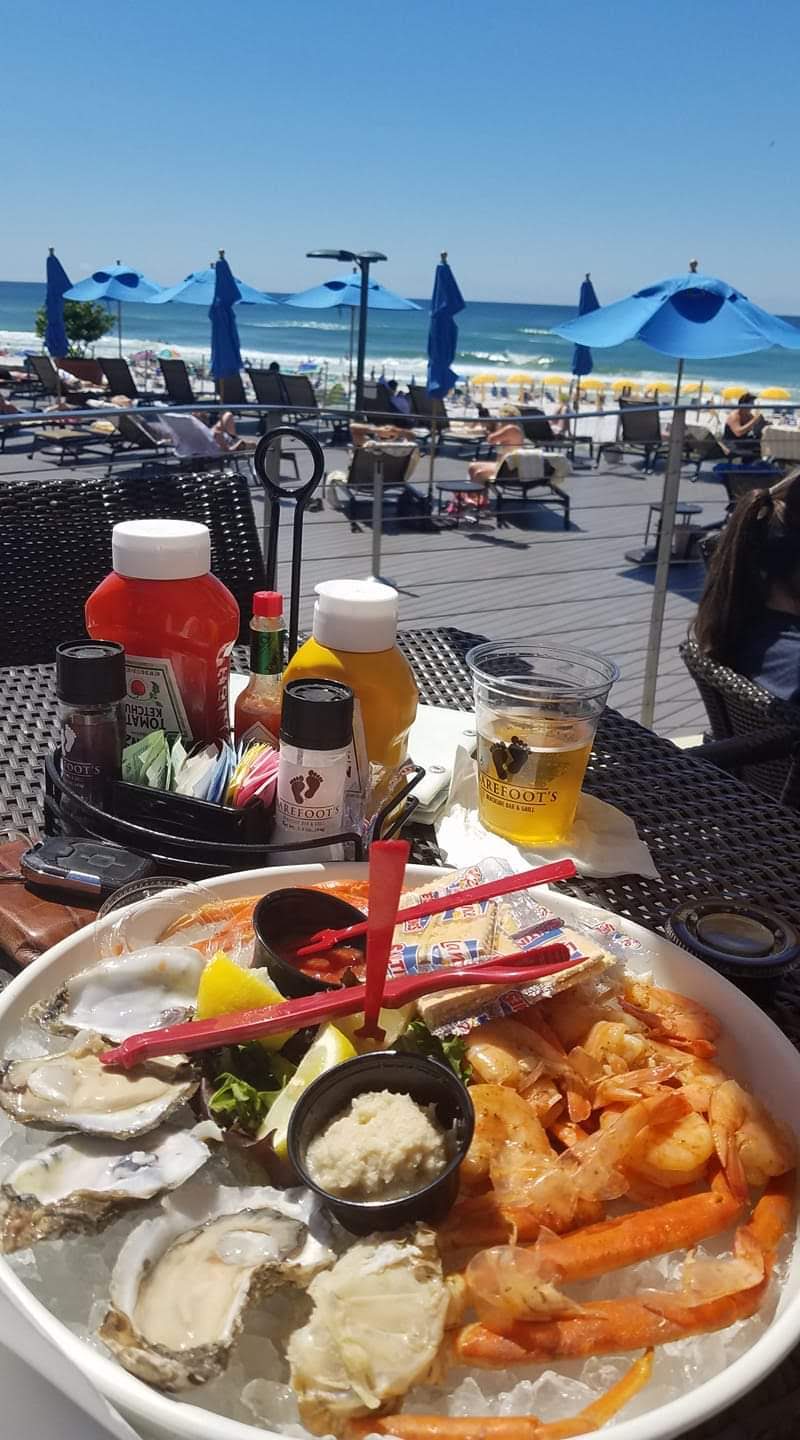 I can never pass up hummus. This Roasted
Red Pepper
Hummus with pita chips was amazing!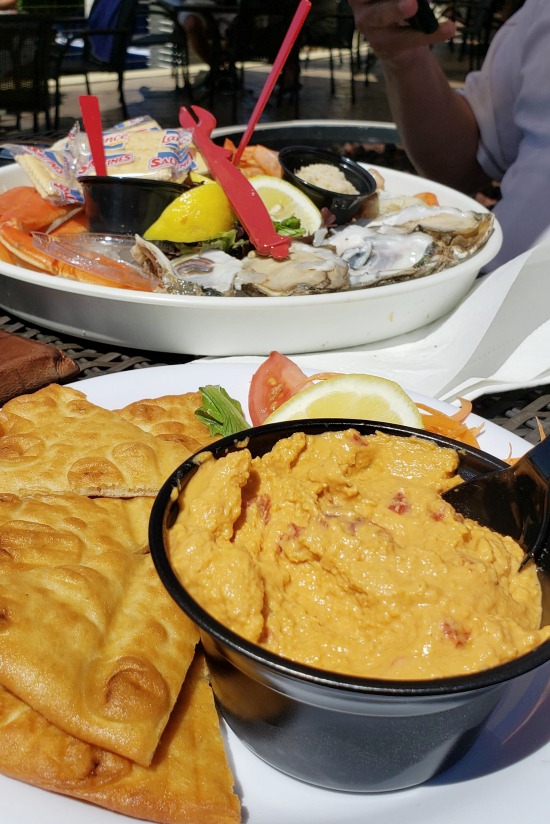 Located inside Hilton Sandestin Beach Golf Resort & Spa
Cantino Laredo
We enjoy Mexican food and had heard great things about Cantina Laredo. It was great!!
 We started with a Skinny Rita and a Watermelon Rita. Fantastic!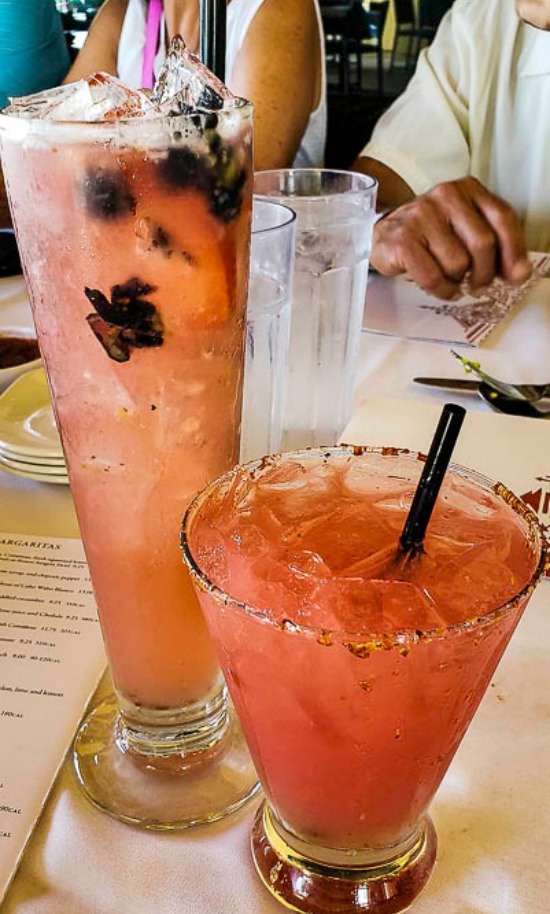 The Ahi Tuna Tacos were out of this world!
Sushi grade tuna tacos with jicama, ginger slaw, guacamole, pickled red onion, and chipotle aioli.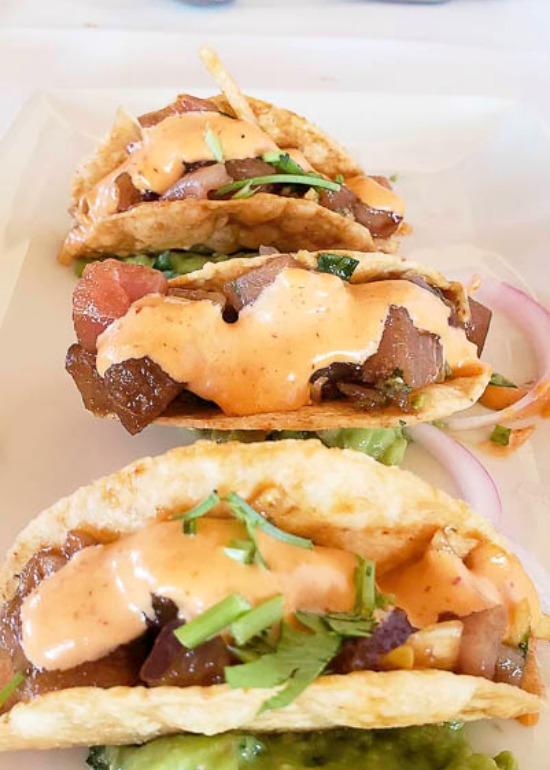 I've never had a dessert like Tres Chocolate Brownie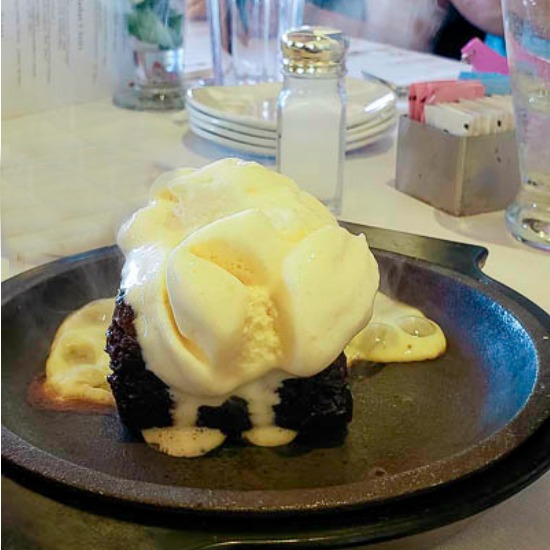 585 Grand Boulevard
Miramar Beach, Florida 32550