HALLOWEEN WINE BOTTLE CRAFTS
This post may contain affiliate links that won't change your price but will share some commission.
Halloween Wine Bottle Crafts. Take your Halloween party decorations to the next level with these easy DIY wine bottles crafts.
I love that you can enjoy wine then upcycle the bottles and enjoy them too. Wine bottles and corks are the perfect canvas for decorating and a fun vessel for letting your creative juices flow. Painting wine bottles, or any empty bottles, is an easy and inexpensive way to recycle and reuse, and as well as decorate your home for the holidays.
You can even get wine bottle stickers to decorate your bottles for a party (before they're empty). Just peel them off, stick them on the bottles. This is perfect for your own decor or as a gift for your Halloween host. Buy yourself a couple of sets here.
Halloween Wine Bottle Crafts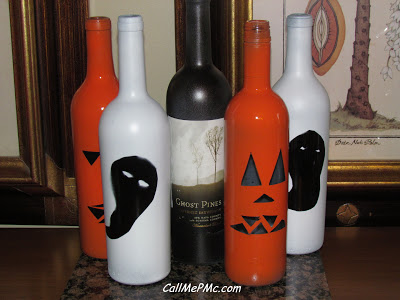 First, clean the bottles and remove labels.
I soaked the bottles submerged in water for 24 hours and
the labels came right off.
Dry bottles and spray with a primer.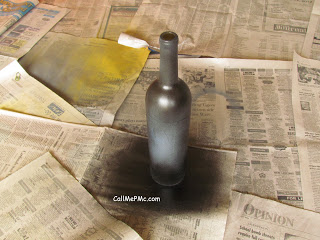 This bottle was Ghost Pines brand wine so I taped over the label
and left it on. I primed it, then sprayed it with metallic bronze paint.
When dry, I removed the tape.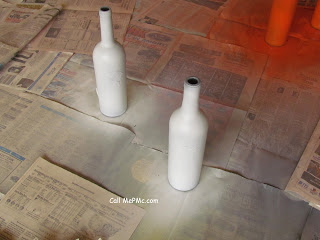 I taped off areas in a ghost pattern for the white bottles;
and made jack o'lantern faces on the orange bottles.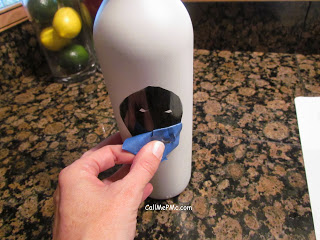 When the paint dried, I peeled off the paint.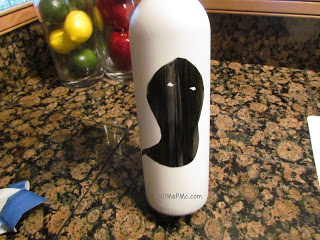 Cute ghost!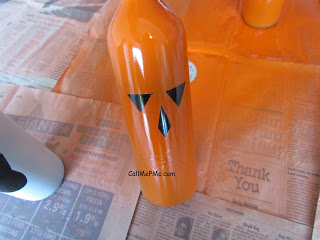 I plan to place a glow stick inside the bottles
and the areas not painted will light up.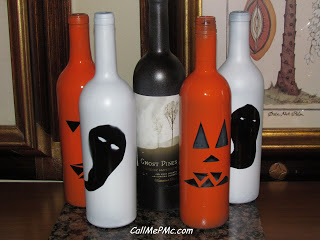 Cute! If I can do it, you can too!
I previously got crafty and painted
these
.
And
this post
started all the spray painting!
I did it! My First Half Marathon!!
Some facts if you're training for a 1/2 Marathon:
1. You will sleep really great the night after an 11-mile run.
2. You may not be able to get out of bed the day after an 11-mile run.
3. You will have muscles you didn't know you had and they will be sore after an 11-mile run.
4. You may, and quite possibly will, feel like you fought Mike Tyson after an 11-mile run.
5. You cannot eat anything you want while training for a 1/2 Marathon; getting older stinks
….but at least I'm getting older, better than the alternative!
6. I really didn't have the energy to paint bottles. I did it for you guys! Thanks for visiting!
Need to know how long you can wear your running shoes before they wear out? read this