I'm not the only one that cooks in my house.
Wesley is a fabulous cook.
If it requires patience, then he's your man.
If it requires patience, then I am NOT the one to be cooking it.
Wesley has been grilling and smoking his whole life.
The secret: he cooks because he likes it 'his way'.
Well, 'his way' is pretty awesome in everything he makes
but especially in smoking Boston butts or ribs.
I can honestly say that
I have never had ribs better than Wesley's at any restaurant
or competition.
This is step-by-step instructions on how he does it.
If you have any questions, leave a comment
and I'll make sure he answers or clarifies.
I can tell you one secret, be patient.
You can not rush these!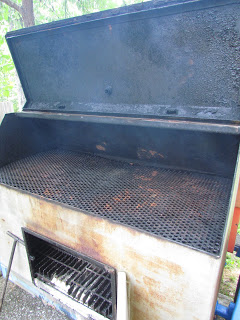 This is my "traditional fire" smoker on a trailer.  It has a punched steel cooking grate with an access door to the fire box.
Steven Raichlen Best of Barbecue Nonstick Ultimate Rib Rack with Bonus Barbecue Sauce Mop with Removable Head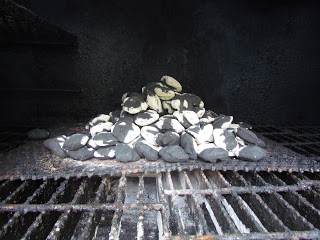 I start with about 5 lbs of traditional charcoal briquettes set right in the middle of the smoker.  I let them come up to temp and turn completely white before putting the meat on.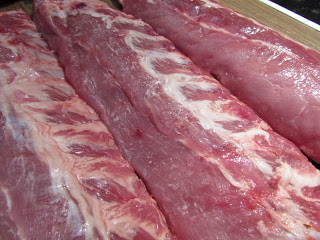 While the smoker is coming up to temp, I prepare the meat.  Here I have three slabs of baby back pork ribs, that have had the membrane removed from the back of the slabs.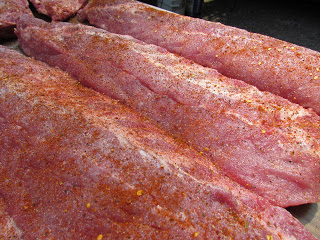 I rub the slabs with crushed red pepper flakes, a light coat of rendezvous dry rub seasoning, salt, pepper and garlic powder.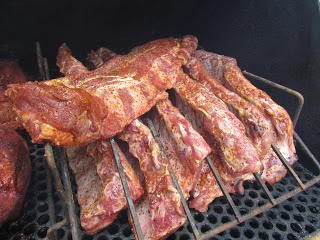 I place the ribs on the smoker with as much space between them as possible to allow the smoke to circulate freely. Because we had so much to cook on this day, I used a roasting rack placed upside down and placed the racks in like playing cards.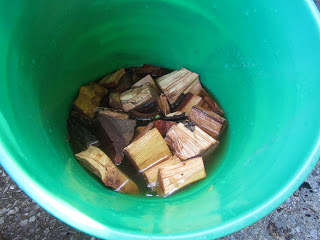 Here, I use a bucket of water to soak
pecan
wood "chunks" in water.  This insures the wood smolders when you add it to the 
briquettes
 vs. burning too fast it they are completely dry.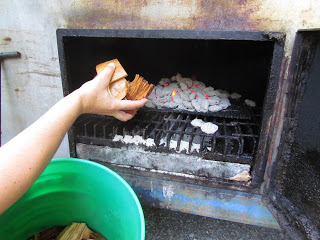 I add the wood chunks as soon as I have the meat on the grate and the temperature up to 225 degrees.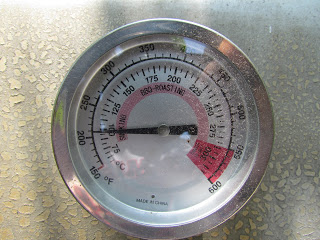 I try to maintain a temp between 225 ad 250 at all times.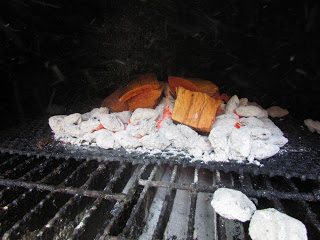 I maintain the temperature by adding charcoal briquettes as needed to keep the temperature up for the 6-8 hour cooking time.  I add the wood chips for the first 4 hours of cooking while the meat is raw.
The meat is about half way through the cooking process at this point.  You can see here, we also cooked some pork shoulders as well as the baby back ribs.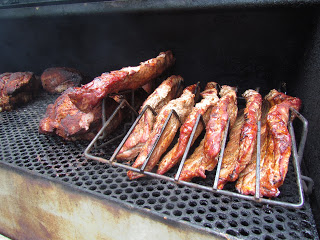 So how do you tell when ribs are done? Properly cooked ribs will not fall off the bone when done. Only ribs that have been boiled or steamed will fall of the bone. Boiling and Steaming robs the meat of flavor so this method is not advised! 

Properly cooked ribs will pull off the bones when bitten! Like a properly cooked steak, they will have some chew, however, properly cooked ribs will not be tough.

Properly smoked ribs will have an internal temperature of 180 to 190 degrees. They will take 7 to 8 hours of consistent 225 degree heat. Testing for doneness takes experience. You can cut into them. You can taste test a rib on the end. You can measure strictly by temperature. It really takes practice to accurately  determine doneness, but well worth it. 

Gather your friends and start practicing! 


Maverick Laser Surface Thermometer