This is a sponsored post written by me on behalf of Cooked Perfect® Meatballs. All opinions are 100% mine.
This Nashville Hot Chicken Meatball Sandwich is sweet, spicy, and full of flavor. This meal also takes less than 30 minutes to prepare and is hearty and satisfying.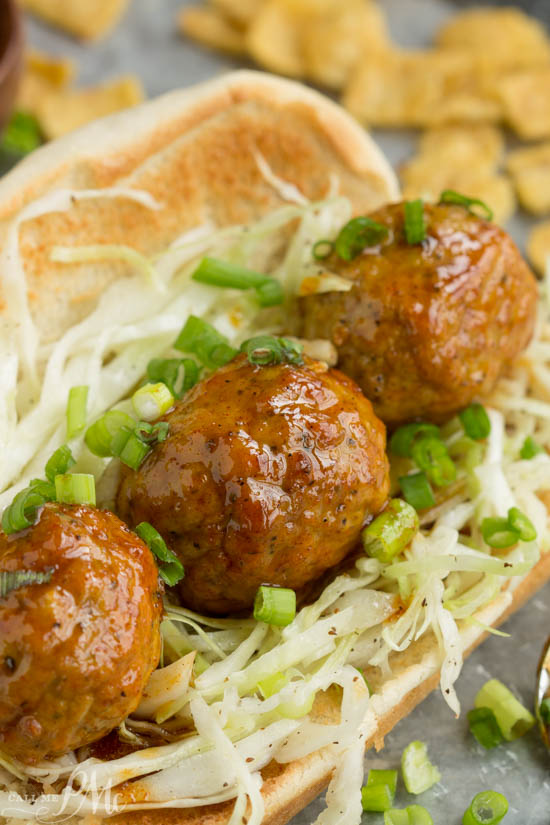 I recently made Mongolian Beef Meatballs with Cooked Perfect® Meatballs. I was so impressed with the flavor and quality of their meatballs that I wanted to try more of the varieties.
Cooked Perfect Meatballs comes in all these wonderful flavors. There are numerous ways to enjoy these different varieties of meatballs with different sauces. I think a classic Buffalo Sauce will also be wonderful on All Natural Chicken Meatballs. Also, serve them on sandwiches, pasta, rice, or alone as appetizers! Visit here for more meatball recipes.
Italian Style
Gluten Free Italian Style
Homestyle
Turkey
Angus Beef
Swedish
Sweet Italian
All Natural Italian Style Meatballs
All Natural Chicken Meatballs
All Natural Homestyle Meatballs
Cooked Perfect Chicken Meatballs are all natural. They are light and tender with a slightly smokey flavor. Both the chicken and turkey Cooked Perfect Meatballs are tremendously versatile and go well with many different flavors and spices. Coincidently, you can't go wrong with any of the flavors. They are high quality and delicious.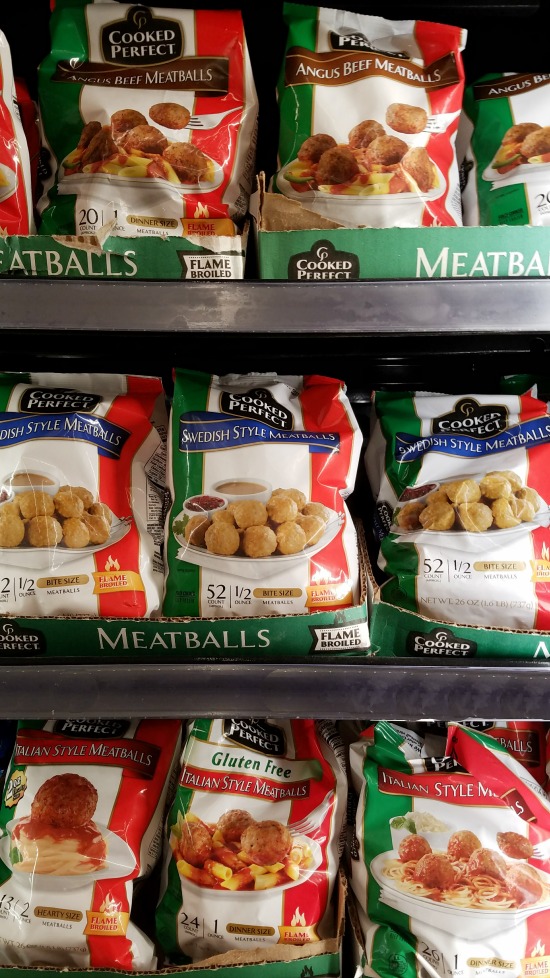 You can Find Cooked Perfect Meatballs in the freezer section at your grocery store. Ask a clerk if you have trouble locating them, but I typically find them alongside frozen chicken nuggets and such.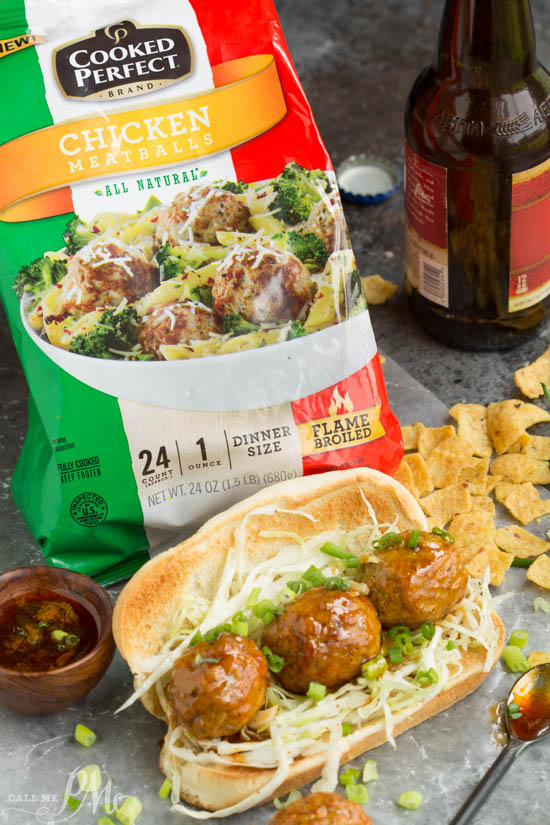 Nashville Hot Chicken Meatball Sandwich
I knew I could make a quick weeknight dinner for my family in no time. Since my family enjoys spicy food, I chose the chicken meatballs with plans to make this Nashville Hot Chicken Meatball Sandwich.
If you're not familiar with 'Hot Nashville Chicken', you are in for a flavor bonanza! 'Hot Nashville Chicken' is fried chicken covered in a hot and spicy sauce. It's an iconic specialty of Nashville, TN. Typically, the sauce is sweetened with honey and gets the heat from cayenne pepper and hot sauce.
I opted not to fry my meatballs since Cooked Perfect Meatballs are already flame-broiled to sear in the flavor. Instead, I went for a simple approach. I heated them in a saucepan with the delectable Hot Nashville Chicken Sauce. Leaving off the frying step saved a lot of time, not to mention calories and fat as well.
To add a cool, crunchy element to my hoagie-style sandwich I made my favorite Tangy Vinegar Based Slaw. For a creamy element, I mixed a little mayonnaise with the Nashville Hot Chicken Sauce. This just may be the perfect sandwich!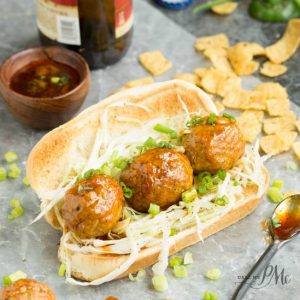 Print
Nashville Hot Chicken Meatball Sandwich
Nashville Hot Chicken Meatball Sandwich is sweet, spicy, and full of flavor. This meal also takes less than 30 minutes to prepare and is hearty and satisfying.
Ingredients
For the sauce
6 tablespoons butter, salted or unsalted
2 tablespoons hot sauce 
2 tablespoons honey 
2 tablespoons brown sugar 
1/4 teaspoon cayenne pepper
1 teaspoons garlic powder 
1 teaspoon paprika
1/2 teaspoon salt 
1/4 teaspoon black pepper 
For the slaw
1/4 head cabbage, about 3 cups, sliced thin
1/3 cup white wine vinegar (apple cider vinegar may be substituted)
1 tablespoons granulated sugar
2 tablespoons olive oil
1 teaspoon salt (optional)
1 teaspoon freshly ground black pepper
2 teaspoon celery seed
For the Sandwich
meatballs
hoagie buns
green onions, sliced thin
1/3 cup mayonnaise
Instructions
For the sauce
Combine the butter, hot sauce, honey and brown sugar in a small saucepot over high heat.
Stirring constantly, bring to a boil and cook until the brown sugar melts, 2 to 3 minutes.
Remove from the heat, mix in the cayenne, garlic powder, paprika, salt, and pepper, and stir until smooth.
Remove and reserve 3 tablespoons of sauce.
Reduce heat to medium-low and add meatballs to sauce. 
Simmer until meatballs are heated through, about 5 minutes.
For the slaw
In a small bowl, whisk vinegar, sugar, olive oil, salt, pepper, and celery seed.
Pour mixture over sliced cabbage and toss.
Refrigerate until ready to use.
For the sandwich
Toast the hoagie rolls
Mix 3 tables sauce with 1/3 cup mayonnaise
Add mayo to the bun
Top with meatballs, slaw, and sliced green onions
Serve
Notes
Recipe from Paula @CallMePMc.com All images and content are copyright protected. Please do not use my images without prior permission that includes copying the ingredient list or entire recipe and posting in the comments on Pinterest for Facebook. If you want to share this recipe, please simply link back to this post for the recipe.