Apple Fritter Cake is moist and bursting with flavor. It's sweet, buttery and filled with caramel apples and cinnamon. Top it off with a sugary glaze and you have a cake that tastes just like an apple fritter!

For locals, if you've ever had the Apple Fritters at the
Amory Railroad Festival
, you know how good they are. You know how
addicting
they are!
I love a gooey cake and this Apple Fritter Cake was perfect!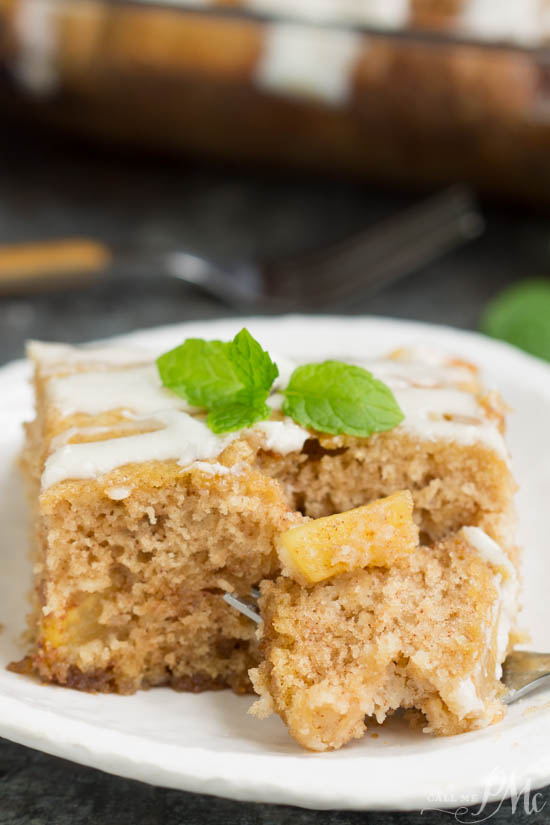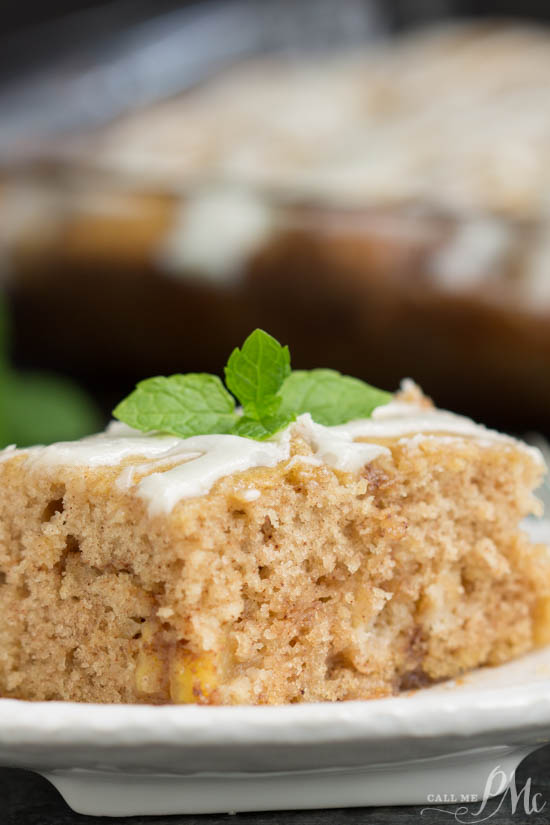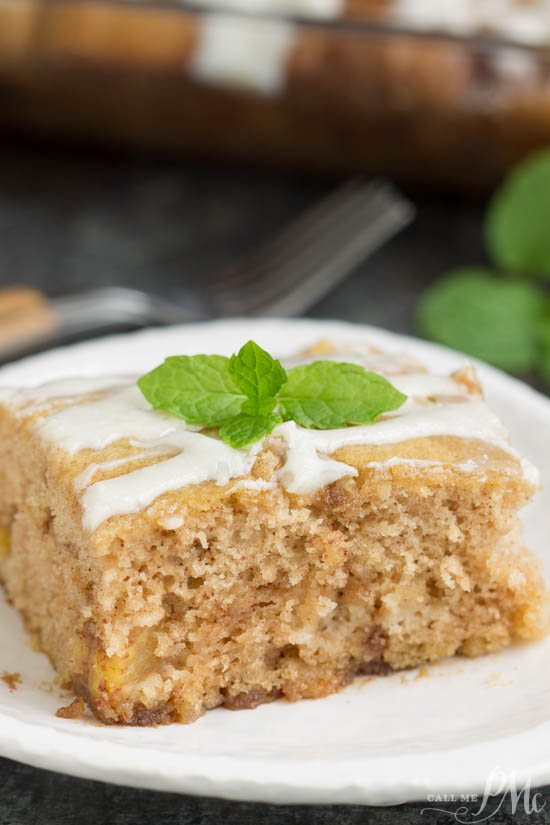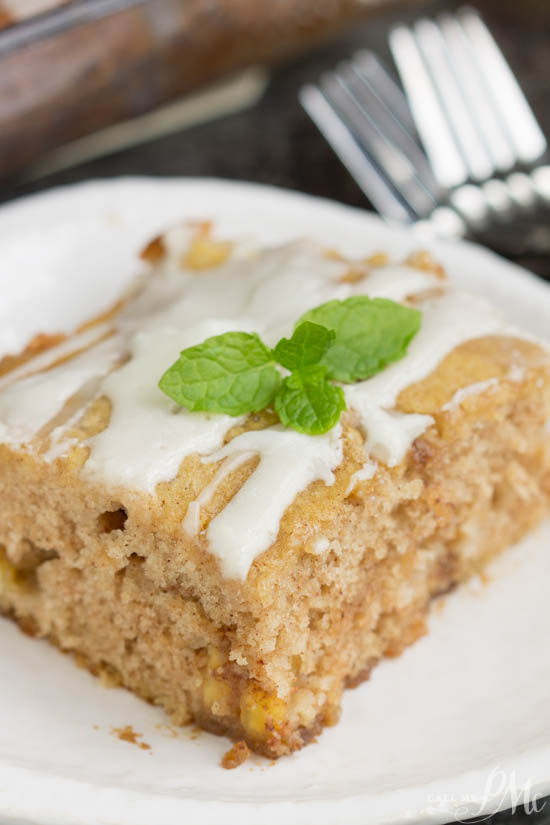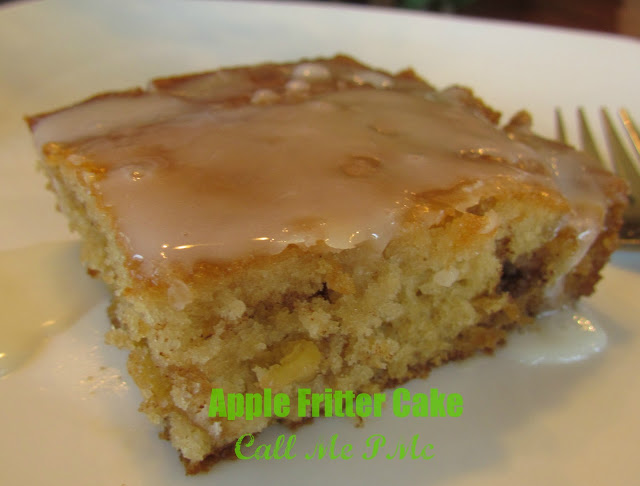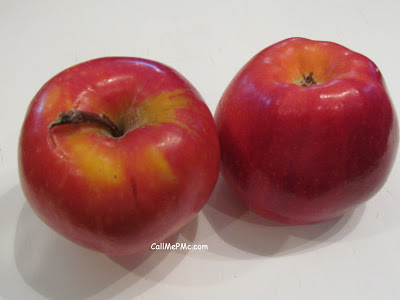 I used Fuji apples.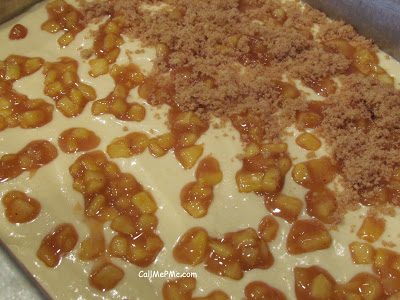 Pour half the batter in, top with the apples, then brown sugar.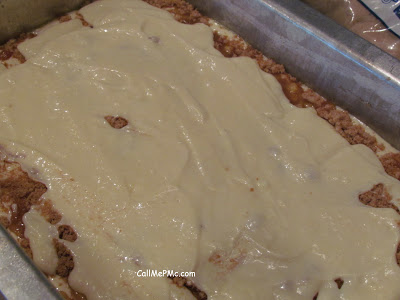 Top with remaining batter and bake.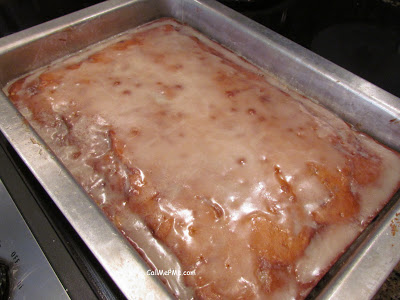 When cake is done, immediately top with glaze.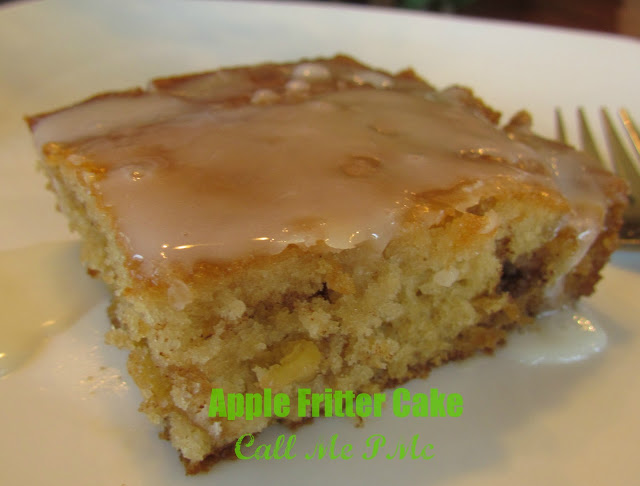 Print
Apple Fritter Cake
Yield 12
Ingredients
For filling:
2 cup diced apples
1/2 cup sugar
1/3 teaspoon cinnamon
pinch freshly grated nutmeg
2 teaspoon cornstarch
5 Tablespoon water
Additional filling:
1/2 cup brown sugar
1/2 teaspoon cinnamon
For cake:
1/3 cup butter
3/4 cup sugar
1/2 cup applesauce
1 teaspoon vanilla
3 eggs
2 1/4 cup flour
1 teaspoon baking powder
1 teaspoon baking soda
1 teaspoon salt
1 teaspoon cinnamon
1 cup sour cream (or buttermilk)
Glaze:
2 cup powdered sugar
1 teaspoon vanilla
6 Tablespoon milk
Instructions
For filling: Combine apples, sugar, water, cinnamon and cornstarch in a small saucepan. Bring to a boil then reduce heat to simmer. Simmer 5 to 7 minutes, stirring constantly until the sauce is thickened and the apples are soft. Set aside to cool. In a small bowl, combine brown sugar and cinnamon. Set aside.
For cake: Preheat oven to 350 degrees. Spray a 9x13 inch cake pan with non-stick spray. Set aside. Cream butter and sugar until light and fluffy. Add applesauce and vanilla and mix until combined. Add eggs, one at a time, beating well after each addition.
Sift the dry ingredients together then add alternately with sour cream (or buttermilk) to sugar and butter mixture. Mix until just combined.
Spoon half of the batter into the prepared pan. Spoon the cooled apple mixture over the batter and spread as evenly as possible. Sprinkle the cinnamon/sugar mixture over apples. Carefully spoon the remaining batter over sugar mixture.
Bake 30 to 35 minutes or until a wooden pick inserted into the center of the cake comes out clean or with dry crumbs on it.
For Glaze: While cake is baking, mix glaze ingredients together. Whisk until completely smooth. When cake is done, immediately pour glaze over hot cake. Allow the glaze to set before cutting the cake.
Enjoy!