I shared a special day with my mother making this Balsamic Strawberry Jam and couldn't wait to share it with you.
I grew up watching my mother can fruits and vegetables as well as make jams, jellies, and preserves. I helped her shell peas and butter beans (lima beans), husk, clean and cut off corn, peel peaches; you name it I helped her. Mother taught school during the school year and her 'Summer job' (besides raising us and driving us to ball practice and friend's houses to play) was taking care of the garden.
We canned and froze enough vegetables to feed an army to last through the winter. Jeez, I don't know why, I mean, there were stores where you could buy the stuff. It was just how they were raised so that's what we did. Plus, we ate vegetables
every.
single.
day.
of.
every.
single.
week.
I never had the desire to can anything. I mean, Mother still cans and best of all she SHARES!!!!!
I never saw the need to do it myself, until this year after some health issues. I realized I need to learn some of her secrets.
I love strawberry jam and you just can't purchase jam like she makes. Strawberry Jam was my first experience at canning. I love the way it turn out and Ryder loved it as well. He's always been a Concord Grape Jelly man, until now!
I enjoyed the Strawberry Jam and the canning process so much, I decided I wanted to be more adventurous and try this recipe for Balsamic Strawberry Jam. The balsamic vinegar gives the jam a wonderful tart, robust flavor. It's my new favorite!
What's your favorite jam or jelly? Have you canned jam or jelly before?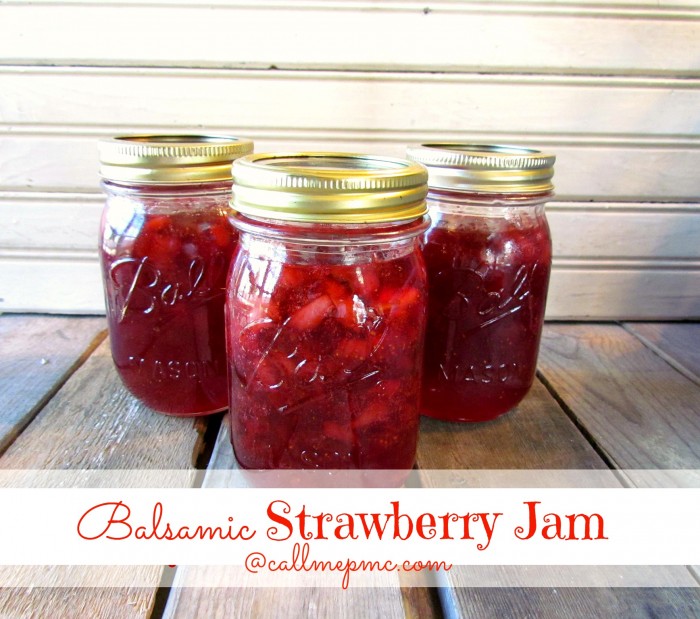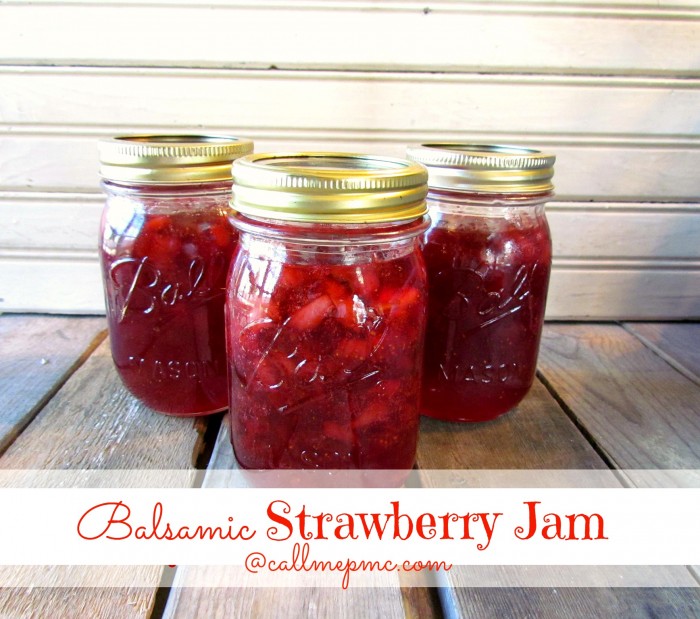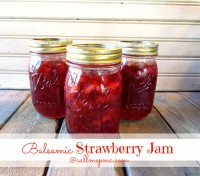 Print Recipe
Balsamic Strawberry Jam / Call Me PMc
Ingredients
5

cups

strawberries

3 1/2

cups

of sugar

6

tablespoons

of balsamic vinegar

1

tablespoon

butter

1

packet unsweetened fruit pectin
Instructions
Stem and crush strawberries.

Heat strawberries, sugar and pectin in a large pot to boiling. Boil 30 seconds, stirring constantly.

Remove from heat and skim off foam from top.

Stir in butter and balsamic vinegar.

Ladle quickly into prepared jars. Wipe lids and seal tightly.
Tried this recipe? I'd love to hear from you. Comment below or mention & tag me on Instagram
Mention @Paula_callmepmc or tag #callmepmc!