Blueberry Mango Overnight Oats Parfait is prepped the night before and 'cooked' in the fridge. This easy and convenient breakfast is healthy, nutritious and full of flavor!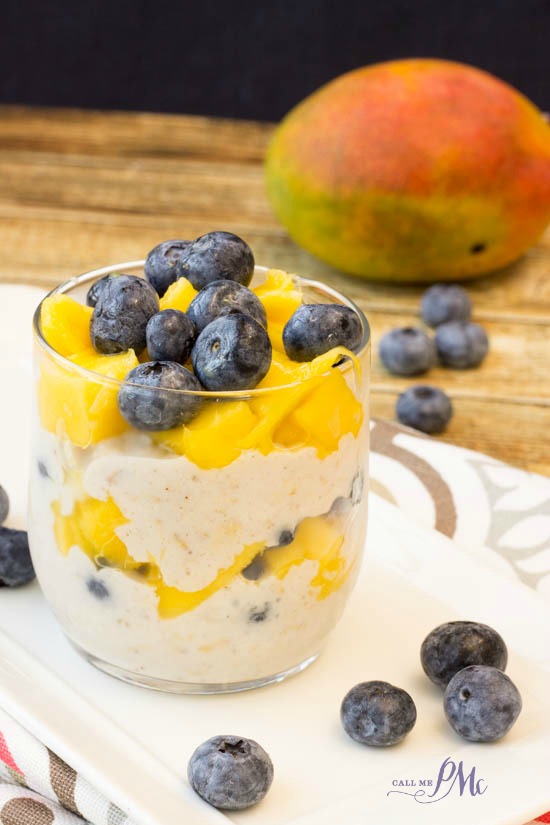 Do you eat breakfast? I guess you could say I eat brunch because I don't eat until I get back from taking the boys to school. It's too rushed getting them out the door and even though I make this for them every day, I want something more nutritious. Because, let's face it, who can eat biscuits without butter and a heaping spoon full of jelly?
Plus, I think this is so weird, but I hate to make food for myself. I like to cook because I like to serve others, if it's just me I swear I get the easiest thing available… a spoon of almond butter, hummus and chips or a few sweet pickles. I know, so weird!
I like that I can mix these overnight oats together at night, then all I have to do is cut up fruit in the morning when I'm ready to eat. Just for clarity,  I never make my parfait this pretty when I'm not taking pictures for you. I just throw it all in a bowl, so there's a little time-saving tip too!
I also like Blueberry Mango Overnight Oats Parfait as a post work or afternoon snack. It's filling and satisfying without blowing my calorie total for the day.
I'm loving this Silk® Dairy-Free Yogurt Alternative. It's smooth and creamy and made from plants instead of diary. I substitute it in recipes like this Blueberry Mango Overnight Oats Parfait just as I would a traditional yogurt.
Silk® Dairy-Free Yogurt Alternative
It has 6 grams of soy protein per serving, with no cholesterol
6 smooth, creamy flavors with juicy bits of real fruit

Strawberry
Blueberry
Black Cherry
Vanilla
Tropical Pineapple
Peach & Mango

Excellent source of calcium and vitamin D
No cholesterol, dairy, lactose, gluten, carrageenan or casein.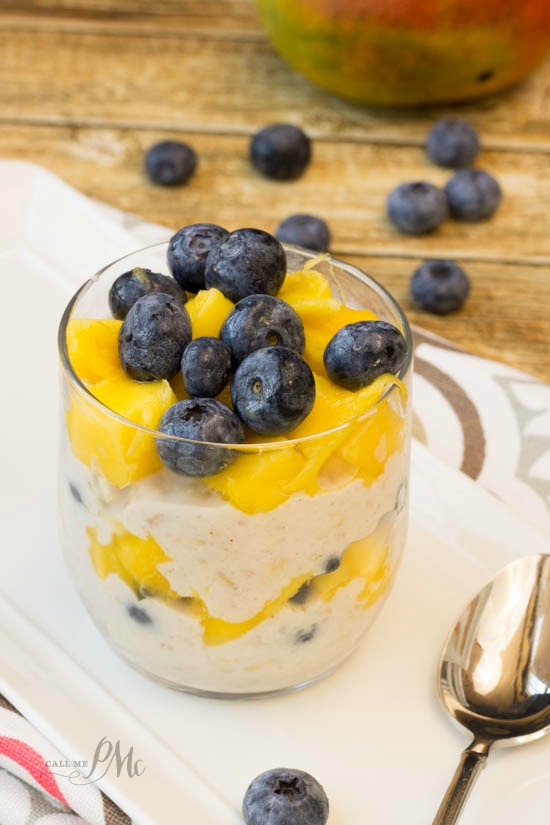 Blueberry Mango Overnight Oats Parfait
This makes one recipe
Substitute your favorite fruit combination, you'll need a total of one cup of fruit so mix and match different fruits or stick with one
Make sure to use Old-Fashioned rolled oats, not quick cooking oats.
I highly recommend this Blueberry Mango Overnight Oats Parfait. For more ways to make dairy-free delicious follow Silk on Instagram.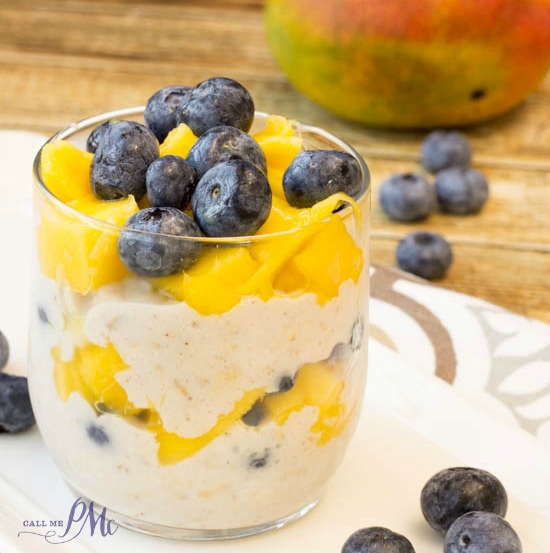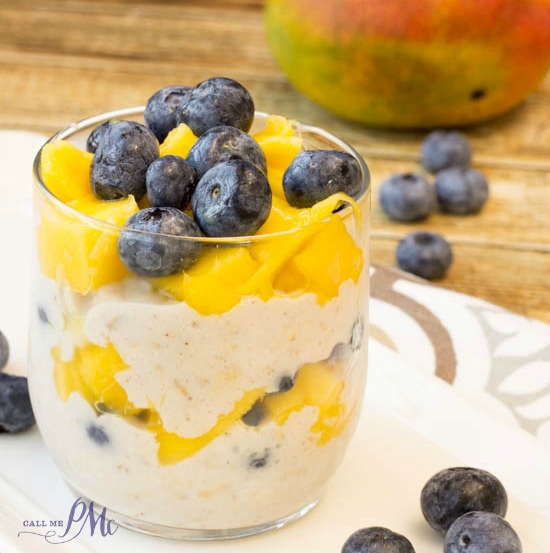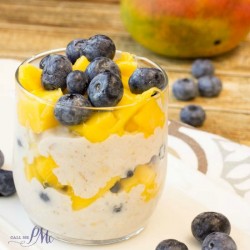 Blueberry Mango Overnight Oats Parfait
Ingredients
1/3

cup

raw rolled oats

1/3

cup

Silk yogurt alternative

1/2

cup

unweetened Silk Yogurt Alternative

any flavor

1/8

teaspoon

cinnamon

1

pack

about 1/8 teaspoon organic stevia or sugar, if needed for sweetness

1/2

cup

mango

diced

1/2

cup

blueberries
Instructions
Mix all ingredients together.

Seal in an airtight container and refrigerate overnight or at least 8 hours.
Recipe Notes
I used but choose any flavor depending on the fruit you use.
 Along with me, join the Silk community by signing up for their newsletter and following Silk on Pinterest where you'll find great foodie inspiration!
I invite you to follow me around the web too!
Pinterest, Facebook, Twitter, Instagram, Google+, Bloglovin'
If you like my Blueberry Mango Overnight Oats Parfait, you will also love this Baked Blueberry Oatmeal Cups

This conversation is sponsored by Silk. The opinions and text are all mine.