Paleo Stuffed Baked Eggs Portobello Mushrooms is the perfect recipe. This recipe is hearty, simple and ready in 30 minutes!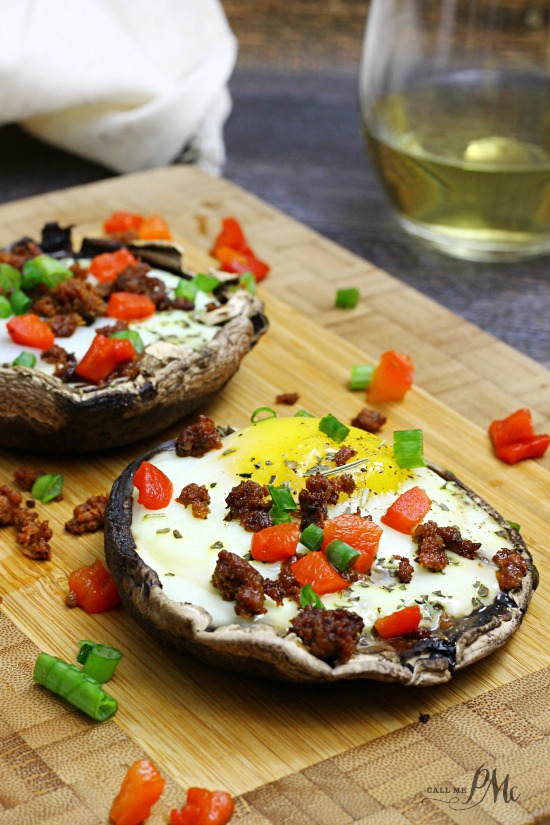 Paleo Stuffed Baked Eggs Portobello Mushrooms make a hearty meatless meal and I love how quickly they come together. Seriously in less than 30 minutes you can have them plated.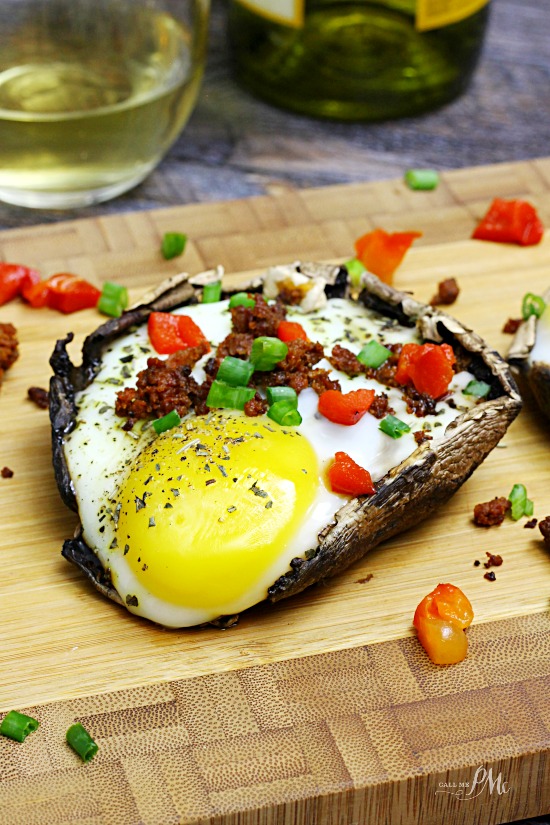 I've been wanting to make a Portobello 'burger' for forever, but my grocery store hasn't had Portobellos in stock. I was so happy when they finally had them in stock. When I found them I didn't have them on my menu grocery list. Needless to say, I left the store without getting buns. Then this happened and I wasn't about to join the mass of people flocking to the store for milk and bread.
My back up plan was to stuff them, but I didn't have many options. Unlike like appetizer size stuffed mushrooms, I needed these to be somewhat healthy and not full of cheese and bread crumbs. I decided on roasting them simply with an egg and garnishing with fresh bright vegetables.
Last minute, my husband's suggested I brown chorizo sausage and sprinkle over the eggs. Well, actually, he wanted to stuff them entirely with chorizo, but he's also trying to lose a few pounds so I didn't let that happen!
The result was a super simple, healthy meal that was ready in less than 30 minutes.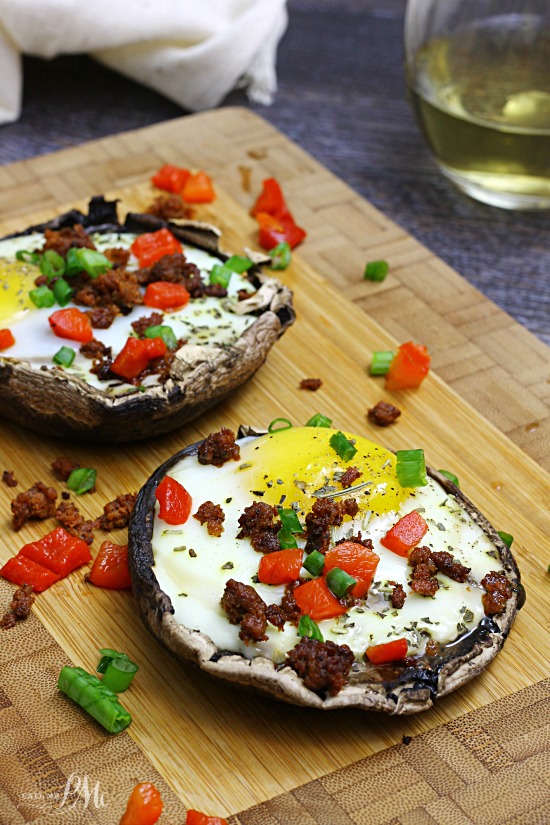 Paleo Stuffed Baked Eggs Portobello Mushrooms tips
First, you'll want to wipe the mushroom clean with a clean cloth or paper towel.
Then, using a small spoon, scrap the stem and gills out. You'll want to be gentle and not break the mushroom.
Depending on the size of your mushroom and size of your eggs, you may can fill the mushroom cap with 2 eggs, if you prefer. I liked the egg to mushroom ratio with one egg. However, I really recommend planning for two mushrooms per person unless you have a lot of sides.
The last important tip to note is to rub the outside of your mushrooms with olive oil or vegetable oil. This prevents them from sticking and adds a little flavor.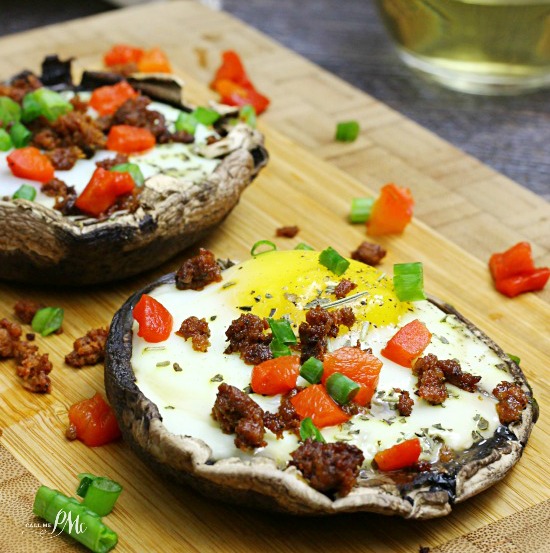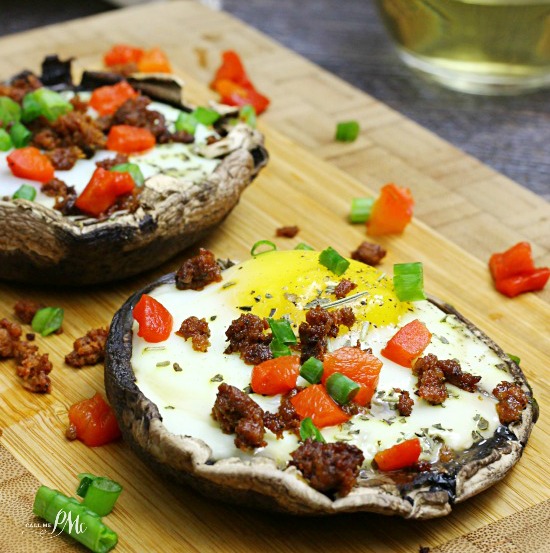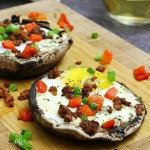 Print Recipe
Paleo Stuffed Baked Eggs Portobello Mushrooms
Ingredients
1

tablespoon

olive or vegetable oil

4

large

Portobello mushroom caps

4

large

eggs

1/2

cup

chorizo

browned and drained

1/3

cup

roasted red pepper

diced

1/4

cup

green onion slices

1

teaspoon

dried parsley

1

teaspoon

thyme

dried

2

tablespoon

parmesan cheese

shredded

1/4

teaspoon

salt

1/4

teaspoon

black pepper

freshly ground

⅛

teaspoon

ground red pepper
Instructions
Clean mushrooms and remove stems and gills.

Brown chorizo sausage and drain

Brush oil on mushroom caps. I just brushed it on the outside.

Place mushroom on a baking sheet or oven-safe pan. Make sure they sit evenly. If they don't place a dried bean or a small piece of aluminum foil under the mushroom so it sits flat.

Crack an egg into a small

bowl

and gently slide it into the mushroom. Repeat with all the eggs and mushroom caps.

Season with salt, pepper, red pepper, parsley and thyme.

Bake 25 to 30 minutes, until egg is firm.

Sprinkle with roasted red pepper, green onion, chorizo and parmesan cheese.

Serve hot.
Nutrition
Calories:
153
kcal
|
Carbohydrates:
4
g
|
Protein:
12
g
|
Fat:
10
g
|
Saturated Fat:
4
g
|
Cholesterol:
221
mg
|
Sodium:
602
mg
|
Potassium:
401
mg
|
Fiber:
1
g
|
Sugar:
2
g
|
Vitamin A:
487
IU
|
Vitamin C:
6
mg
|
Calcium:
69
mg
|
Iron:
2
mg
If you like Paleo Stuffed Baked Eggs Portobello Mushrooms, you may alos like:
Fish Tacos with Mango Avocado Relish