Thirst-quenching Red Wine Citrus Sangria Recipe is ideal for entertaining, totally delicious and perfect for you!
I just love this Red Wine Citrus Sangria Recipe during the winter holidays. I'm not usually a red wine drinker, but this is lighter. Plus, it's fun and festive. Drinks with fruits in them are always fun, right?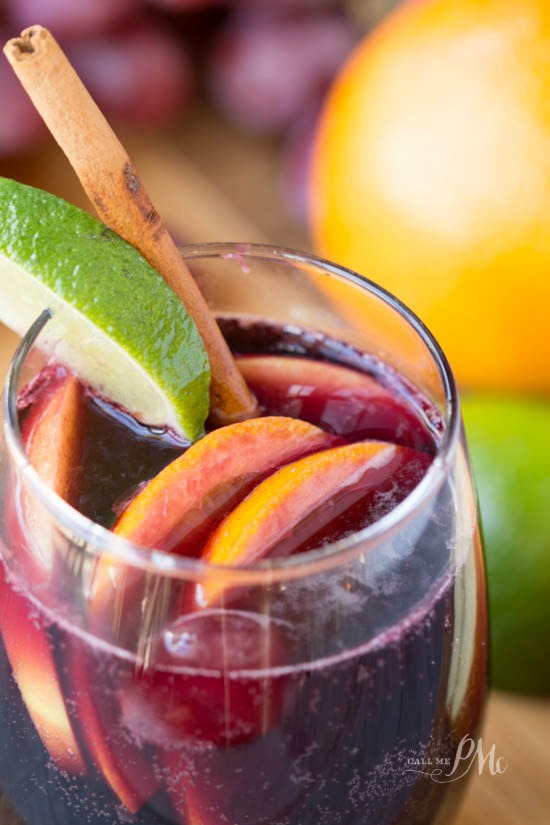 Sangria is perfect for entertaining; no one ever turns it down. I know they're not just being polite because they ask for a second glass of it. It is also budget friendly stretching that bottle of wine to more servings which is always a positive when entertaining.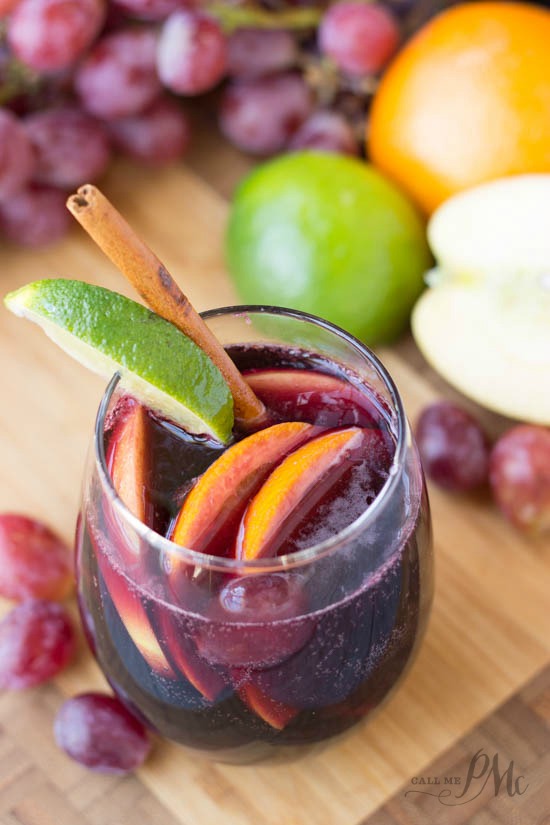 A basic sangria recipe is red wine, brandy, and fruit. You can customize any sangria recipe by adding juice, club soda, ginger ale, and various fruits to this basic recipe. Or, change the red wine to white for an entirely different, albeit just as good, flavor profile. The possibilities are endless. Experiment and find your very favorite.
For my Red Wine Citrus Sangria Recipe I used a bottle of $10 Pinot Noir, brandy, sweetened it slightly with agave nectar then loaded it with oranges, limes, and apples. I placed two cinnamon sticks in it to give it a winter holiday flare and just before serving I stirred in club soda (champagne will work too) for a little zing.
It's super easy to make and takes only 5 to 10 minutes to cut the fruit and stir the concoction together. Please allow time for the sangria to sit and the wine, juice, and fruit chill and get to know each other. The whole point of sangria is to give the wine a fruit flavor, allow time for that to happen.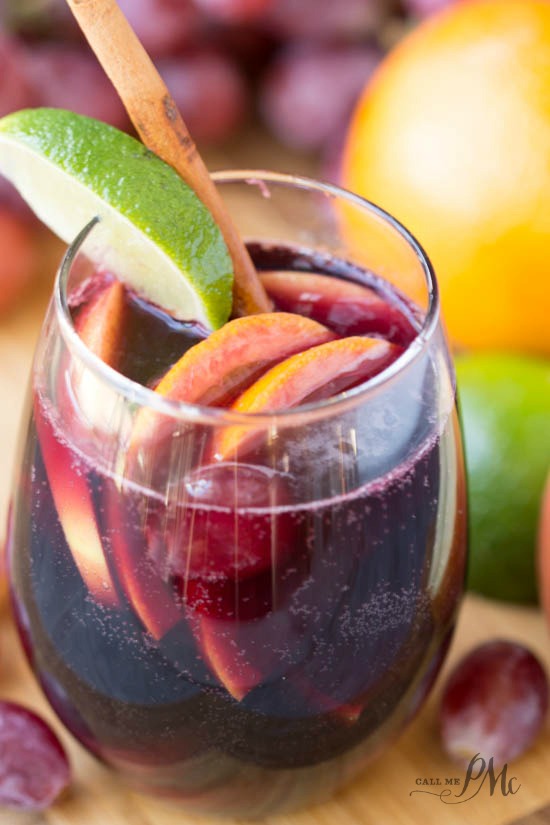 Red Wine Citrus Sangria Recipe
Use your favorite red wine. I used a Pinot Noir. Cabernet Sauvignon would also make a nice sangria. I usually try to use a $10 to $12 bottle of wine for sangria.
You may substitute a pear for the apple in this recipe, if that's what you have on hand.
You also can use a lemon for the lime, but I do find this changes the flavor slightly.
It takes about 5 minutes to cut the fruit and mix this Red Wine Citrus Sangria Recipe together. Make it in time to chill in the refrigerate a minimum of 2 hours up to 12 hours. It really is better the longer it marinates.
Gently stir in the champagne or club soda just before serving so that it keeps that fizz.
This recipe has 4 to 6 servings. I highly recommend doubling the recipe; everyone wants more than one glass.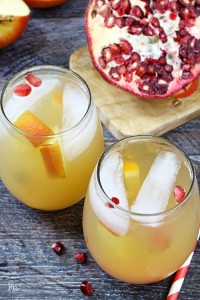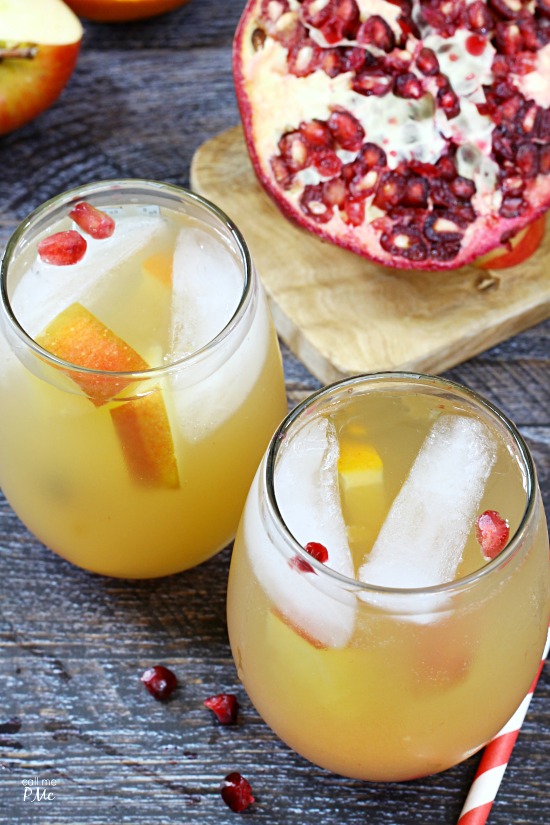 Print
Red Wine Citrus Sangria Recipe
Yield 6 servings.
Red Wine Citrus Sangria Recipe is the sangria recipe to make during the winter holidays. It is full of brandy, oranges, limes, cinnamon and, of course, red wine. Sweetened with agave nectar this is the perfect blend of ingredients.
Ingredients
1/3 cup agave nectar
1/3 cup brandy
1 orange halved then sliced
1 lime halved then sliced
1 apple, sliced
1/2 cup red seedless grapes, sliced in half
2 sticks of cinnamon
1 bottle red wine (I suggest a Cabernet Sauvignon, but any red is fine. Use your favorite.)
3/4 cup champagne or club soda
Instructions
Stir together agave nectar, brandy, and red wine.
Add orange, lime, apple slices, grapes, and cinnamon sticks.
Stir.
Refrigerate at least 2 hours.
Add champagne or club soda just before serving.
Serve chilled and/or over ice.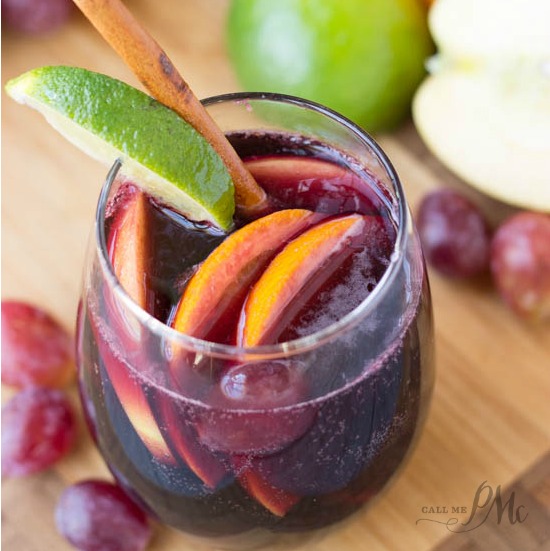 If you like this Red Wine Citrus Sangria Recipe, you may also like
Sparkling Pomegranate Fruit Sangria