White Sangria Sparkler
Enjoy this White Sangria Sparkler for it's refreshing and light flavor. It's made with fruit forward Mirassou wine and  seasonal fresh fruit.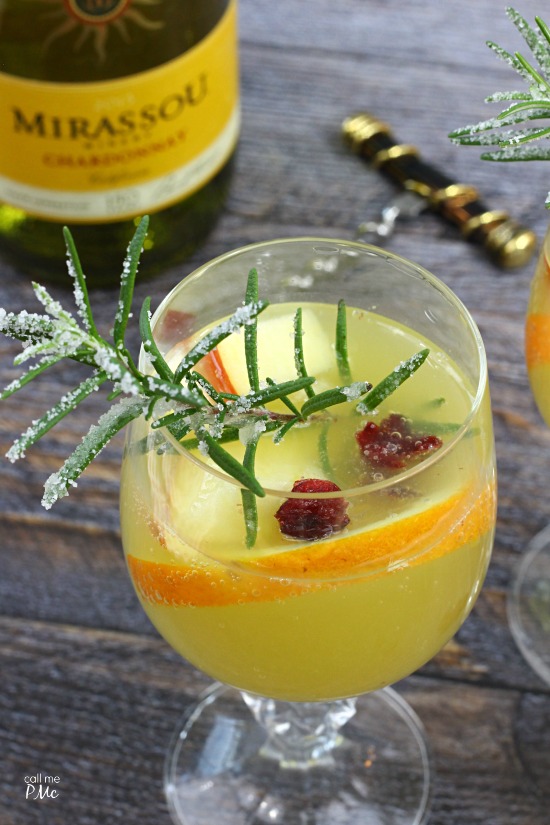 Some people call Sangria a 'hug in a glass'! I would agree.
Let's face it, the holidays wouldn't be the same without a festive cocktail. Whether it's Christmas, New Year's of Fourth of July the christening of every party should start with White Sangria Sparkler. Now, don't get me wrong, I'm not talking break the bottle on the ship type christening. I'm talking cheers to you, clink clink. No no no, I'd never waste a perfectly great bottle of Mirassou on a ship.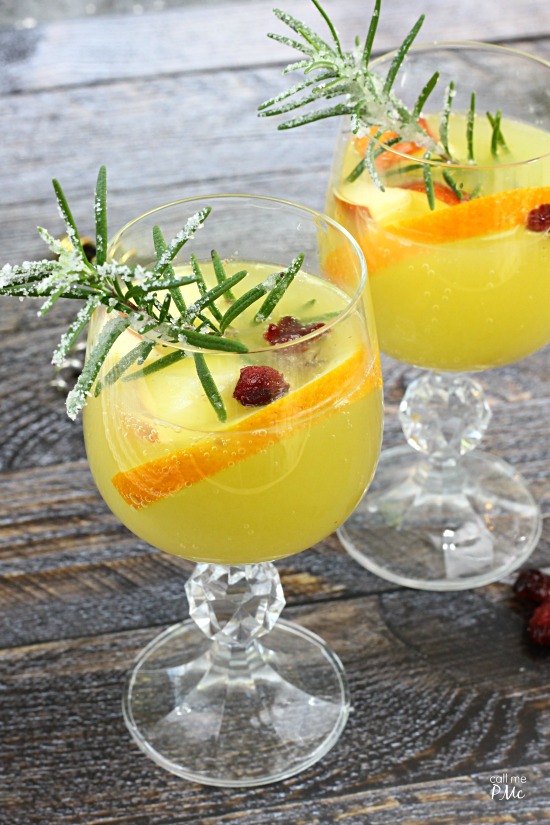 I much prefer white wine over red almost all year and with almost any food. I like slightly sweeter wines, but that's my personal preference. Red are 'growing' on me more and more. Mirassou is my go-to wine for easy holiday entertaining. Their family of premium wines displays bright, fruit-forward flavors and pair well with many of your favorite holiday dishes and perfectly in my White Sanria Sparkler.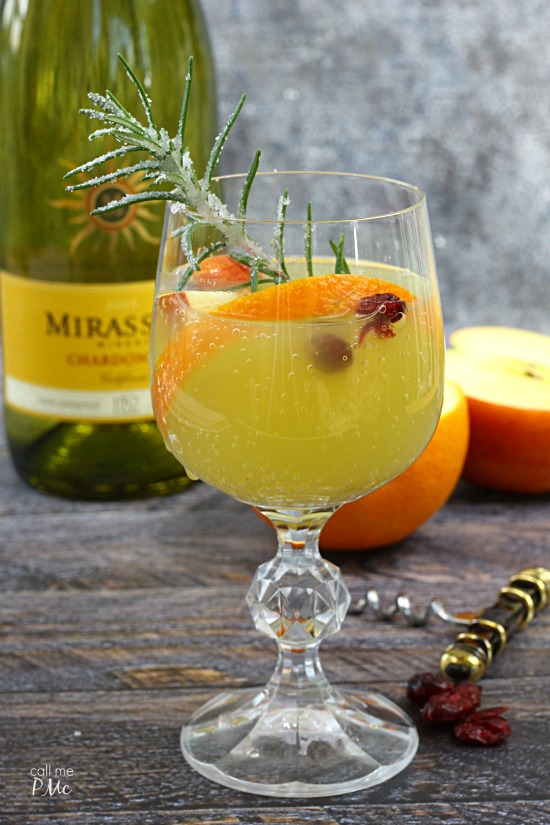 I like to have a signature cocktail for parties and sangria is fun, festive, and cuts costs while still serving an alcoholic beverage. When I first started making sangria for parties, I used white wines, because it was my favorite. White Sangria Sparkler is still my favorite. You can mix up the fruit if you prefer, but this is my favorite combination. When I make this during the Christmas holidays, I like the addition of pomegranate or cranberries, but it works equally as well in the summer without them.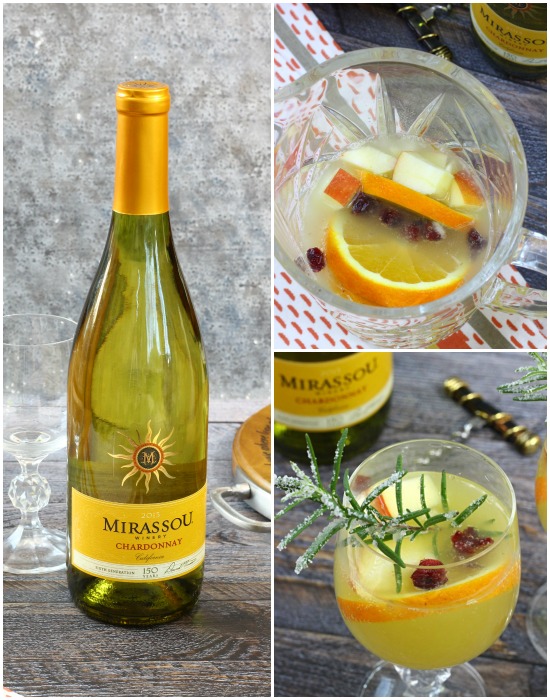 I'm hosting an Ugly Christmas Sweater party this year and have been testing Sangria recipes. I know, my job is so hard. This mix is the perfect balance of sweet, fizzy, fruity and tart. Plus, just look at it! Isn't it a beautiful, festive cocktail!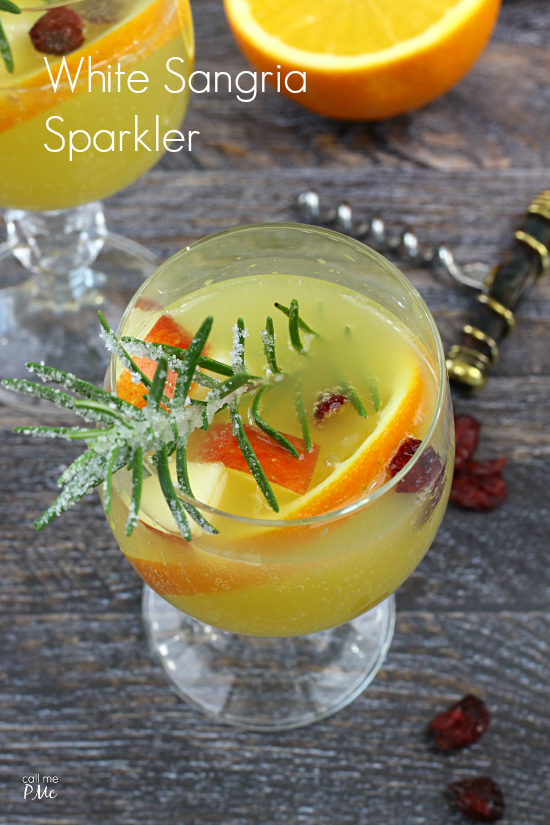 I used Mirassou Chardonnay for my White Sangria Sparkler. It has a wide appeal and a fruit forward flavor.
Taste Profile: Mirassou Chardonnay exhibits intense aromas and flavors of stone fruits such as peaches and nectarines, as well as tropical fruits like pineapple. Secondary flavors of melon, pears, citrus, floral, and vanilla notes combine with a creamy mouth feel which culminate in a pleasantly concentrated finish.
Mirassou wines are a great choice for seasonal gatherings, recipe pairings, or the perfect host/hostess gift. At around $12 a bottle, it won't break the bank either.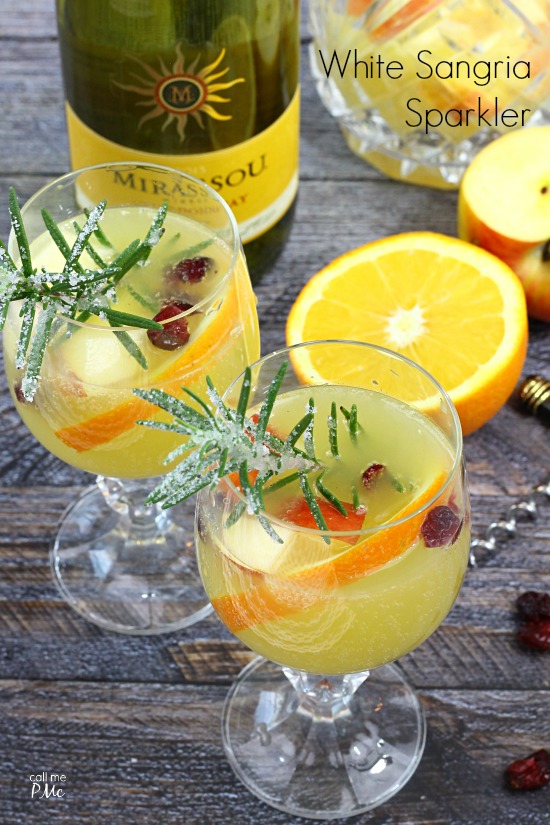 I like to make my cocktails festive. For this cocktail, coat the rosemary in sugar to resemble snow for a festive holiday cocktail.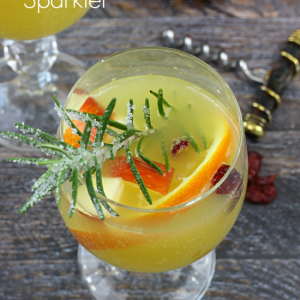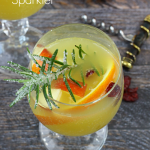 Print Recipe
White Sangria Sparkler
Ingredients
1

apple

sliced

1

orange

sliced

1

bottle Mirassou Chardonnay

1/2

cup

orange juice

1

can club soda or Sprite

or diet Sprite

1/2

cup

fresh or dried cranberries

2

springs rosemary for garnish

2

tablespoon

granulated sugar for garnish

2

tablespoon

water

for garnish
Instructions
Add apple, orange, orange juice, cranberries and Mirassou Chardonnay to a large pitcher.

Add club soda (or Sprite) to pitcher and stir.

Wet rosemary with water and roll in granulated sugar. Allow to dry.

Pour sangria into glass and garnish with rosemary.