Shrimp Crawfish and Scallop Jambalaya is New Orleans cuisine at it's finest.
This jambalaya is bold, spicy and satisfying.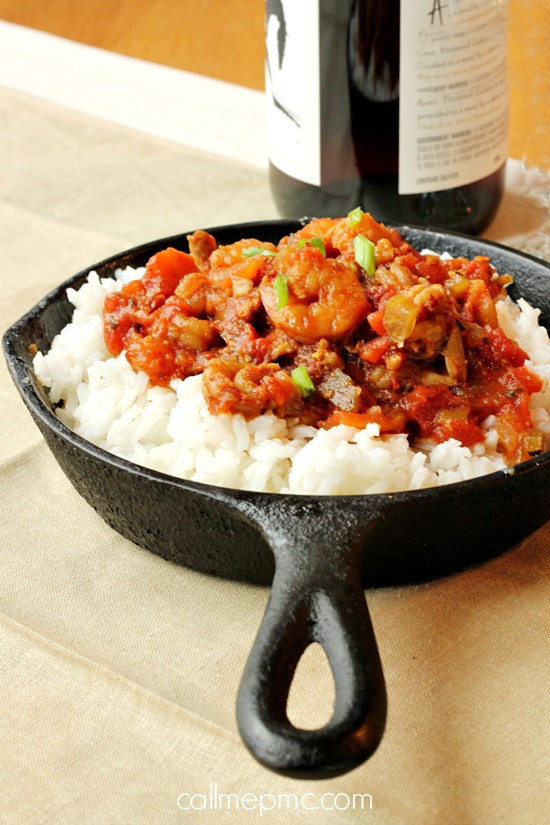 This is one of my all-time favorite recipes. Why? You ask. Because it's
Quick and easy to make
Spicy
Healthy
This is one of those dishes that I like to get the big cast iron skillet out and make it in one pot. I have a really big cast iron skillet that has a lid. I saute' the veggies, simmer the sauce and cook the meat all in that one pot.
You can also make this dish in the slow cooker. When I make it in the slow cooker, I prefer to let the sauce simmer all day in the slow cooker. Then I cook the shrimp, crawfish and scallops in a sauce pan on the stove. Cooking the meat on the stove takes less than 5 minutes. You'll just fold the meats into the sauce and you're ready to serve. If you wish, though, you can throw all the ingredients (meat and all) in the slow cooker from the beginning, let the slow cooker work its magic and be done with it!
I have served this over rice, quinoa and grits. Sometimes, I eat just the saucey meat when I want to cut down on carbs. I prefer it over white rice, but you have options.
As with any recipes adjust the spice level to fit you and your family. I love a spicy recipe and if you don't, you may want to cut down slightly on the amounts of spice that I specify.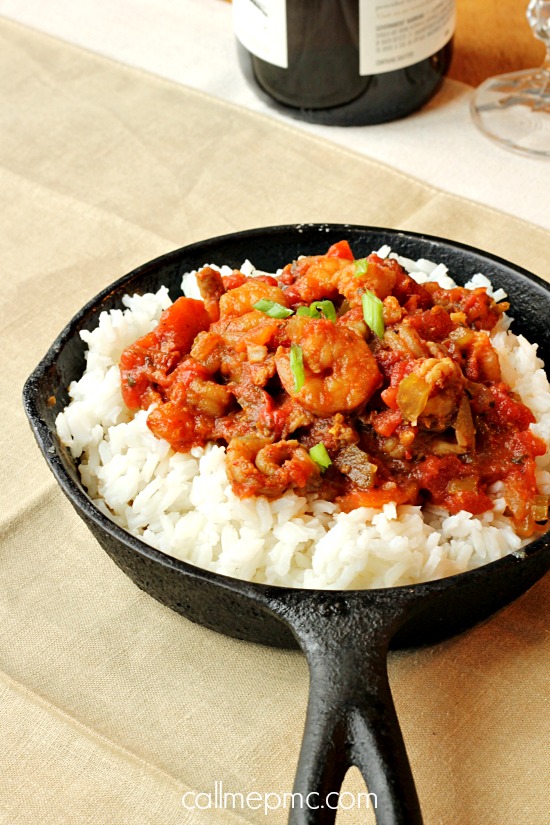 Ok, let's talk about this recipe. I know you're going to look at that long ingredient list and be like, whoa, I'm not making that! Look, I promise it's easy. Everything goes in the pot at once and you're done. I promise this is not a long, drawn-out process and I'll give you easy instructions! Believe me, I have no patience. I hate long recipes with complicated ingredients.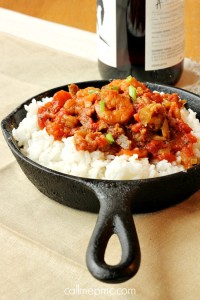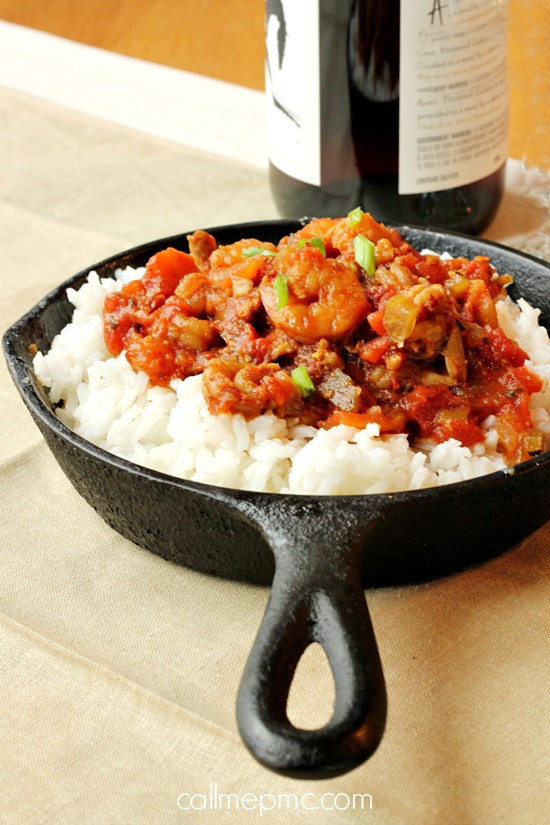 Print
Shrimp Crawfish and Scallop Jambalaya
Yield 8 to 10 servings
Shrimp Crawfish and Scallop Jambalaya is New Orleans cuisine at it's finest. This jambalaya is bold, spicy and satisfying.
Ingredients
1 pound uncooked, medium fresh shrimp, shelled and deveined
1 pound bay scallops
1 pound shelled crawfish
1/2 c diced onion
1/2 c diced red pepper
4 green onions, sliced
2 celery stalks, sliced
1/4 c butter
1 1/2 T minced garlic
1 T all-purpose flour
14.5 oz can diced tomatoes
10 oz can tomatoes with green chiles
6 oz can tomato paste
2/3 c water
1/2 tsp dried basil
1/2 tsp dried thyme
1/2 tsp dried oregano
1/2 tsp salt
1/4 tsp fresh ground black pepper
1/4 to 1/8 tsp red pepper
1/2 c fresh parsley (or 1 1/2 T dried parsley)
Hot cooked rice, quinoa or grits
Instructions
Chop onion, red pepper, green onions and celery.
Heat a large pot to medium.
Melt butter in a sauce pan. Add chopped vegetables and garlic. Saute' over medium heat 5 minutes or until tender. Add flour, cook stirring constantly, 1 minute or until smooth.
Add diced tomatoes, tomatoes with green chiles, tomato paste and water to pot. Lower heat to simmer.
Add basil, thyme, oregano, salt, black pepper and red pepper to pot. (If using fresh parsley add it 10 minutes before serving. If using dried parsley, add now.)
Stir. Cook on low 45 minutes.
Add crawfish, shrimp and scallops to a pan turn heat to high and bring to a boil. Cook on high 8 to 10 minutes. When shrimp turn pink and curl to form a "C" they will be cooked.
Serve hot over rice.
Notes
Recipe from Paula @CallMePMc.com All images and content are copyright protected. Please do not use my images without prior permission that includes copying the ingredient list or entire recipe and posting in the comments on Pinterest. If you want to share this recipe, please simply link back to this post for the recipe. Thank you, Paula
One month ago: Dried Cherry Pistachio Scones
One year ago: Crawfish Mac and Cheese
More dishes you may like
Creamy BBQ Shrimp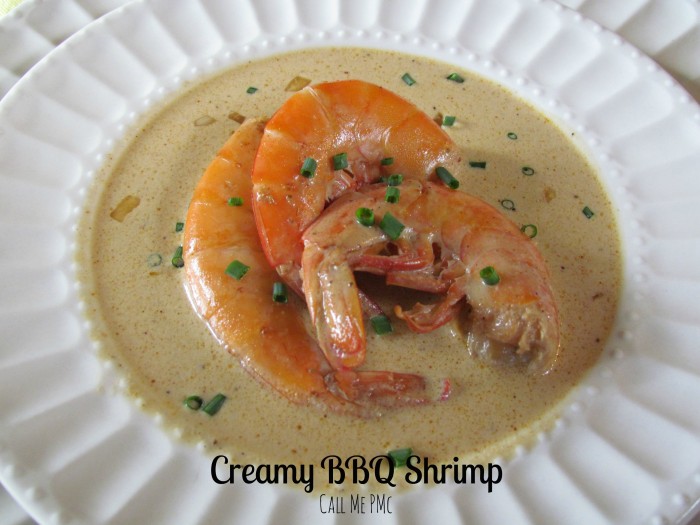 Shrimp Quesadilla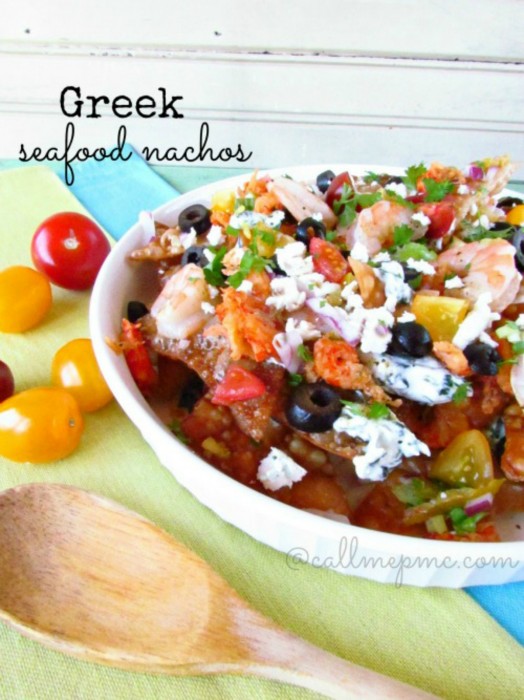 For more scrumptious recipes, fun projects, and exciting news, subscribe to Call Me PMc
Facebook, Twitter, Pinterest, Google+, Bloglovin'