Baked Potato Bacon Egg Breakfast Skillet is hearty, easy to make and delicious. It's creamy, gooey, salty and extremely flavorful! Favorite ingredients such as potatoes, bacon, eggs and cheese can easily be breakfast or dinner.
We love to have breakfast for breakfast and breakfast for dinner. It's easy when you can grab a bag of Ore-Ida® Heinz® Hash Browns as a starter! I find these at Wal-Mart on the frozen food aisle then go to Ore-Ida® website for recipes. They have breakfast, entrée, grilling, sides and appetizer recipes for you to choose from.
I made this Baked Potato Bacon Egg Breakfast Skillet for brinner, or breakfast for dinner, one night and the boys loved it! They love to have breakfast for dinner and I love that we get to catch up our day and share a meal together. Dinner is the only meal during the week that the whole family gets to eat together. Our family time starts with preparation since the boys like to help make 'breakfast'.
Can I just say this is "oh my stars" good!!!! One bite of the creamy eggs, gooey cheese and salty bacon, oh my, you'll find yourself going back for one bite after another. The potatoes give it structure and the green peppers and onions a unique flavor. I liked the fact by using the Ore-Ida® Potatoes O'Brien which already has the peppers and onions in it, saves a lot of prep time that you don't have to waste chopping additional vegetables before getting this in the oven.
Another tip that spends up the process is microwaving the potatoes for 8 to 10 minutes.

Baked Potato Bacon Egg Breakfast Skillet
Prep time:
Cook time:
Total time:
Baked Potato Bacon Egg Breakfast Skillet is creamy, gooey, salty and extremely flavorful!
Ingredients
2 Cups Ore-Ida® Potatoes O'Brien
3 Tabelspoons butter
6 eggs
2 Tablespoons milk
¼ tsp salt
¼ tsp pepper
½ cup pepper jack cheese, shredded
½ cup cheddar cheese shredded
1 cup bacon, cooked and crumbled
Instructions
Melt butter in a microwave safe pie dish; add potatoes and microwave 8 to 10 minutes. Cook bacon while potatoes are cooking in the microwave. Stir together eggs, milk, slat, peper and pepper jack cheese; pour over potatoes. Bake in a 350 degree oven for 18 to 20 until eggs are almost set. Remove from oven and sprinkle with Cheddar cheese and bacon. Return to oven another 3 to 5 minutes until eggs are set and cheese is melted. Serve immediately.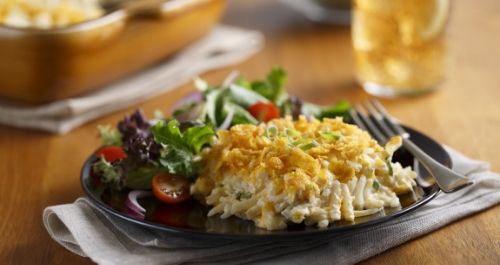 Ore-Ida Hash Browns has you covered for breakfast, brunch or Easter lunch. Who doesn't love delicious Hash Brown Easter recipes that includes potatoes bacon and eggs and Cheesy Potato Casserole? You can find amazing online recipes the whole family will enjoy together.
For more of my easy breakfast recipes and you may want to follow my collection of easy breakfast recipes on Pinterest.