Apple Slaw Pork Loin Tacos are full of tender pork loin, crunchy apple slaw spiked with juicy blueberries wrapped in warm, soft tortillas. Nevermind the drippy sweet and spicy sauce running down to your elbows, this tacos is worth it!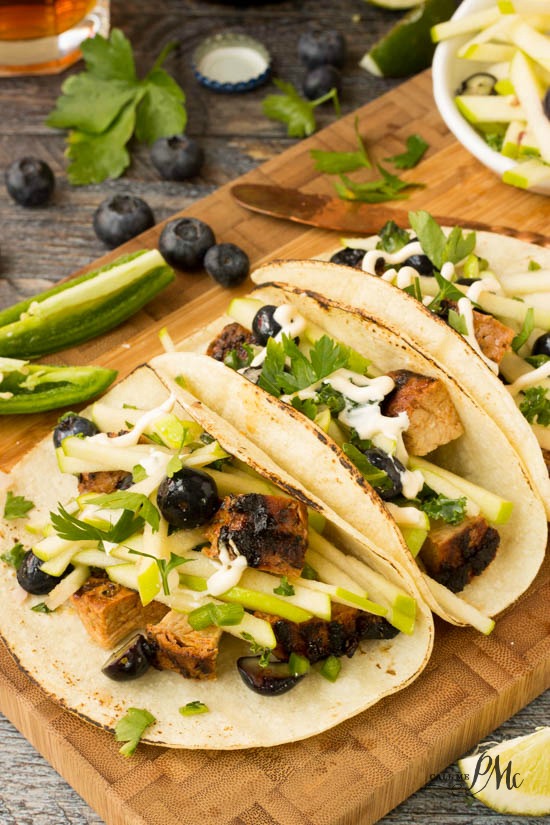 My oldest son is the pickiest eater in the world. It's been a struggle his whole life to get him to try new foods. A few years ago we even did a contest to get him to try new foods. Of the 50 new foods he tried, he liked and kept eating probably five of them.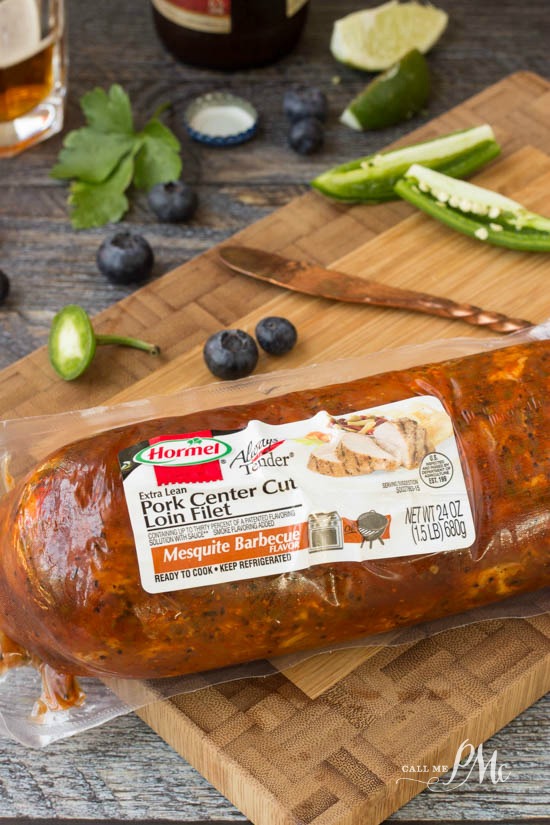 A couple of years after this adventure, he had to plan and cook a meal for Boy Scouts as a requirement. It was at that time that we learned if he helped prepare the food, he'd eat it. He started eating grilled steak, hamburgers, fish, pork, chicken and shrimp if he made it. We still struggle with vegetables. Little by little we've added other ingredients like the bun, not just the burger to his meals. Seriously!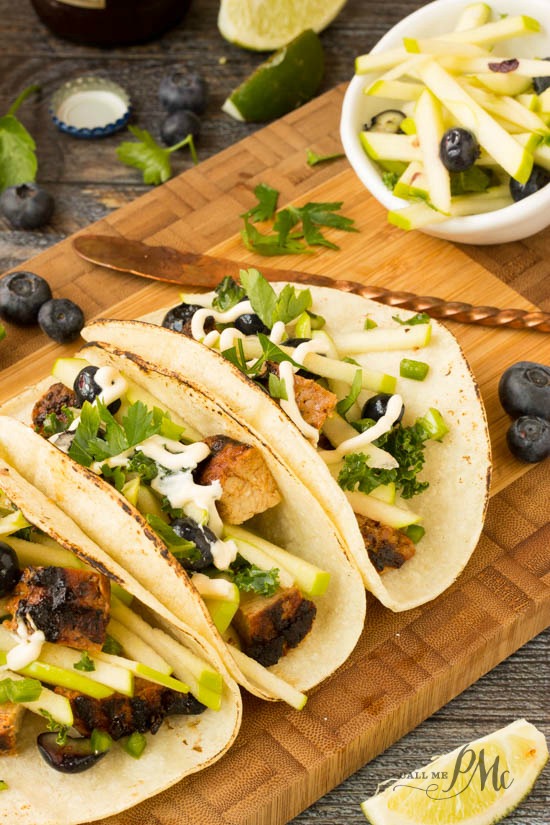 Now, he loves grilled pork loin. He loves chicken tacos. Why wouldn't he love pork tacos? It was my new mission. Granted, I knew he'd never go for the apple slaw, but I consider it a 'win' if he likes the pork and soft tortilla.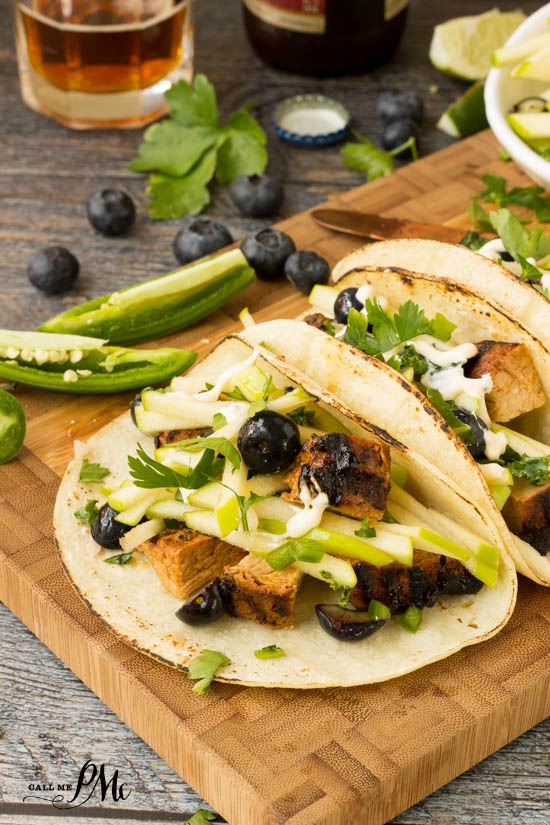 Let's talk tacos!
I started with a HORMEL® ALWAYS TENDER® Pork Center Cut Loin Filet in Mesquite flavor. They're pre-marinated, come in a variety of flavors and ready when I am. Plus, pork loin cooks relatively quickly making it perfect for busy weeknights. I have Lincoln grill the loin, while I mix together the slaw and prep the other ingredients.
The apple slaw will delight your taste buds. It's the perfect summer recipe. This slaw really brings out the flavor in these Apple Slaw Pork Loin Tacos. It's much better than traditional slaw. Bonus, if you wish serve this as a side with sandwiches. Apple Slaw is also a great potluck or tailgating recipe to add to your arsenal. It's made with tart Granny Smith apples, sweet juicy blueberries and a tangy dressing.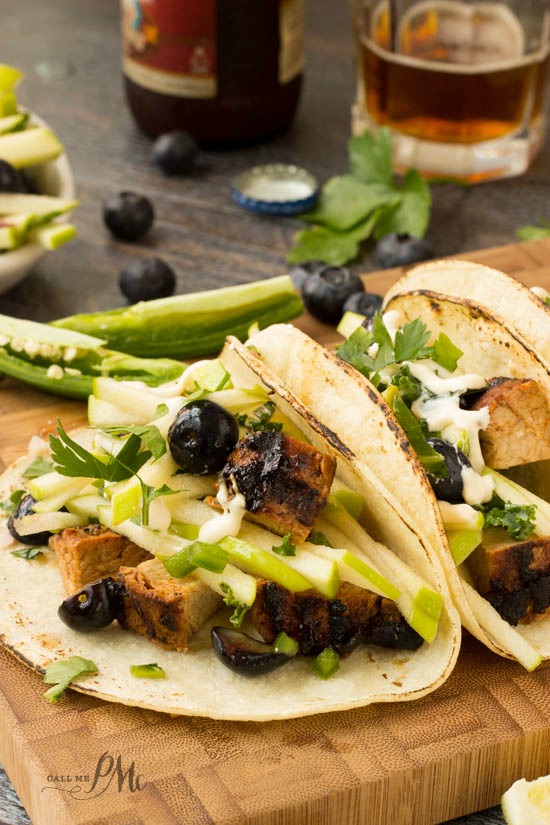 Apple Slaw Pork Loin Tacos Tips
When you're getting ready to grill, sit your pork tenderloin on the counter for 30 minutes allowing it to come to room temperature. This will help it cook more evenly. It will also prevent the outside from drying out before the interior gets cooked.
For a char on the outside of your tenderloin, sear it for 2 and 1/2 minutes on each side at 400 degrees Fahrenheit. Turn your heat down to 350 and continue cooking until the thickest part registers 145 degrees Fahrenheit.
Taste your apple before mixing all the ingredients. I got a really bitter apple and didn't taste it beforehand. I had to throw that batch of Apple Slaw out and start again. Lesson learned. Taste as you go!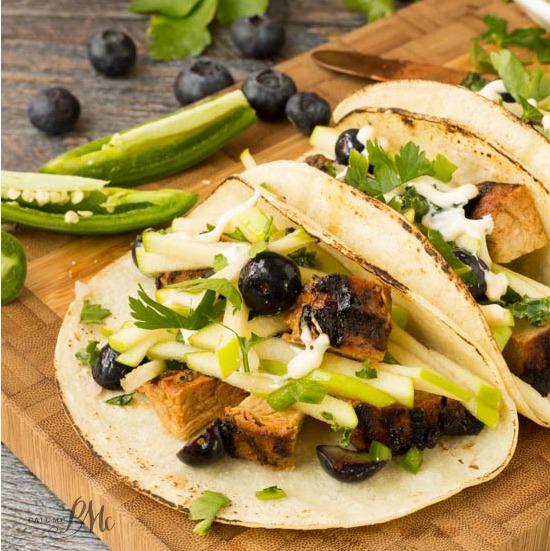 While you're here, check out these recipes
Apple Slaw Pork Loin Tacos
full of tender pork loin, crunchy apple slaw spiked with juicy blueberries wrapped in warm, soft tortillas.
Ingredients
1

pork tenderloin

HORMEL® ALWAYS TENDER® Mesquite

1

tablespoon

white sugar

2

tablespoon

white wine vinegar

1

tablespoon

cilantro

minced

1

tablespoon

parsley

1

teaspoon

sea salt

1

teaspoon

garlic

minced

1

medium

jalapeno

minced

1/3

cup

blueberries

2

Granny Smith apples

julienned

1

cup

kale

chopped

salt and pepper to taste

flour or corn tortillas

1/4

cup

crema

or sour cream
Instructions
Sit pork on counter for 30 minutes while grill heats.

Heat grill to 400 degrees F

Sear pork 2 and 1/2 minutes on three sides.

Turn heat down to 350 degrees F

Continue to cook 5 to 6 minutes per side or until meat thermometer registers 140 degrees. (Pork needs to heat to 145 degrees, but the temperature will go up 5 degrees or so after you take it off the grill.)

Meanwhile, make the Apple Slaw

Julienne the apples, mix the sugar and vinegar and pour over apples.

Add all the other ingredients and toss.

Allow pork to sit after cooked for 5 minutes before slices.

Assemble tacos, serve immediately
Nutrition
Calories:
216
kcal
|
Carbohydrates:
7
g
|
Protein:
32
g
|
Fat:
6
g
|
Saturated Fat:
2
g
|
Cholesterol:
101
mg
|
Sodium:
296
mg
|
Potassium:
657
mg
|
Fiber:
1
g
|
Sugar:
5
g
|
Vitamin A:
637
IU
|
Vitamin C:
10
mg
|
Calcium:
27
mg
|
Iron:
2
mg