Can't decide between a Brownie and a Cookie for your snack? Now you don't have to with my Brookies Recipe! It's a delicious, unique dessert that combines both of your snacking favorites into one satisfying party in your mouth!
Today's my oldest sons birthday! He's twelve. I can't believe he's twelve years old. It seems like yesterday that I brought this bright-eyed bundle of joy home from the hospital.
Lincoln was the best and easiest baby ever. I said while I was pregnant that I'd rather have a bad pregnancy and a good baby than the other way. I was blessed with an easy pregnancy, bad delivery and easy baby. Two out of three isn't bad.
We were planning his birthday party when he told me he wanted a 'cake' that was a brownie on bottom and chocolate chip cookie on top 'cooked together', he said. Both my boys are little foodies and give me suggestions all the time for the blog. I'll have to say some of them are great, some crazy but do-able and some down right impossible! I didn't have the heart to tell Lincoln that what he was describing was called a Brookie and it had already been 'invented'.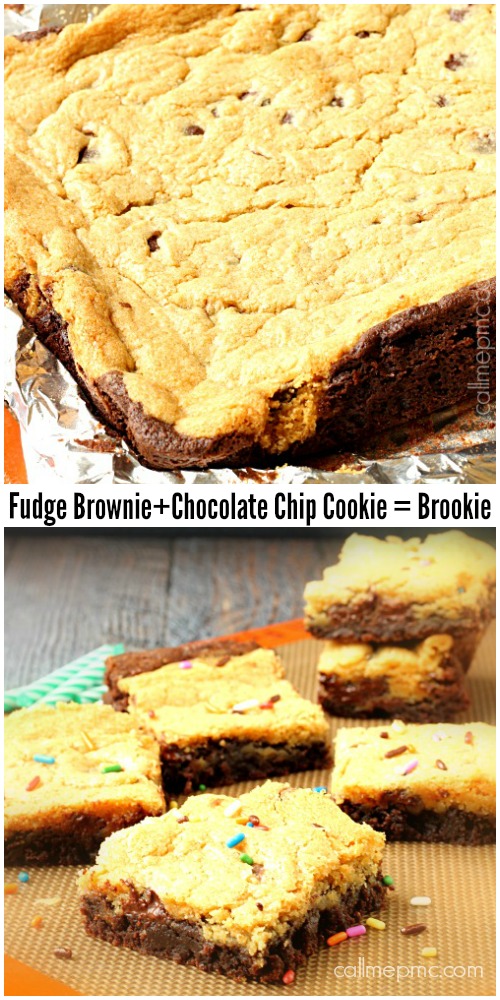 What is a Brookie?
It's exactly as Lincoln described. It's a layer of thick, gooey brownie topped with a cookie dough on top and baked to perfection. You can mix it up from there adding chips and candy to the brownie layer and/or adding different cookie doughs to the top layer. Most often you'll see Brookies with rich, chocolate chip cookies as the top layer. This is how I made my Brookie.
The process for this is pretty straight forward. You'll actually make two seperate recipes then combine them before baking.
I made the brownie layer thick and rich. It's more dense than the chocolate chip cookie layer and I've found that it works better as the base. After mixing the brownie layer together simply press it into a 9×13 inch pan. Line your pan with heavy foil then spray with non-stick spray. This makes clean up much easier!
Then, mix your chocolate chip cookie dough together. Gently press this dough on top of the brownie batter. I found my fingers or a spatula that has been sprayed with non-stick vegetable spray works best for spreading this layer.
Then just bake it, but watch it carefully. You want it to be done, but you still want that gooey factor. Over cooking equals no gooey factor!
Below is the actual Brookie that I made for Lincoln's party. (The one pictured above was a trial run.) I decorated it a little with Decorator Icing. Every Birthday Brookie should be decorated. Twelve year old boys don't want too much decoration though. I sprinkled (or maybe I strategically placed) a handful of M&M candies on top of the birthday Brookie too. Those are the only 2 changes made to this one.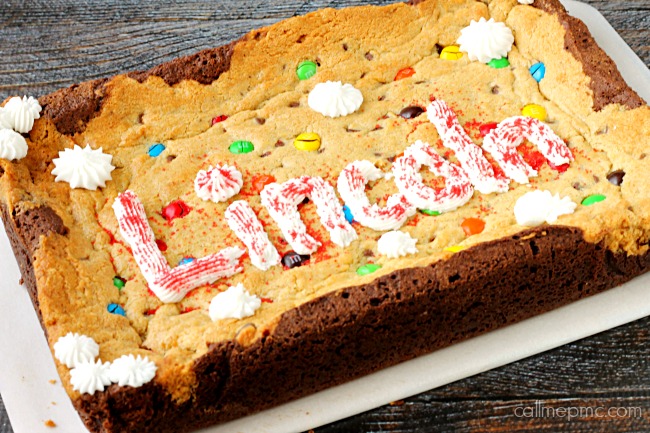 Tips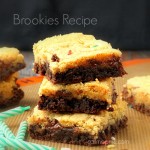 Print Recipe
Brookies Recipe
Brookies Recipe is a delicious, unique dessert that combines both of your snacking favorites into one satisfying party in your mouth
Ingredients
For Brownie layer
1

cup

butter

1

and 1/2 cup sugar

2

eggs

1

cup

all purpose flour

3/4

cup

cocoa

1/2

teaspoon

salt

1

teaspoon

baking powderFor Chocolae Chip Cookie layer

1

cup

butter

1/2

cup

white granulated sugar

1

and 1/2 cup brown sugar

2

eggs

1

tablespoon

vanilla

1

and 1/2 cup all purpose flour

1

teaspoon

baking powder

1/2

teaspoon

salt

1

and 1/2 cup semi sweet chocolate chips
Instructions
For Brownie
Heat oven to 350 degrees F.

In a large mixing

bowl

, beat butter and sugar until light and fluffy.

Add eggs and

vanilla

and beat well.

In another

bowl

, stir together flour, cocoa, baking soda and salt. Gradually add this to the butter mixture.

The mixture will be THICK.

Press into a

9x13 inch pan

that has been lined with aluminum foil then sprayed with non-stick spray.For Chocolate Chip Cookie layer

Cream butter with sugars until fluffy.

Add egg and beat well.

Combine flour, baking soda, baking powder and salt. Add to mixing bowl and mix until combined.

By hand add the chocolate chips fold in until evenly distributed.

Carefully press and spread on top of brownie layer. It may take a little work, but get it as even as possible.

Bake on center rack of oven 35 to 40 minutes or until light, golden brown and cookie is set in the center.
Notes
Recipe from Paula @CallMePMc.com All images and content are copyright protected. Please do not use my images without prior permission that includes copying the ingredient list or entire recipe and posting in the comments on Pinterest. If you want to share this recipe, please simply link back to this post for the recipe. Thank you, Paula
Stop by and follow me on Pinterest!
Visit Paula @ CallMePMc.com's profile on Pinterest.


Related Posts {click picture for recipe}