Before we get to the Easy Apple Turnovers recipe, I wanted to share a little funny conversation that I had with my 11-year-old.
My boys have never been great at spelling. It's a subject that we've had to work on since day one. I don't know if it's genes, and it wouldn't be me they get it from (ahem!), or it's a 'boy thing'. They both excel in math and science, but forget language! I go over spelling words with them starting on Saturday for the next week's test which is always on Friday. We'll talk about my being a mean Mommie for making them study on the weekend in another post, k? Then, we really beef up the studying the day of, studying at breakfast and on the ride to school. As I was asking sweet Lincoln his spelling words on the ride to school one Friday, he was spelling and getting them correct, mostly, then he says in his kind, sweet voice, "Mommie, you know they have this thing on computers now that will correct a word if you spell it wrong?"
I couldn't help but laugh. He didn't say it in a mean or sarcastic way. He's not that child…yet.
I love the sweet, simple minds of children. They're honest without being mean-spirited.
Do you know what else I love? I love simple desserts that don't require 25 ingredients and 15 steps to make! I like simple, quick desserts. That's why I love these Easy Apple Turnovers!
For the dough of my Easy Apple Turnovers, I used this Never Fail Pie Crust that is made in the food processor. You may be saying, "A pie crust from scratch is not easy." It is. I promise. Click over and read it. I'll wait right here then we'll get started…
Or, if you prefer, just grab refrigerated pie crust at the store. Get the kind that comes two to a pack and are rolled, not the crust that is already formed in a pan.
Print Recipe
Easy Apple Turnovers
I do not use glaze on top of hand pies if I put cheddar cheese inside. It's just a personal preference.
Ingredients
2

c

apples

I like gala or granny smith, about 2 apples, diced

2

tsp

lemon juice

1/4

c

brown sugar

1

tsp

cinnamon

*optional - 8 1x3 inch slice cheddar cheeseGlaze:

1

c

powdered sugar

2-3

T

apple cider or apple juice
Instructions
Roll crust on to 1/8 inch thick. Cut into 4 inch rounds. On one half of round, add 2 T apple mixture and one slice cheese if desired. Fold over and crimp with a fork to seal.

Place on

cookie sheet

and bake 20 to 25 minutes or until golden brown.

Remove from oven and allow to cool before adding glaze.

Whisk sugar and apple juice/cider until smooth, drizzle over warm pies.
Tried this recipe? I'd love to hear from you. Comment below or mention & tag me on Instagram
Mention @Paula_callmepmc or tag #callmepmc!
Notes
All recipes and images are original and the sole property of CallMePMc.com © 2012-2013, with all rights reserved. Complete recipe is not allowed to be copied to Pinterest or any other site. Call Me PMc asks that you do not copy or otherwise use images or original recipes for any other purpose. If you'd like to use an image please ask first. Use of this site automatically constitutes your agreement to these terms.
Easy Rainbow Cake
I make a shortcut version of this popular cake.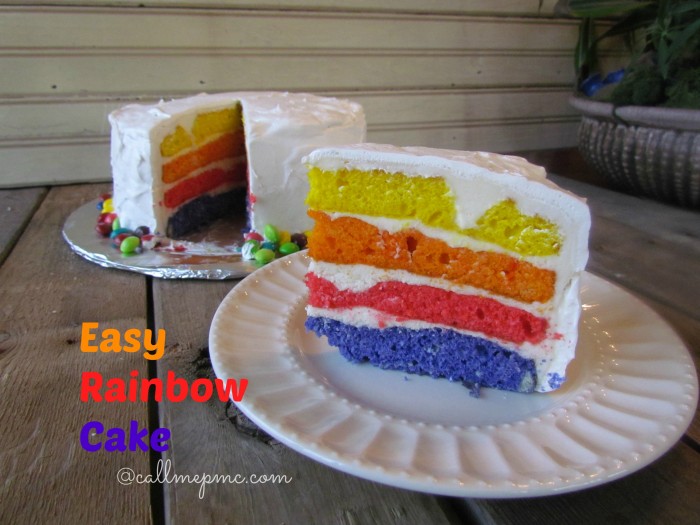 Easy Strawberry Cake
No one has to know your short-cut trick!