If you love shrimp, you need to know How to Peel and Devein Raw Shrimp. I have two quick methods for peeling and deveining shrimp.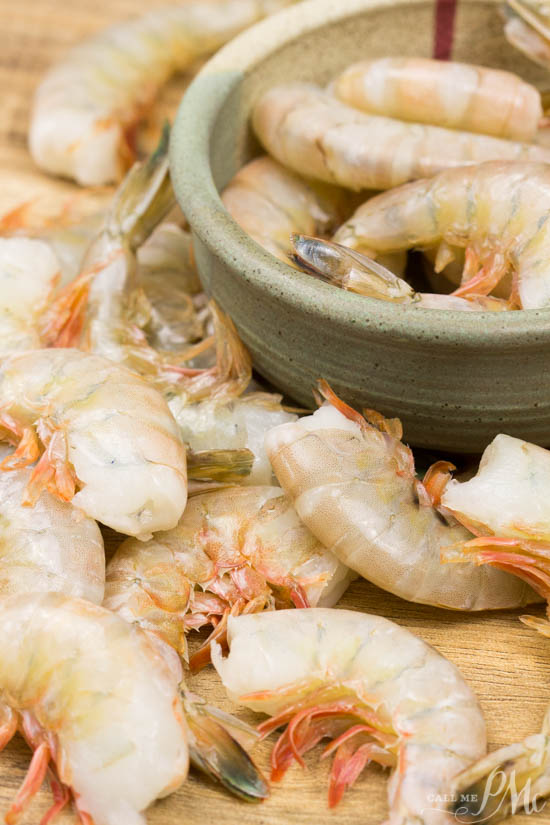 I know, you're probably saying to yourself, "just purchase them already peeled." And, you're right, but I feel like shrimp retain more flavor when they can be peeled last minute before being cooked.
You can also purchase smaller shrimp that don't need to be deveined. Small shrimp are more tender. However, sometimes you need a larger shrimp for example when grilling.
You may enjoy these shrimp recipes. They're my favorite!
First, you need to remove the hard exterior shell, then you need to devein the shrimp. That's the black strip along the outer curve of the shrimp. This isn't actually a vein at all. It's actually an intestine.
How to Peel and Devein Raw Shrimp – peeling by hand
You can peel shrimp by hand. Hold the shrimp in your less dominant hand, then with your dominant hand, right for me. Grab the legs, break and twist so that you pull the legs and shell away from the body of the shrimp.
Next, take a small, sharp knife and carefully cut down the middle of the shrimp's back, head to tail, cutting about halfway through the shrimp
Look for a long, dark line. Slip the tip of the knife under the vein and gently lift it out. As well, you can take a paper towel and rub it away. I wrap the towel around my finger and pull from front to end on the shrimp removing the vein in one motion.
How to Peel and Devein Raw Shrimp – using a tool to peel and devein.
I recommend these
I find the curved tool the easiest and quickest way to peel shrimp. It may take you a few tries to get the technique mastered. It peels and deveins in one motion. Watch the video above.
For healthy snacks click here.