Simply divine Shrimp Spaghetti Carbonara is light and tasty with buttery noodles and succulent shrimp. It's one of my all-time favorite meals. Paired with a great wine, this is a complete comfort food at it's best.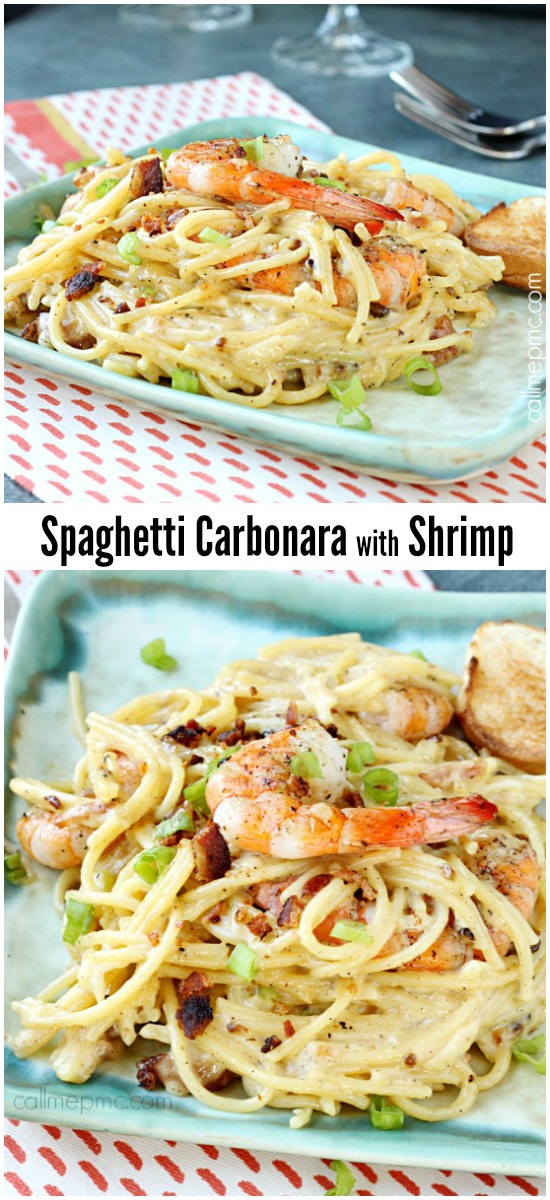 This is such a tasty recipe that takes just minutes to prepare, but it has a 'special' feel and gourmet flare. It's great when you want to pump up a weeknight dinner. Even though it's a quick meal to make, it's also elegant enough for dinner guests. Which makes it pretty much a perfect recipe! Am I right?
Sometimes during the week, I need a good dinner and a nice glass of wine. Who am I kidding? More than one glass of wine. I love, love, love wine and pasta and shrimp…. and wine!
Flavor Notes of Sonoma Coast Chardonnay:

Fruit aromas of Golden Delicious apple, Bosc pear and white peach are accented with toasted nuts, oak spice, a hint of vanilla and a touch of butter. This wine has the signature Sonoma-Cutrer balance between elegance and richness for a medium-bodied, mouth-filling wine. The creamy richness is balanced with a bright acidity and highlighted with flavors of apple, pear and lemon zest.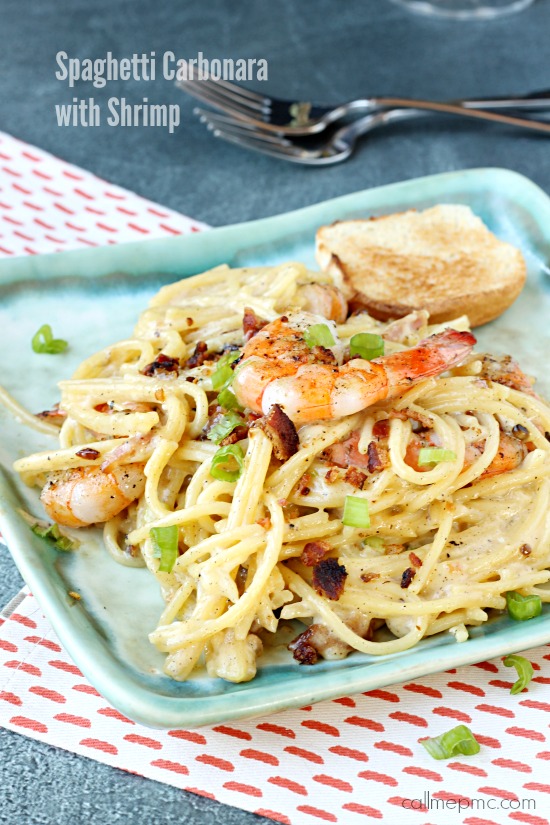 I particularly like this Chardonnay paired with Shrimp Spaghetti Carbonara. Let's be real, I'm not a wine connoisseur. I know what I like. I know what I like to eat with a Chardonnay. If you're not particularly fond of a Chardonnay, by all means, try a Pinot Noir instead. I'm of the mindset that you do what you like. If you like Chardonnay with steak, then, by all means, drink Chardonnay with steak! But rules are made to be broken, right? Sometimes, I like to wear my white jeans after labor day! Scandalous! 
I became a fan of Sonoma-Cutrer on our first wine tour in 2000. Then I got to visit again this summer. I highly recommend touring the wine country! If you plan to be in northern California be sure to check out Sonoma Cutrer's calendar of events. You can also ship bottles home or to friends. Wine would make a great gift for those friends you never know quite what to get!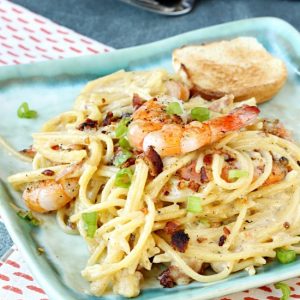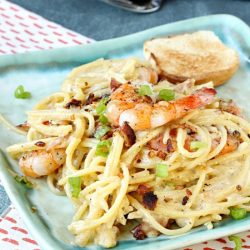 Shrimp Spaghetti Carbonara + Wine Pairing
Simply divine Shrimp Spaghetti Carbonara is light and tasty with buttery noodles and succulent shrimp. It's delicious, one of my all-time favorites and completely comfort food at it's best.
Ingredients
Shrimp
16 to 20

large shrimp

1 - 1 and 1/2 pounds (4 to 5 person)

salt and pepper to tasteCarbonara

8

slices

thick cut bacon

1

tablespoon

sweet onion

minced

1

tablespoon

green onions

minced

1

clove

garlic

2

egg yolks

1/2

cup

cream

1

cup

parmigian cheese

shredded

freshly ground black pepper

8

ounce

spaghetti pasta
Instructions
Prep all ingredients - cut, dice, slice and shred!

Heat a large skillet or saute' pan to med-high heat, cook bacon until crisp. Remove from pan and reserve 2 tablespoon of drippings in pan. Discard the rest. Chop bacon into large pieces.

At the same time, boil noodles according to package directions to al dente stage. Drain.

Pat shrimp dry with a paper towel, then salt and pepper both sides. Cook shrimp 1 minutes on each side in pan with bacon grease. Remove shrimp to a plate.

Add sweet onion to pan and cook 3 to 4 minutes or until soft. Add garlic and cook one minute.

Mix cream, egg yolks and cheese together.

Add pasta and cream mixture to pan with garlic and onions. Toss and stir. Cook 4 to 5 minutes until egg is cook and cheese is melted. Add green onions, bacon and shrimp to pan and heat through.

Serve hot with green salad and crusty bread.
Recipe Notes
This dish cooks fast. I suggest preparing all you ingredients and having them ready before you begin.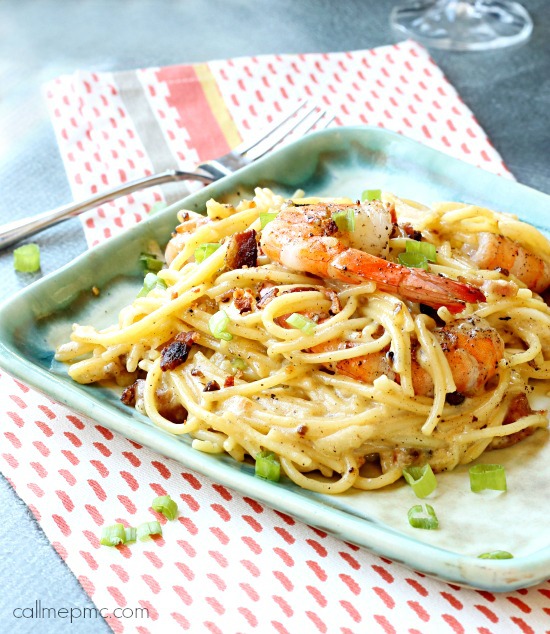 Search my 'pasta' tab for more recipes like Shrimp Spaghetti Carbonara + Wine Pairing