This popular sandwich is rich in flavors. One bite of the Kentucky Hot Brown and it'll become your favorite as well. A Kentucky Hot Brown sandwich is loaded with turkey, cheese, and bacon on crusty bread. It's a Kentucky Derby classic.
This version of the famous Hot Brown sandwich is sure to please.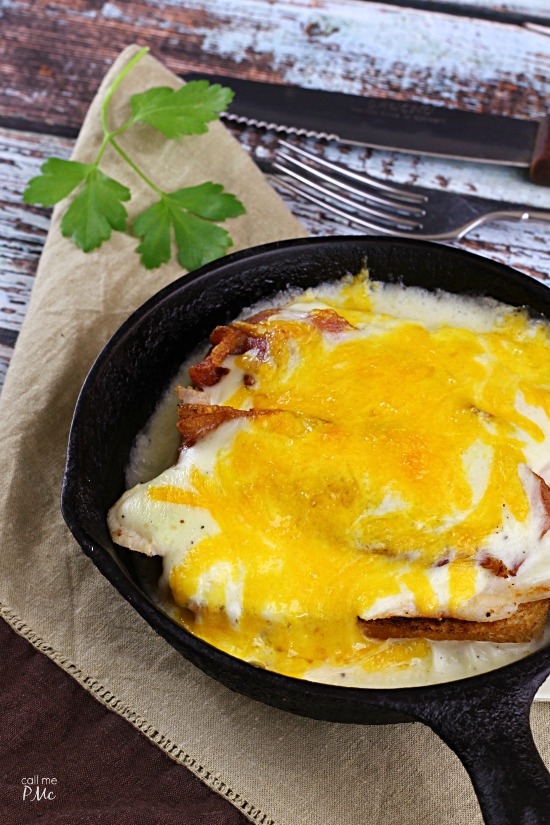 A Louisville classic, originally created at the Brown Hotel. This open-face, hot sandwich, the Kentucky Hot Brown is a winning combination of turkey, ham, salty bacon, creamy sauce and cheddar cheese. Top it with a slice of tomato (I was out.) to lighten the palette.
Originally, I didn't realize this sandwich was an open-faced sandwich. That's why you'll see in my pictures below a full sandwich with top and bottom bread. After reading up and realizing my mistake, I remade this recipe true to the Brown Hotel's version of the Kentucky Hot Brown. Personally, I think either way is good and I think you can make it however you want. After all, it's the Béchamel Sauce that makes this sandwich!
I love this Kentucky Hot Brown recipe. Basically, I love anything in a white sauce or a Béchamel sauce.
I make this in individually sized cast iron skillets because I have the skillets, they're cute, and I look for any reason to use them.
Ok, I lied.
I really use them because I like individual servings so I don't have to share!
I'm selfish like that.
My sweet hubby would share anything. He shares his last bite of chocolate cake. You know the piece with all the fudgy icing on it?!
There are some things I share.
Steak? You can have.
Fried chicken? Here. Go enjoy!
I just cannot share a dessert or a ooey, gooey, cheesy pasta, or anything with a white sauce!
Can't do it. No apologies…..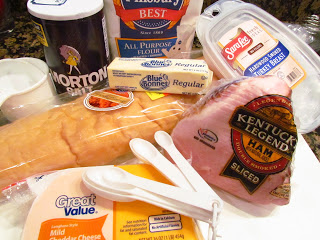 This is what you'll need: French bread loaf, ham, turkey, bacon, cheddar cheese (or your favorite cheese), butter, flour, milk, salt, and pepper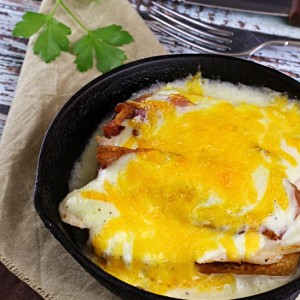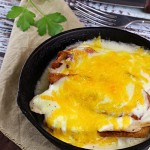 Print Recipe
Kentucky Hot Brown
Ingredients
French bread loaf

sliced

8

oz

each

sliced ham and sliced chicken or turkey

cheddar cheese

or your favorite cheese, sliced

2

T

butter

2

T

flour

1

c

milk

salt

to taste

pepper

to taste

bacon

1 to 1 1/2

c

cheddar cheese

grated
Instructions
Make a sandwich with the ham, turkey and cheese. Butter a griddle and toast on both sides (like a grilled cheese). Meanwhile. Melt 2 T butter in a sauce pan. Put in 2 T

self-rising flour

. Cook a couple minutes. Do not let brown. Add Salt and pepper. Pour 1 c milk into sauce pan and whisk until smooth. Bring to a boil, then reduce and simmer until thick. Sprinkle in salt and pepper. Taste and adjust seasoning.

Put sandwich in individual serving pans or a casserole dish. Pour white sauce on top. Sprinkle with shredded cheese. Cook until warmed through and cheese is melted. Add bacon and cook 2 to 3 minutes more. Remove from oven and allow to cool. Serve immediately.
 Do you like Kentucky Hot Brown?
Here are more recipes you may want to try.
Kentucky Hot Brown Sliders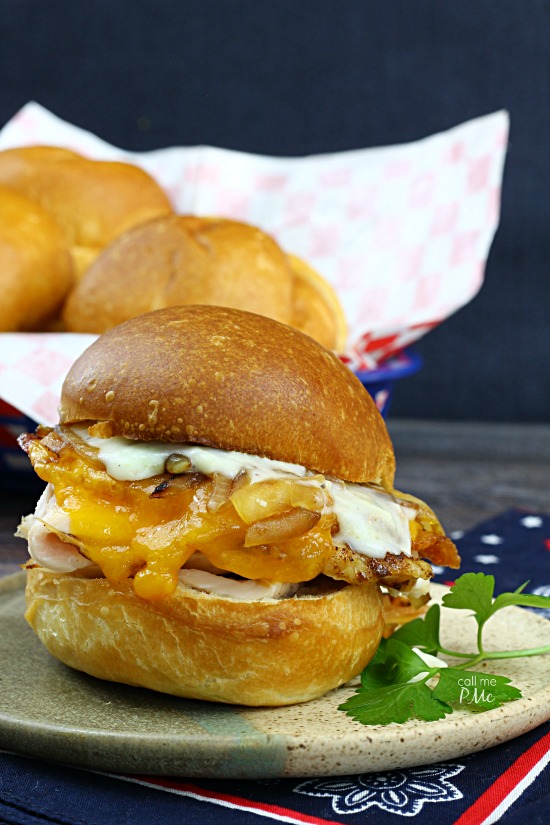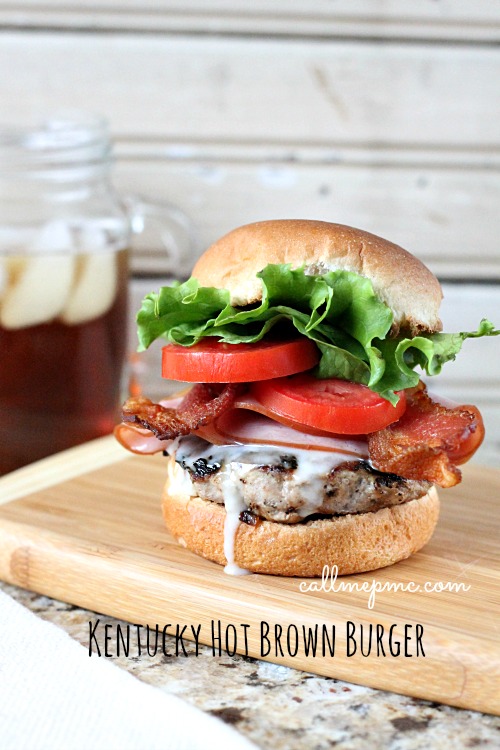 Kentucky HOt Brown Mac and Cheese