Kentucky Hot Brown Sliders Recipe the traditional open-face sandwich is turned into a hand-held treat perfect for game day. It is indescribably delicious with various flavors and texture.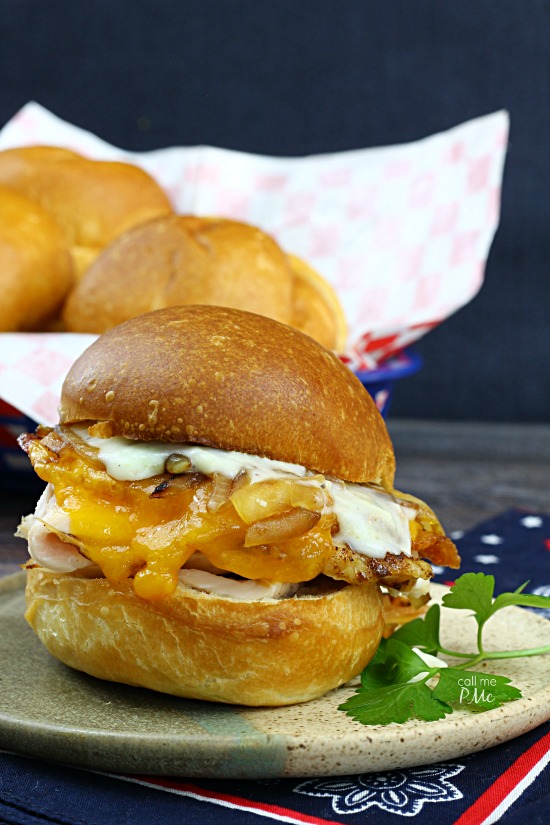 Are you surprised at this Kentucky Hot Brown Sliders Recipe? If you've been a reader of callmepmc.com for very long, you probably realize that I love the flavors and textures of a Kentucky Hot Brown. I shared with you the traditional Kentucky Hot Brown, a Kentucky Hot Brown Mac and Cheese and finally a Kentucky Hot Brown Burger.
So, yeah, it's a favorite.
Why Kentucky Hot Brown Sliders Recipe?
I was trying to think of a hearty slider recipe that I could serve at a Super Bowl party. I also wanted it to be unique. I came up with this Kentucky Hot Brown Sliders Recipe. It didn't disappoint.
This Kentucky Hot Brown Sliders Recipe has a smokey flavor from the turkey, creamy texture from the cheese and white sauce, then salty bacon is always  a great addition. Finally, the caramelized onions give a slightly sweet flavor and really makes this slider a winner.
This would be a good recipe for tailgating, picnics, or a great way to use leftover turkey during the holidays. Because of its history, the Kentucky Hot Brown Sliders Recipe would also blend well when watching  the Kentucky Derby.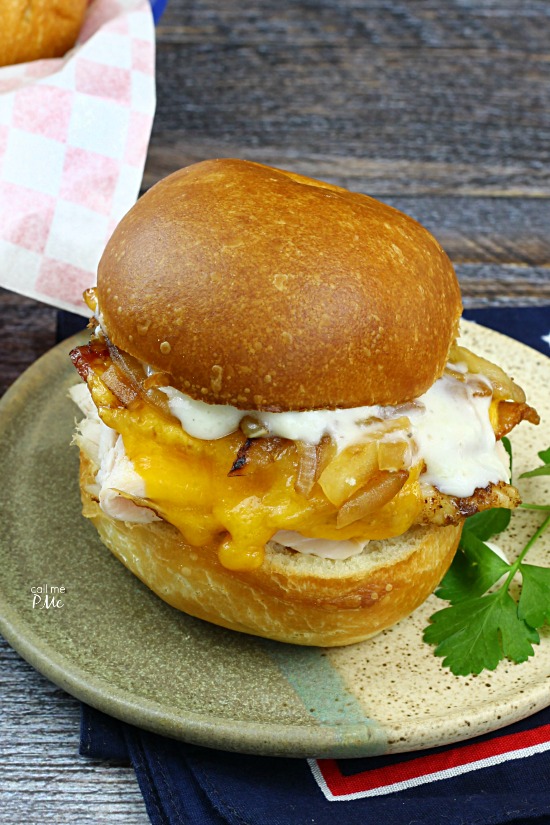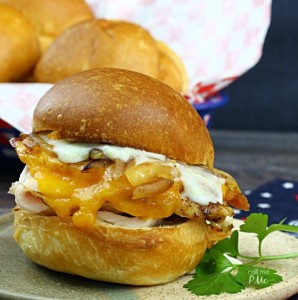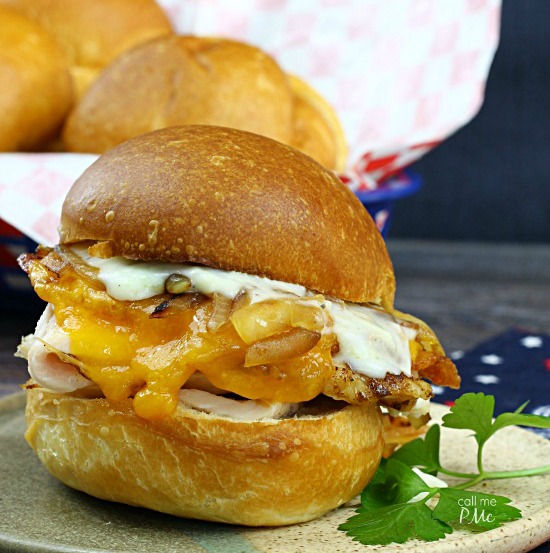 Print
Kentucky Hot Brown Sliders Recipe
Yield 6
Ingredients
6 slices turkey, I used a smoked turkey breast
6 slices ham, I used deli ham
6 slider buns
6 slices mild cheddar cheese
6 slices bacon, cooked crisp
2 large onions, sliced
2 tablespoons vegetable oil
2 tablespoon butter or margarine*
2 tablespoon self-rising flour
2 cups whole milk
1/4 teaspoon salt
1/4 teaspoon pepper
Instructions
Add 2 tablespoons vegetable oil to a skillet and saute onions until they are translucent and browned.
Cook bacon.
Sauce: To another sauce pan, melt butter* on medium heat. Add flour and cook 2 minutes, stirring constantly. Add milk, salt and pepper and whisk. Bring to a boil, whisking constantly. Reduce heat immediately after it reaches boiling point and simmer until ready to ladle on sliders.
Assemble: Layer turkey, bacon and cheese on bottom half of bun. Add caramelized onions to top half of bun. Broil in oven until cheese melts. Remove from oven. Ladle white sauce over cheese and place top bun on slider.
Serve immediately. Enjoy!
Notes
Turkey amount and quantity really depends on personal preference. *You can use bacon grease instead of butter as the fat for your cream sauce, if you prefer. If you do this, omit the 2 tablespoon butter and continue with sauce as directed.
 Join my newsletter for my latest recipes. You'll receive one email each with my latest posts.
[wysija_form id="1″]
Turkey Strawberry Brie Sandwich