Mama's Famous From Scratch Chocolate Pudding Pie is silky, luscious, and velvety. This classic recipe is super easy and can be made in less than 30 minutes.
For more scrumptious recipes, fun projects and exciting news, follow me around the web!
Pinterest, Facebook, Twitter, Instagram

Mama's Famous From Scratch Chocolate Pudding Pie is the chocolate pie recipe that my mom has made for as long as I can remember. My dad really liked it that's why she made it so often. That and the fact that it's super easy to make.
My dad loved desserts and we always had a homemade dessert on the counter when I was young. However, he didn't like chocolate. This pie and this cake are the only two chocolate desserts he liked. I inherited his sweet tooth. By the way, I'm not a huge chocolate lover either. I know crazy!
Additionally, I'd rather make a dessert than make a savory recipe a million times over as you can tell from my large ratio of dessert to savory recipes.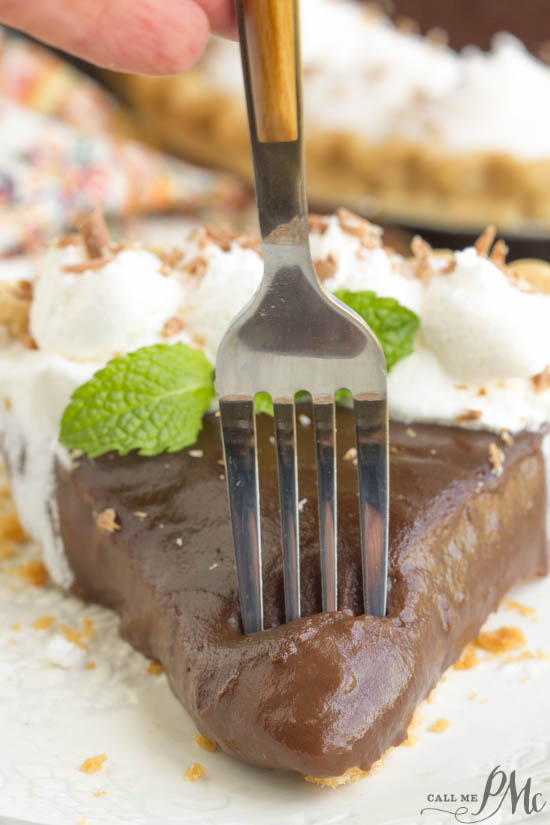 You may also like these pie recipes that are reader favorites.
Mama's Famous From Scratch Chocolate Pudding Pie
Basically, this recipe is a homemade chocolate pudding that's cooked on the stove top then poured into a baked pie shell. You can make a pie crust. I have two easy pie crust recipes for you to use, Coconut Oil Pie Crust and Never Fail Pie Crust.
Coincidentally, you could use a graham cracker crust, Oreo crust, or shortbread crust.
You can make individual tarts with it the pudding. Individual desserts are the best!
Or, you may prefer to forego a crust and eat it as, well, pudding. For the record, chocolate pudding is best warm with a dollop of whipped cream.
Please note. I topped by pie with whipped cream. I don't like meringue. Typically, this pie is topped with mile-high meringue, therefore, I have included the meringue recipe below as well.
You may want this pie pan if you intend you make a homemade crust.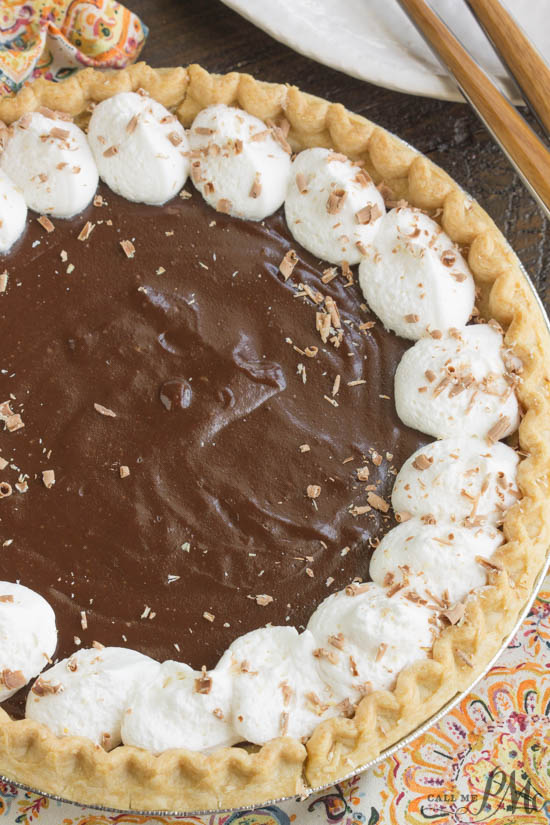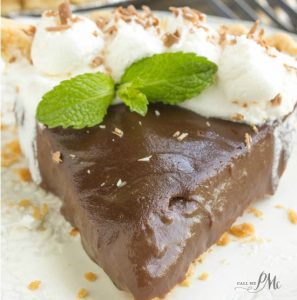 Print
Mama's Famous From Scratch Chocolate Pudding Pie
Yield 8 slices
Mama's Famous From Scratch Chocolate Pudding Pie is a very simple and quick pie to make. It can easily be made in 30 minutes. With a luscious, velvety texture and chocolate flavor this pie is a family favorite. 
Ingredients
For the chocolate filling
1 deep dish pie crust
1/4 cup cocoa
1/4 cup all-purpose flour
1/3 cup sugar
3 egg yolks, beaten
1 and 1/2 cup whole milk
1 teaspoon vanilla extract
2 tablespoon real butter
For the meringue
3 egg whites
1/4 cup granulated sugar
1 teaspoon vanilla extract
Instructions
Prepare pie crust as directed on package for 1 9-inch pie crust. Cool 10 minutes.
In a large saucepan at medium temperature, stir together sugar and egg yolks
Stir in flour and cocoa powder
Add milk and stir gently to combine
Stir continually on medium-low heat until pudding becomes thick.
Take off heat and stir in butter and vanilla.
Stir until butter melts.
Pour into pie crust.
Top with meringue or whipped cream 
For the meringue
Preheat oven to 350 degrees F
Place egg whites in the bowl of an electric mixer
Beat until soft peaks begin to form
Slowly add sugar
Beat until they form stiff, glossy peaks
Fold in vanilla
Spread meringue over pie
Bake for 8 to 10 minutes or until golden brown
Notes
Recipe from Paula @CallMePMc.com All images and content are copyright protected. Please do not use my images without prior permission that includes copying the ingredient list or entire recipe and posting in the comments on Pinterest for Facebook. If you want to share this recipe, please simply link back to this post for the recipe.
Courses dessert