Southern Inspired Charcuterie with Black Eyed Pea Salsa
This post may contain affiliate links that won't change your price but will share some commission.
Southern Inspired Charcuterie with Black Eyed Pea Salsa features crowd-pleasing Southern favorites both sweet and salty, crunchy and creamy for care-free evening entertaining
Be sure to scroll all the way to the bottom to see the video of exactly how I put together this Southern Inspired Charcuterie Board with Black Eyed Pea Salsa.

What is a charcuterie board?
Charcuterie refers to the branch of cooking that is devoted to cured and smoked meats. Add a selection of cheese and complimentary wine and it is the perfect, easy way to entertain. For a crowd, or for a few, charcuterie trays make for easy entertaining since, traditionally, there is nothing to cook. They are ultra-easy.
As well, Charcuterie and Cheese Boards are my favorite way to entertain. They're creative and fun to make, simple yet elegant, and easy to put together especially for last-minute guests. They are a foolproof way to entertain!
For basics on How to Assemble a Charcuterie Platter, I wrote this post. If you're new to making charcuterie or cheese trays, I recommend reading that post now. Making one is like the artist and photographer motto 'learn the rules like a pro so you can break them like an artist.'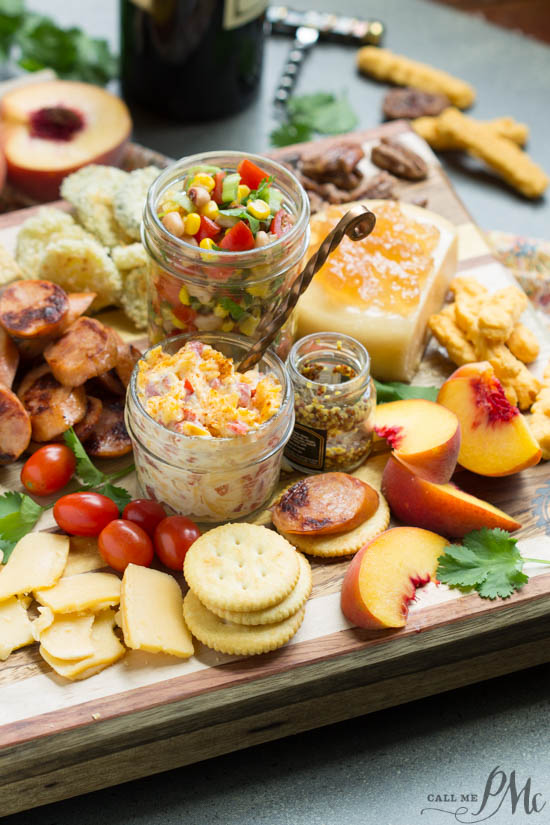 I broke the rules making Pimento Cheese and Black Eyed Pea Salsa for this board. You can choose to go the no-cooking route and forego these two items. However, I found they fit nicely into my Southern Inspired theme and were not time-consuming to make.
There are a lot of different items to offers as well as ways to present a Charcuterie Board. Furthermore, regionally inspired boards offer another creative avenue with them. In addition to my Southern Inspired Charcuterie Board with Black Eyed Pea Salsa, try an Italian board, Greek or Mediterranean board. Wouldn't a Christmas theme be fun with sugared cranberries?
Southern Inspired Charcuterie Board with Black Eyed Pea Salsa – THE BOARD
First things first, start with an attractive base. I love this teak board from Madiera Canary.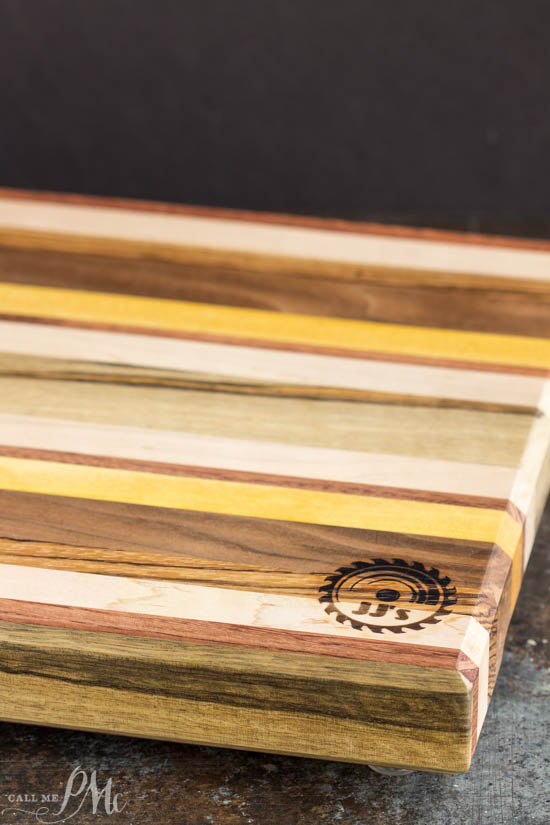 Southern Inspired Charcuterie Board – THE MEAT
I used smoked sausage on my board. I can't count how many times my husband has made a simple tray with just grilled, sliced smoked sausage, sliced mild cheddar cheese, banana peppers, and Saltine crackers. He's obsessed with this combination. You can even find this combination as an appetizer in local restaurants.
In addition, bacon, salt-cured, country ham, and andouille would fit nicely into a Southern Charcuterie board theme.
Southern Inspired Charcuterie Board with Black Eyed Pea Salsa – THE CHEESE
If you're from the South, you know that Pimento Cheese is a staple at picnics, church socials, family reunions, and ladies' luncheons. Heck, just about any time we get together there is pimento cheese served either as sandwiches or as a dip with crackers!
There are two recipes every Southern lady worth her weight in hair spray needs and that a good Pound Cake recipe and a good Pimento Cheese recipe! I have both for you! In fact, I have a Pound Cake review section on Call Me PMc with all the best pound cakes. Get them here. In addition, I have several Pimento Cheese recipes: Jalapeno Pimento Cheese, 3 Cheese Pimento Cheese, Gouda Pimento Cheese, The Masters Famous Pimento Cheese Sandwich.
In addition to pimento cheese, I recommend another cheese for your Southern Inspired Charcuterie Board. A good rule is "something hard, something soft, something goat, something cow". Since Pimento Cheese is smooth and mild, I suggest a sharp or stronger cheese. A parmesan, sharp cheddar, smoked Gouda, goat cheese, and/or blue cheese.
*Don't forget an appropriate knife for slicing and serving.
Southern Inspired Charcuterie Board with Black Eyed Pea Salsa – THE CRACKERS
Sturdy crackers are a must. I typically use plain flavored crackers so they don't compete with the cheese and meat. I used traditional butter crackers and plain pita chips on this board. Toasted baguette slices are another option.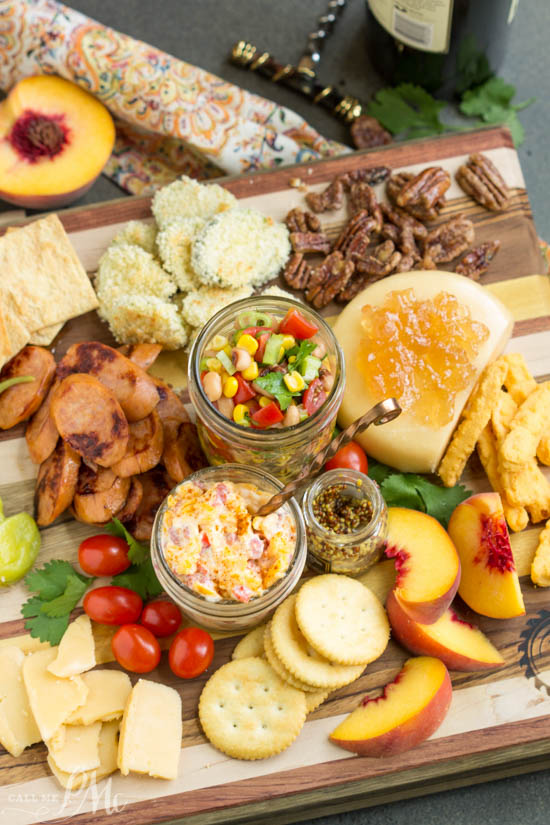 Southern Inspired Charcuterie Board with Black Eyed Pea Salsa EXTRA TIPS
Fruit. Southern summers are filled with fresh peaches and figs. It was logical that I include these local treats. I added fresh, sweet peach slices. They pair nicely with a mild, creamy cheese. As well, I used fig jam over a buttery farmers' cheese. Use fruits that are in-season or jam made from them. Try dried fruit in the winter when fresh fruits are less abundant and more expensive. Fruits brighten an otherwise heavy flavor portfolio of a charcuterie board. For this reason, I highly recommend them.
Nuts. I had a batch of my Cinnamon Sugared Pecans that I used. Click on the title for that recipe. Pecans, like peaches, are a Southern favorite. You can pick them up at any grocery store, they even over-toasted and flavored varieties if you don't want to make the Cinnamon Sugared ones. Toasted peanuts or boiled peanuts are very Southern too.
Cocktails. Red wine is a natural accompaniment to a Charcuterie and Cheeseboard. However, with such a casual board as this, Southern Inspired Charcuterie Board, you may consider serving local microbrews or bourbon flights.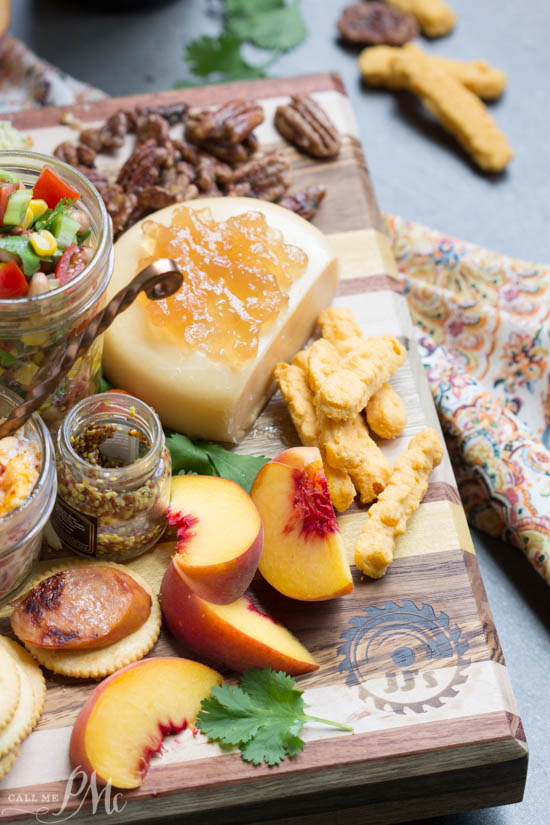 For a fun twist, try a Candy Board!
You can also find great recipes at Recipe Index