Strawberry Bread is the perfect breakfast, snack or dessert. It's mixes together quickly for a no-fuss treat.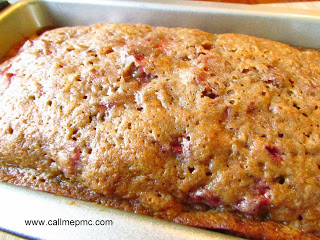 I really didn't want to bake today. I usually reserve that for when I am stressed or, let's be honest, craving something sinfully sweet, or when a friend has a birthday, or when my kids have been bad at school and I need to make it up to the teacher, or…..okay, maybe I do bake a lot. But, I didn't want to today. But I had to! Here's why, the Strawberry Fairy delivered plump, juicy strawberries again. Yes, You Honor, I made the Strawberry Bread. And, I ate the Strawberry Bread. Quilty!
Strawberry Bread is good hot or cold. It's moist and very flavorful. When it's hot, I like to slather on
Strawberry Butter
. I opted not to put a glaze on my Strawberry Bread, but it would be good especially if you're having it as a dessert. Simply mix confectioners' sugar and milk and pour over bread. Pour it on while the bread is hot and it'll seep down into the bread making it extra moist! #lovethat
Ingredients…. butter is that annoying kid that jumps in every picture. Butter is not in this recipe! Sorry.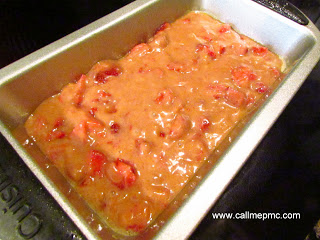 This is what the batter should look like, chunks of fresh strawberries! Love that!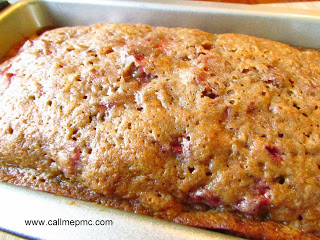 Serve with Strawberry Butter
Be sure to sign up for my weekly email!
[wysija_form id="1″]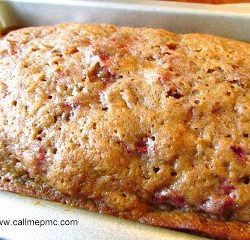 Strawberry Bread
Moist and full of flavor, Strawberry Bread is inspired the crowd-pleasing and popular Banana Bread, but replaces the bananas with strawberries in this recipe. You'll love it more than banana bread!
Ingredients
3

c

all-purpose flour

1

tsp

baking powder

1/2

tsp

salt

1

T

ground cinnamon

2

c

sugar

3

eggs

beaten

1

c

vegetable oil

2

c

fresh strawberries

chopped*
Instructions
Spray 2 9x5x3 inch loaf pans with non-stick spray. Pre-heat oven to 350 degrees.

*I revised this recipe 5-13 after realizing I left out a step.

Sprinkle sugar over strawberries and allow to sit an hour or 2. (I like to leave the strawberries in chunks, but you can chop as small as you like.) This will bring out the juice in the strawberries. In a large bowl, combine first four ingredients. In a seperate bowl, whisk eggs and oil. Add eggs and oil to dry ingredients; stir lightly until just combined. Add strawberries and juice. (You should have about 1 cup of juice. If you do not have that much juice, you may need to add milk so that the batter is not too dry/thick.) Divide mixture into 2 loaf pan and bake 45 to 55 minutes or until toothpick inserted in center comes out clean. I used 2 large pans, if you're pans are small you may need to cook longer. Remove bread from oven and cool for 5 - 10 minutes before inverting on serving dish.

You can also add pecans or coconut to the recipe for variation.
For more scrumptious recipes, fun projects and exciting news, follow me around the web!
Pinterest, Facebook, Twitter, Instagram, Google+, Bloglovin'