Take Pizza night to the next level with Stuffed Crust Pizza! It's crusty and soft with just the perfect amount of 'pull' so desirable in pizza crust. Most notable is the cheesy stuffed crust. Your family will love this recipe!
We love pizza night out our house and this Stuffed Crust Pizza is easy and tastes great!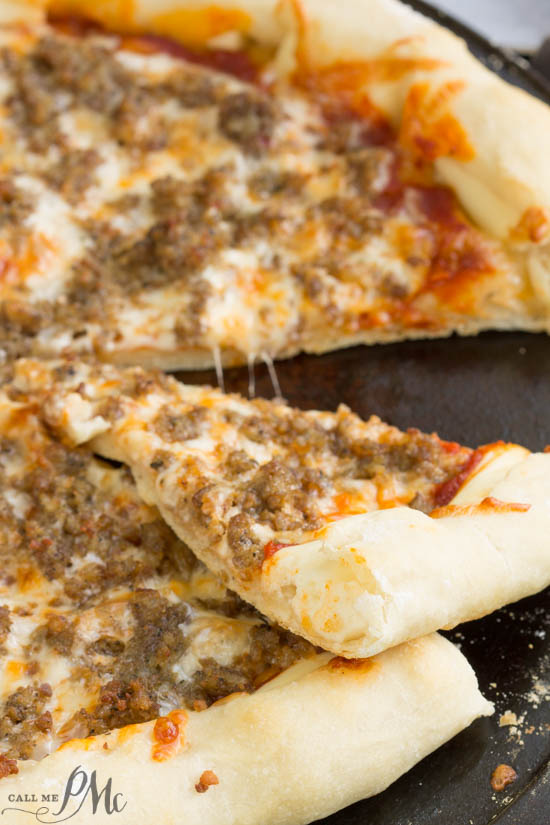 Turn any pizza into stuffed crust in one easy step!
Making pizza crust is easy. Don't be intimidated by it. I have a complete guide here on how to make Easy Pizza Dough. Making Stuffed Crust Pizza is just as easy and requires just one extra step.
The Stuffed Crust Pizza is more of a process that I will explain below. For the crust recipe, click the link above and you can print out the recipe.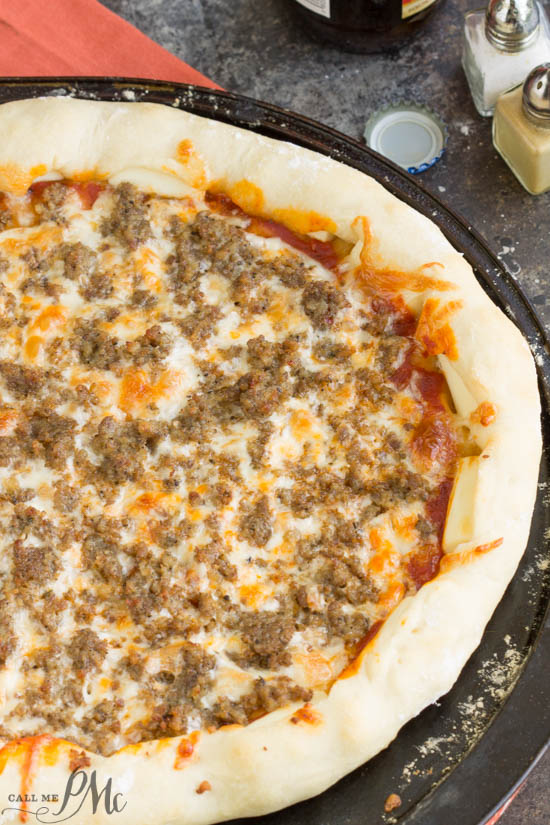 The crust would be super easy if you had cheese sticks like the ones pictured below.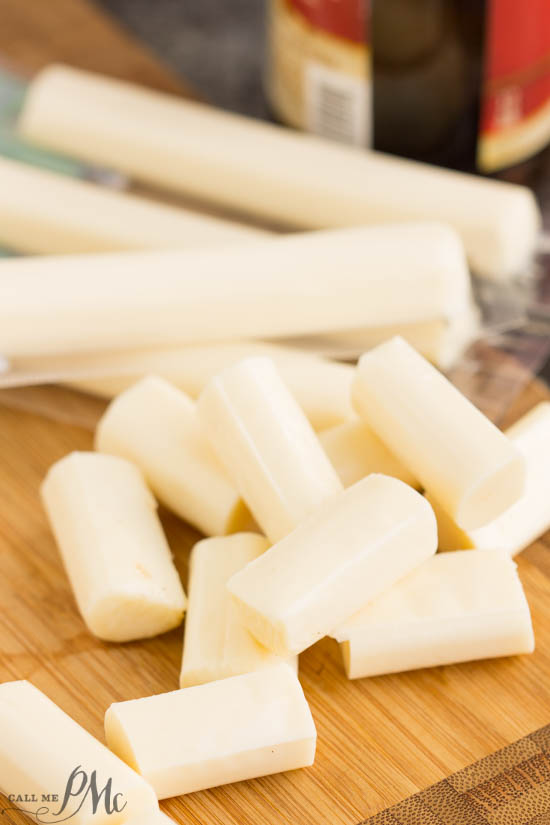 However, if you don't have cheese sticks on hand, cut cheese from your block to fit around the crust.
I cut blocks of mozzarella cheese about 1/2 by 1/2 inch and placed them on the outer edge of dough.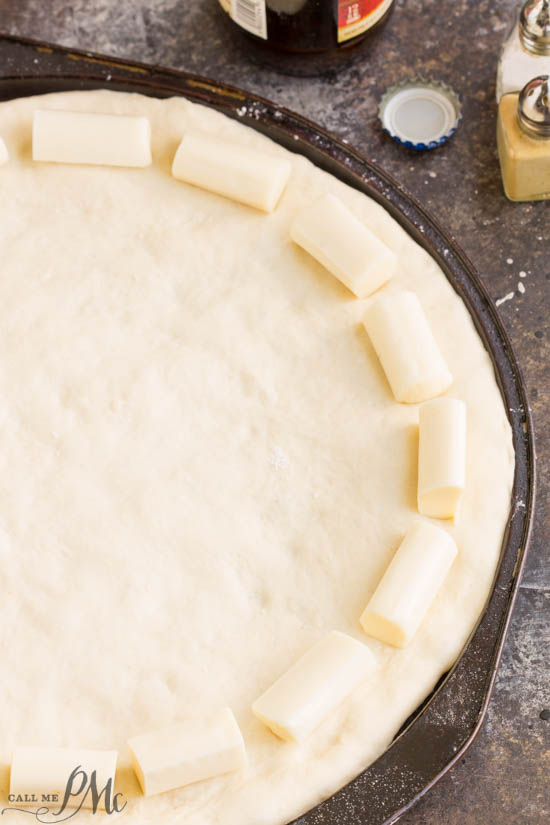 I then started folding the dough over the cheese.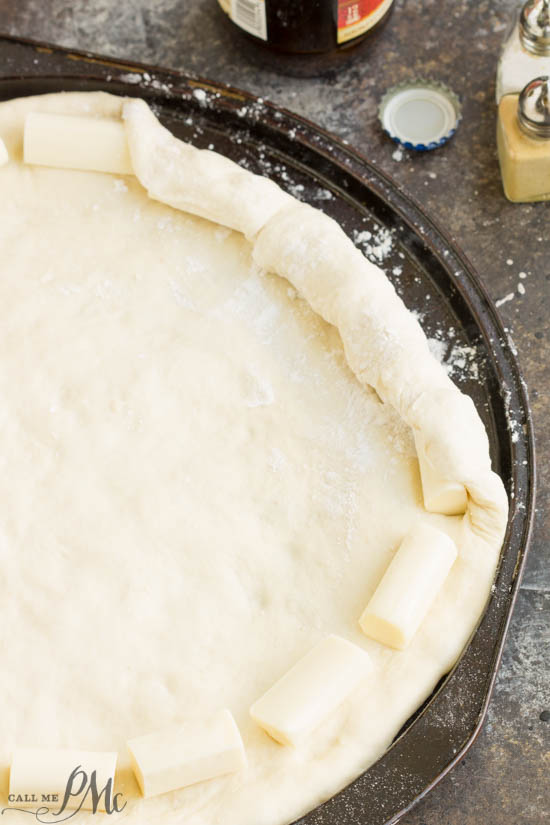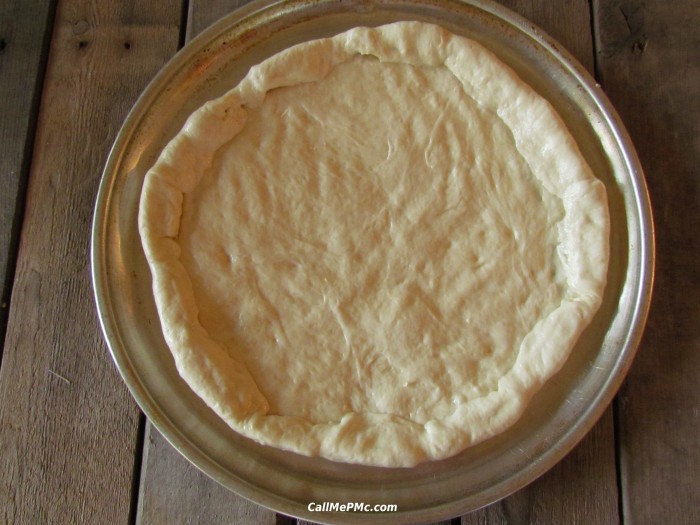 And press the dough together to seal.
Proceed with the pizza sauce and toppings as normal. I added a prepared pizza sauce.
This particular night we did half cheese and half sausage. It's actually pork breakfast sausage instead of Italian sausage.
Top your Stuffed Crust Pizza with lots of mozzarella cheese and, bam, you're done! Look how pretty it turned out!
Yes, my trickery worked. The boys ate the whole pizza CRUST AND ALL!
My Stuffed Crust Pizza is genius. I don't know why I haven't thought of it before. However, at least it came to me when it did. This was my full-proof, no-fail, trickery to get the boys to eat the crust of their pizza! Here is the dough recipe again for you.
What do you think?
Try my other pizzas!