16 Delicious Homemade Energy Bars
This post may contain affiliate links that won't change your price but will share some commission.
I have collected 16 Delicious Homemade Energy Bars–they are the best of the best, the crème de la crème, the bees knees of energy bars!
Whether you start your day with one, have one after a workout, enjoy one as an on-the-go meal replacement or chew on one as a healthy snack, energy bars have become very popular. Full of nutrients and very portable, energy bars can be made with only three ingredients or packed with a multitude of nuts, seeds and nutrients. Delicious Homemade Energy Bars are quick, healthy and mostly no-bake. By making energy bars yourself, you can control the amount of fat, sugar and ultimately calories in them.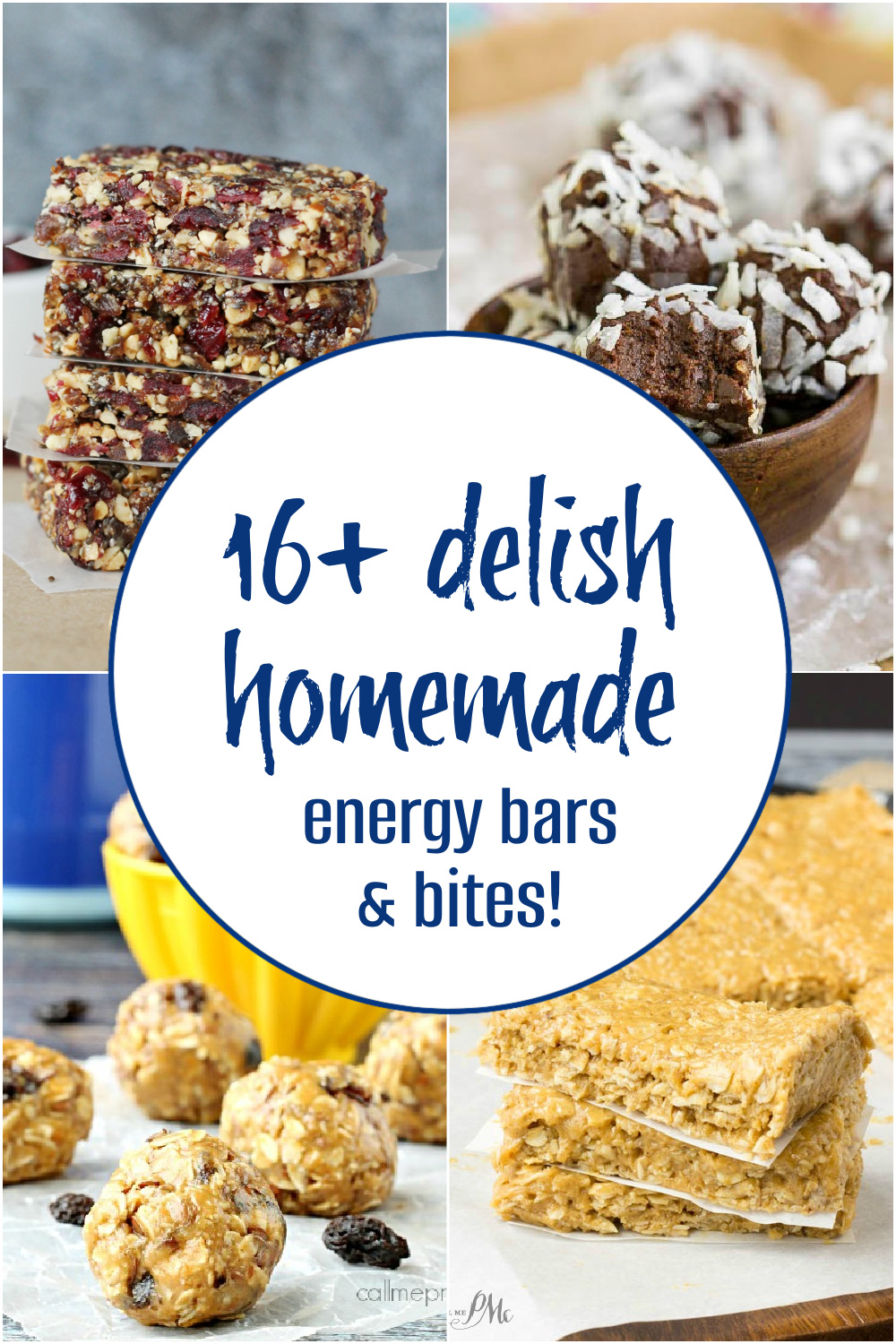 Energize Your Day with Delicious Homemade Energy Bars!
In today's fast-paced world, it's easy to fall into the trap of grabbing quick, unhealthy snacks on the go. But what if there was a way to fuel your body with goodness without sacrificing taste? Look no further than homemade energy bars!
Homemade energy bars are a fantastic solution for busy individuals seeking a healthy, convenient snack option. These bars are not only delicious but also customizable to suit your taste preferences and dietary needs. Packed with nutrients, they provide a sustainable source of energy, making them perfect for a pre-workout boost, a mid-day snack, or a post-exercise recovery treat.
Creating your own energy bars allows you to handpick the ingredients, ensuring that you know exactly what you're consuming. With a wide array of options including nuts, seeds, dried fruits, oats, honey, nut butter, and more, the possibilities are endless. You can tailor the recipe to cater to specific dietary requirements such as vegan, gluten-free, or low-sugar diets.
The process of making these bars is surprisingly simple and requires minimal time and effort. Typically, it involves combining the chosen ingredients, pressing them into a pan or balls, and refrigerating or baking until set. This simplicity makes them an ideal option for those with busy schedules who still prioritize their health.
Aside from being a healthier alternative to store-bought snacks, homemade energy bars can also save you money in the long run. Buying bulk ingredients and making a batch of bars at home tends to be more cost-effective compared to purchasing individual bars frequently.
Homemade Energy Bars!
Moreover, these bars offer versatility in flavor profiles. You can experiment with various combinations of ingredients, spices, and superfoods to create unique and tantalizing flavors that cater to your taste buds. Whether you prefer a nutty, chocolatey, or fruity taste, there's a recipe out there for everyone.
When it comes to storage, homemade energy bars can be conveniently wrapped individually or stored in an airtight container, making them easily portable for any adventure or daily commute.
In conclusion, homemade energy bars are a game-changer for anyone seeking a nutritious, delicious, and convenient snack option. They empower you to take control of what you consume, allowing for endless variations to suit your preferences and dietary needs. Whether you're an athlete looking for a performance boost or a health-conscious individual seeking a guilt-free treat, these bars are the perfect solution to keep you energized throughout the day. Try making your own batch today and discover the joy of homemade goodness in every bite!
Enjoy these healthy recipes!