These are Lincoln's cookies!!
I was the
sous chef
 this time in the kitchen.
I'm so proud; Lincoln made these Almond Crunch Cookies all by himself.
Well, up to the point they're ready to cook, at that point he just wants to eat the dough!
Funny, he and Ryder never care about actually baking or eating the baked cookies.
It's all about the cookie dough!
Prior to that he's a great baker. I, of course, was giving instructions
as well as explaining why we were doing what we were doing.
(Because if you know Lincoln, you understand that he has to know the why behind everything.)
I even got a compliment on how patient I was during the process from Big Daddy.
(When patience was being handed out, apparently, I was out shopping!!)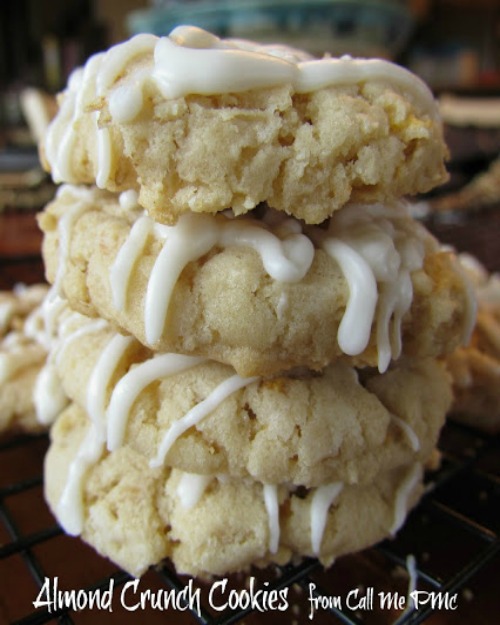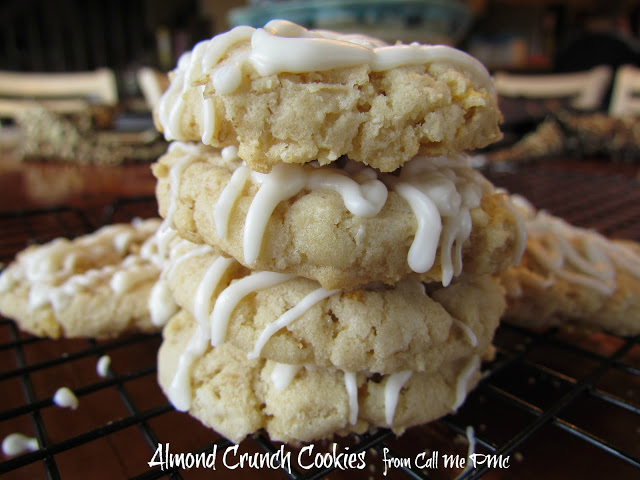 The oats give a good 'chew' and the cereal gives a good 'crunch' to this cookie.
This is not an overly sweet cookie.
Therefore, in my opinion (but I tend to like desserts super sweet) these cookies need the white chocolate drizzle to sweeten them up.
I liked the white chocolate/almond flavoring combination, however, if those aren't your favorite flavors substitute
vanilla
flavoring and you can use dark, semi, or milk chocolate for the drizzle.
Try these, if my 10 year old can make them, you can too!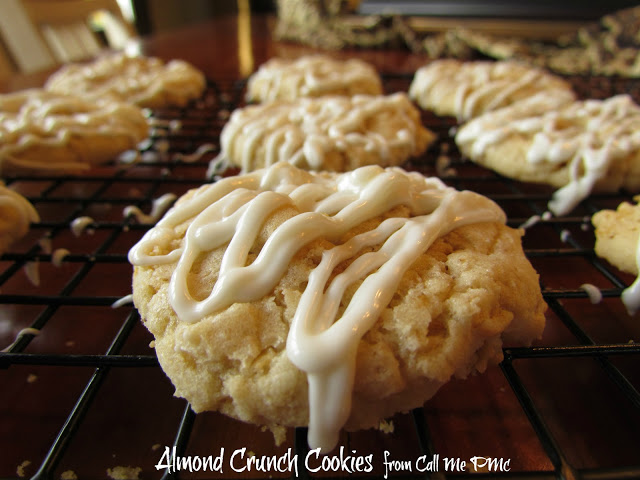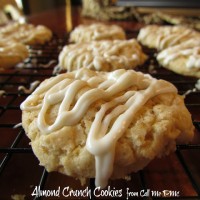 Print Recipe
Almond Crunch Cookies
Ingredients
2

cup

all-purpose flour

2

teaspoons

baking soda

1

teaspoon

baking powder

1/4

teaspoon

salt

1

cup

vegetable shortening

3/4

cup

granulated sugar

3/4

cup

firmly packed light brown sugar

2

large

eggs

1

teaspoon

almond extract

1 and 1/2

cup

uncooked regular oats

1 and 1/2

cup

toasted corn cereal

like Chex

4

oz

almond bark
Instructions
Preheat oven to 325 degrees. Beat 1 c shortening with an electric mixer until creamy; gradually add sugars, beating well. Add eggs and almond; beat well. In another

bowl

, combine flour, baking soda, baking powder, and salt; stir until blended. Add flour mixture to sugar mixture mixing until just blended. Slightly crush corn cereal, only to the point there aren't large pieces (but not too small, you'll lose the 'crunch') Carefully stir in oats and cereal.

Using an ice cream scoop, drop dough on a

cookie sheet

2" apart. Bake at 325 degrees 12 to 14 minutes. Cool for 2 minutes on

cookie sheet

before removing to a

wire rack

to cool completely.
Melt almond bark (read tips on How to Melt Chocolate) in microwave in a zip-top freezer bag. When melted, snip the corner off and drizzle over top of cookies. Allow chocolate to dry before serving or packaging.