Buttered Pan Biscuits. Warm, homemade biscuits are so much easier than you thought. This easy biscuit recipe is made with just six ingredients.
We have a Saturday morning tradition. Big Daddy (aka W, Wes, Wesley or Sweet Cheeks) makes breakfast on Saturday morning. Usually, it's biscuits, Chocolate Gravy (the boys call it 'Mommie's Gravy' even though it's not 'my' gravy at all but I guess they associate something sweet with me) or Brown Gravy, (You guessed it, they call Brown Gravy, Daddy's gravy… which actually IS his gravy.) and sausage or bacon… maybe eggs.
Sometimes we have waffles, my favorite, but I'm always watching calories so I usually let them choose unless I'm having a craving.
Big Daddy is obsessed with biscuits. He insists I make better biscuits. I insist he just says that so that I'll make the biscuits.
I got to wondering if I could make them in one large pan then cut them after they're baked. Sound weird? We both hate cutting biscuits out and the clean up. Lincoln doesn't like the 'brown parts'.
I gave it a try. Big Daddy – thumbs up! Me – thumbs up! Lincoln (#1) – thumbs up! (who knew, right?!) Ryder (Curly)- two thumbs up! (he likes his breakfasts!)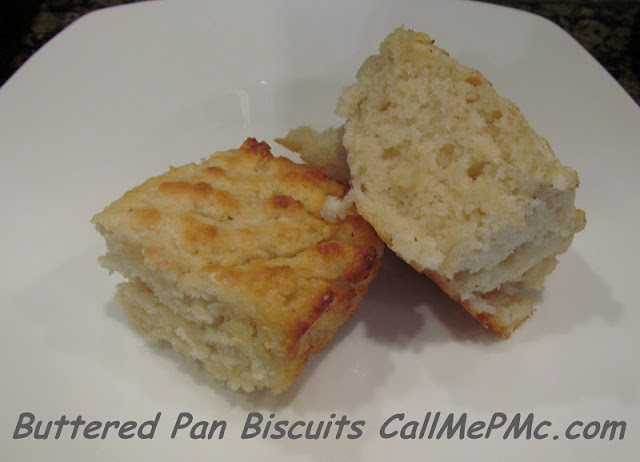 You have got to try these!
Ingredients in Buttered Pan Biscuits
You probably already have every ingredient to make these biscuits.
Baking powder – not baking soda
Sugar – Optional. There is such a small amount, you may want to leave it out.
Salt – Use more or less than suggested
Buttermilk – Regular milk is not the same when baking.
Butter – unsalted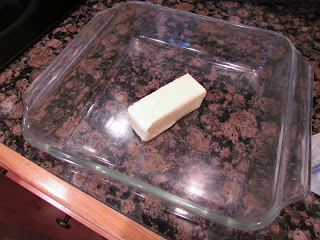 Melt 5 T butter in an 8×8 pan
In a large bowl, combine flour, sugar, baking powder, and salt
Pour in buttermilk and stir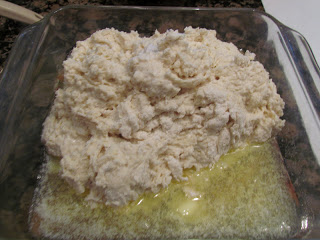 Pour batter in baking dish over butter and press flat.
Score the dough into 9 biscuits.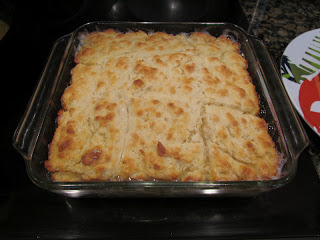 Bake until golden brown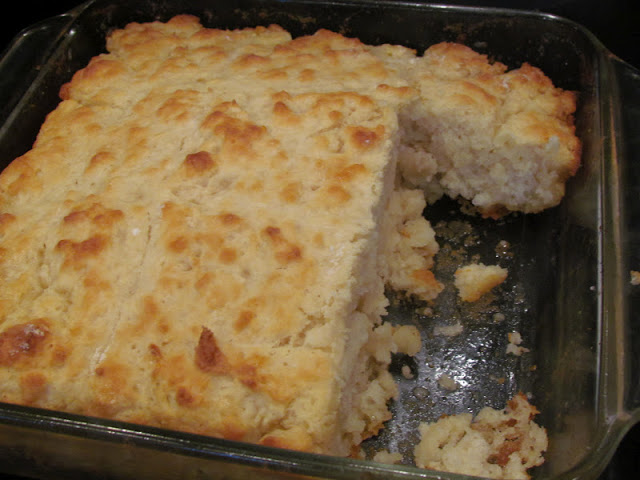 We ate the entire batch!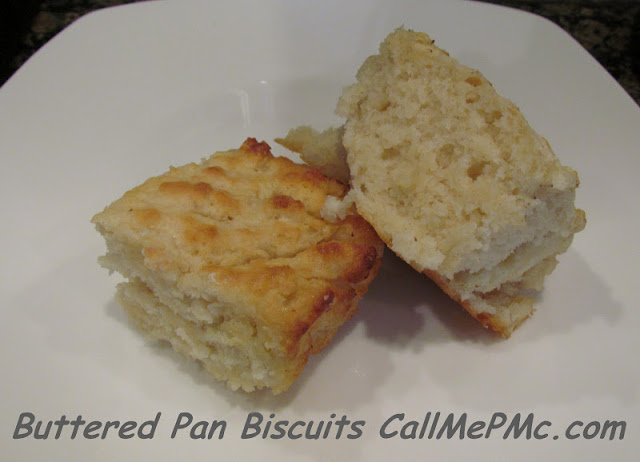 How to make…
Basically, there are just two simple steps to mixing the biscuits
In a mixing bowl, whisk the flour, baking powder, sugar, and salt together.
Shake the buttermilk and measure. Add the buttermilk and mix until a wet, sticky dough is formed. Don't overmix.
Melt butter in an 8×8-inch baking dish and swirl it around to coat the bottom of the pan.
Pour in the dough, and spread it evenly.
Slice the dough into nine equal pieces and bake for 20-25 minutes.
If needed, run a knife through the biscuits once more to cut through.
Serve hot and enjoy!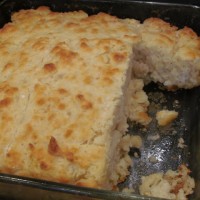 Print Recipe
Buttered Pan Biscuits
An easy recipe for biscuits. Instead of rolling and cutting the, or even dropping them, they're spread into a pan, scored, and baked.
Instructions
Preheat oven to 450 degrees. Melt butter in an 8x8-inch dish.

Add all dry ingredients to a bowl. Add buttermilk and stir until just combined. Don't over stir.

Pour dough into the dish with melted butter and press flat. Score into squares.

Bake 20 to 25 minutes or until golden brown. Serve immediately.
Tried this recipe? I'd love to hear from you. Comment below or mention & tag me on Instagram
Mention @Paula_callmepmc or tag #callmepmc!
Nutrition
Calories:
218
kcal
|
Carbohydrates:
31
g
|
Protein:
5
g
|
Fat:
8
g
|
Saturated Fat:
5
g
|
Cholesterol:
22
mg
|
Sodium:
621
mg
|
Potassium:
277
mg
|
Fiber:
1
g
|
Sugar:
4
g
|
Vitamin A:
268
IU
|
Calcium:
135
mg
|
Iron:
2
mg
As an Amazon Associate, I earn from qualifying purchases. This post contains affiliate links. If you click the link and make a purchase I will receive a small commission at no cost to you. Visit all my recommended products at Paula's Picks on Amazon. Read my entire Privacy Policy here.