Easy Creole Spicy Roasted Almonds have a little sweet and a little heat for the perfect snacking treat. These easy roasted almonds are coated in sugar and Creole seasoning for a tasty treat.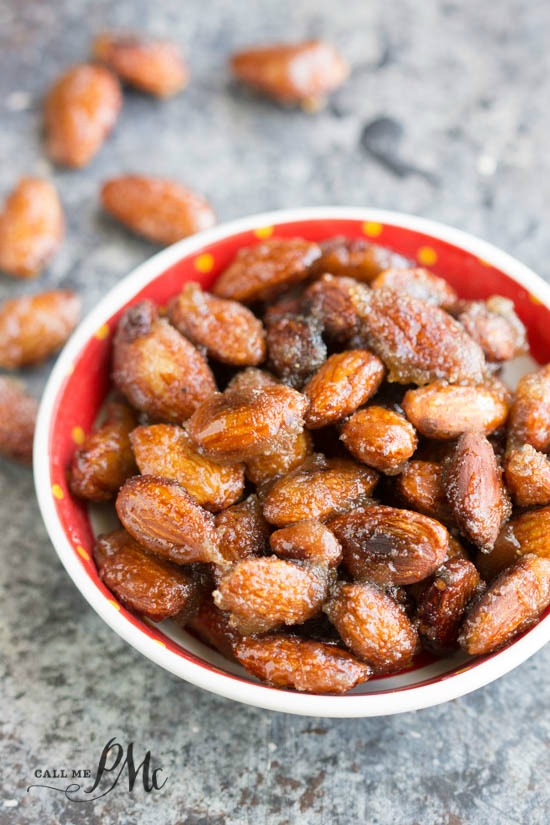 Last year I started working with Blue Diamond Almonds and feel in more in love with almonds. I made a Lighter Chicken Salad with Sriracha Almonds, Almond Crusted Goat Cheese, Almond Crusted Chicken Tenders, and Salted Caramel Snack Bars. Whatever it is that you add almonds to makes it better. Almonds add such great flavor and texture to both savory and sweet dishes.

Health Benefits of Almonds
Almonds are a source of many nutrients which help in the development and health of the human brain.
Regular consumption of almonds helps to increase the level of high-density lipoproteins (HDL) and they reduce the level of low-density lipoproteins (LDL).
Almonds are a great source of many vitamins and minerals, and phosphorous is among them! Phosphorous can have a considerable impact on the strength and durability of bones and teeth, while also preventing the onset of age-related conditions like osteoporosis.
Almonds are great sources for alkali materials, and this is known to benefit the strength of the immune system, as well as increase the ability to stave off diseases and various health conditions.
The benefits of almonds in regards to skin health. Almond oil messages are very popular. Almond milk is also added to some soaps, because of almonds well-established reputation of improving the complexion of skin.
The potassium present in almonds helps to regulates blood pressure, and  almonds are very low in sodium, which helps to control fluctuating blood pressure.
Almonds improve the movement of food through the colon, thereby preventing build-up and subsequent colon cancer.
Almonds also help to reduce the reactionary rise in glucose and insulin levels after meals. This modulation offers protection from the dangerous spikes in blood sugar which diabetics often suffer from following a large meal, or a meal with an unexpectedly high level of sugar in it.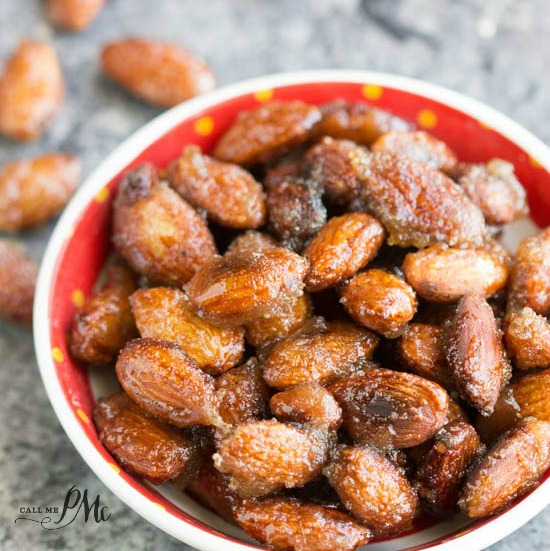 And, almonds are just downright good! I got so used to having a jar in the pantry on which to snack. Then I decided to recreate some of my favorite flavors so they would be cheaper.
Easy Cinnamon Roasted Almonds is a basic sugar coated nut recipe. It's slightly sweet with a hint of cinnamon.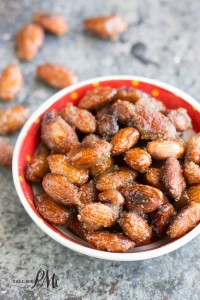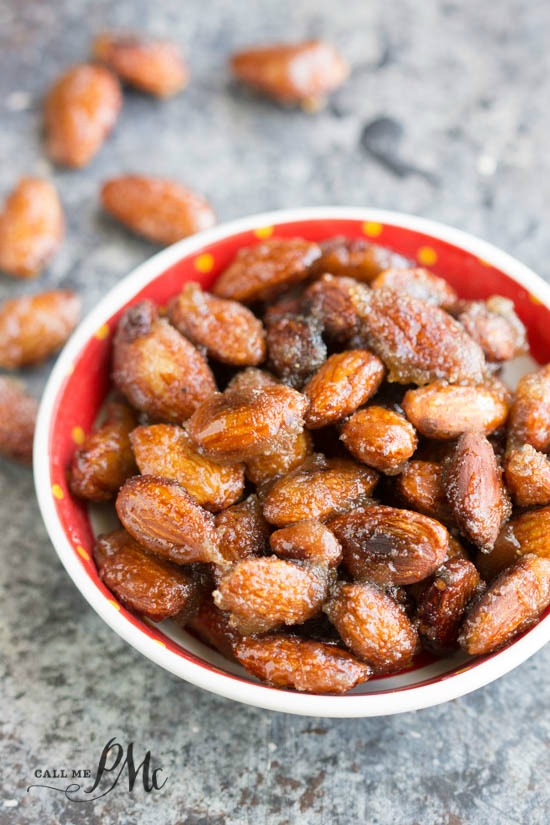 Print
Creole Spicy Roasted Almonds
Yield 1 .5 cups
Creole Spicy Roasted Almonds recipe is flavored with a little sweet and a little heat to make the perfect snack.
Ingredients
2 cups raw almonds
1/4 cup granulated sugar
1/4 cup packed brown sugar
1 teaspoon salt
1/2 teaspoon Creole seasoning
1 tablespoon canola oil
2 tablespoons honey
Instructions
Place almonds in a single layer on a large baking pan. Bake, uncovered, at 400 degrees 6 to 7 minutes or until toasted.
In a small bowl, combine brown sugar, salt and Creole seasoning. Set aside.
In a large skillet, heat oil over medium heat.
Add roasted almonds, 1/4 cup granulated sugar, and honey to skillet.
Cook and stir for 2 minutes, until sugar dissolves.
Remove from heat and stir in reserved sugar mixture (the brown sugar, salt, and Creole seasoning). Toss to coat.
Immediately spread on waxed paper. Cool completely.
Break into pieces and store in an airtight container
Notes
Recipe from Paula @CallMePMc.com All images and content are copyright protected. Please do not use my images without prior permission that includes copying the ingredient list or entire recipe and posting in the comments on Pinterest for Facebook. If you want to share this recipe, please simply link back to this post for the recipe.