On a whim, I entered the MS Magazine Recipe Contest in 2011 after seeing a post on their facebook page. I was one day until deadline. My husband and I had won an Iron Chef competition with local foodies with this recipe, I had served it with rave reviews to our Supper Club, and even enjoyed it ourselves numerous occasions. I had it on file at my fingertips and sent it in immediately. I won the Grand Prize (and a sweet vacation to the beach for my hubs and I)!! I was thrilled. You will be too as soon as you grill this baby up!
What are you waiting for, Go. Make. This.
Mississippi Magazine 2011 Recipe Contest Winning recipe!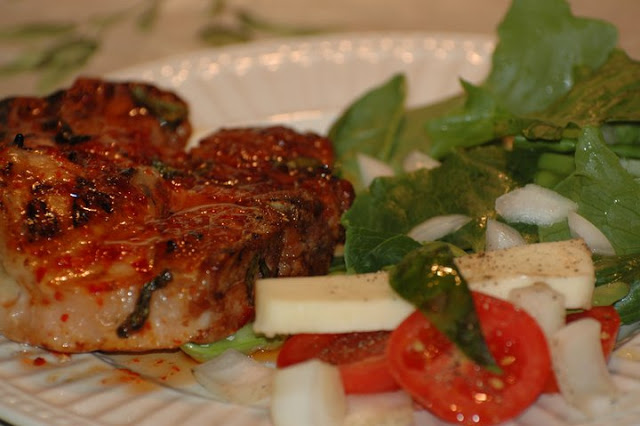 Jalapeno-Basil Pork Chops
Photo compliments of Leslie Hitchcock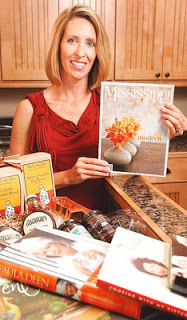 Daily Journal Article
GRAND PRIZE
JALAPEÑO-BASIL PORK CHOPS
Jalapeno Basil Pork Chop MS Magazine Recipe Contest Winning Recipe
Yield 4
Ingredients
1 (10-ounce) jar Tabasco Spicy Red Pepper Jelly
½ cup dry white wine
¼ cup chopped fresh basil
4 (1½-inch thick) bone-in loin chops, well trimmed
4 small slices smoked Gouda cheese
½ teaspoon salt
¼ teaspoon pepper
For garnish: fresh basil and green onions
Instructions
In a small saucepan over low heat, combine jelly, wine, and basil, whisking for about 5 minutes or until pepper jelly melts. Remove from heat, and let mixture cool completely. Cut a pocket into loin side of chop, large enough to insert and hold cheese, and insert cheese as close to bone as possible; avoid too large of a piece to prevent melting during cooking. Skewer pocket closed. Pour ¾ cup pepper jelly mixture into a large zip-top plastic freezer bag and reserve remaining mixture; add pork chops, turning to coat. Seal and let marinate for 1½ to 2 hours in refrigerator. Allow chops to come to room temperature for 30 minutes before grilling, turning pork chops occasionally. Remove chops from marinade. Discard marinade. Sprinkle chops evenly with salt and pepper to taste. Grill, covered with grill lid, over high heat (400 to 450 degrees) for 3 minutes, then turn a quarter turn and cook another 3 minutes, then repeat on the other side, or until a meat thermometer inserted into thickest portion registers 145 degrees (temperature should rise another 10 degrees at rest). Strain basil from remaining 1 ¼ cups of marinade and discard basil; boil marinade 2 minutes. Pour pepper jelly sauce over pork chops and garnish with fresh basil and green onions.
Yield: 4 servings