Skinny Peaches & Cream Greek Yogurt Cheesecake, I have lightened the luscious, rich cheesecake without losing any delectable flavor!
I have decided to run another Half Marathon.
I don't know if that's good or bad. Sane or Crazy.
Running is so addictive. Running makes me feel awesome. My husband thinks that's crazy. He doesn't understand the rush. But, I've run my whole life, I don't know anything else.
Racing is addictive. Once you race, you want to race again to see if you can do a personal best (or pr, personal record). If you don't do better, you have to try again, because well, you can't stop when you did worse!! See how this goes?
But, I do eat better when I'm training for a run. I'm more conscious of eating good, quality food with all the nutrients I need to power a run. As I've stated time and again on the blog, I have a sweet tooth. I love desserts. I am trying to get healthier desserts though and that's where this recipe comes in.
I discovered Greek yogurt a couple of years ago and have been incorporating it into more and more dishes. I don't purchase sour cream at all anymore, everything that I previously used sour cream in, I now substitute Greek yogurt. Greek yogurt has more protein that regular yogurt, it's creamier and tangier. I get non-fat, plain and add it to all kinds of recipes you can see some examples at the end of this post.
Dessert Challenge
I've been participating in Lady Behind the Curtain Dessert Challenges since May. This month the featured ingredients are peaches and cream. This gave me the perfect opportunity to try a dessert I've been putting together in my head for a while, Skinny Peaches & Cream Greek Yogurt Cheesecake. I'll be honest, I didn't know if it would work. It did and it's fabulous. It's creamy and smooth, just like the texture of a 'real' cheesecake. I hope you'll give it a try.
Do you make any 'skinny' dishes? What recipes do you use Greek yogurt in?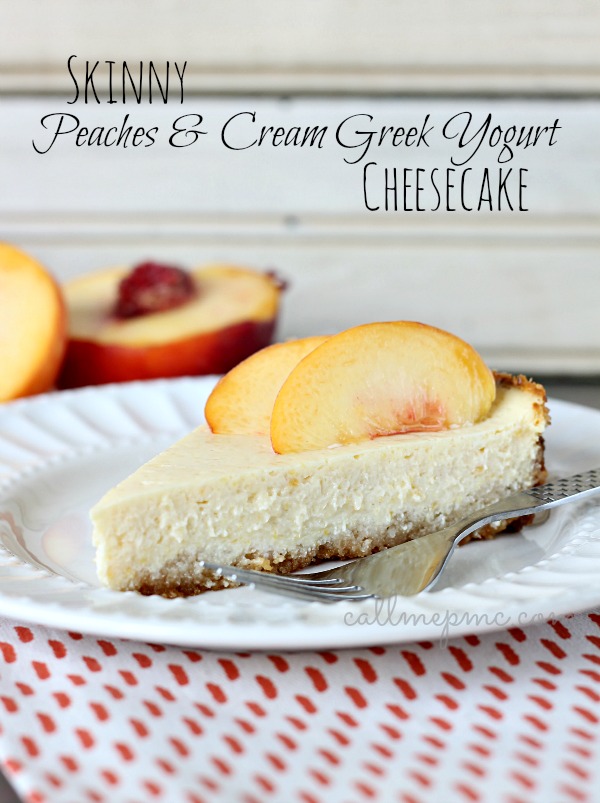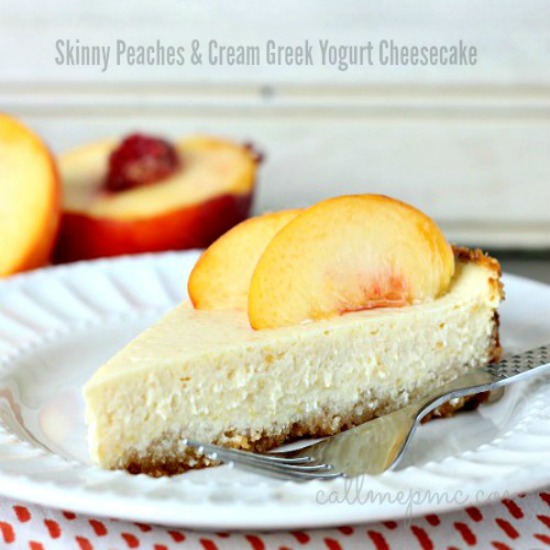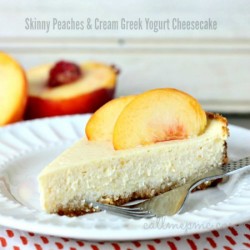 Skinny Peaches and Cream Cheesecake with Almond Crust
Skinny Peaches and Cream Cheesecake with Almond Crust a lighter cheesecake recipe that doesn't lack in flavor.
Ingredients
CRUST

2

cups

almond flour

3

tablespoon

real maple syrup

1

tablespoon

canola oil

1/8

teaspoon

salt

CHEESECAKE

2

cup

fat free plain Greek yogurt

1/2

cup

sugar

pinch

of salt

2

eggs

2

teaspoon

vanilla

1

cup

fresh peaches

chopped

1

Tablespoon

cornstarch
Instructions
CRUST: Combine flour, syrup, oil and salt, mixing with a fork until clumpy and resembles coarse sand. Pour into a 10 inch tart pan or springform pan that has been sprayed with non-stick spray. Bake at 350 degrees, 15 minutes or until lightly brown.

Remove from oven and fill with desired filling. Crust does not have to cool before filling.

CHEESECAKE: Preheat oven to 350 degrees.

In a blender, add eggs, sugar, yogurt, and vanilla. Blend until smooth. Add cornstarch, salt and peaches, Pulse 4 to 5 times until blended but peaches aren't pureed. You still want small chunks of peaches. Pour into prepared crust. Bake 30 minutes or until center is set and edges are lightly brown. Turn oven off and crack door. Allow to sit in oven 5 minutes to gently cool, before removing. Cool completely on countertop before refrigerating. Allow to refrigerate at least 2 to 3 hours before releasing springform pan.
Recipe Notes
Add a 9x9 inch casserole dish with 1 inch of water in the bottom of it to oven while cooking. This will prevent cheesecake from cracking.I cooked in a 10-inch springform pan. Cheesecake will be 1 1/2 inches tall.Recipe from Paula @CallMePMc.com All images and content are copyright protected. Please do not use my images without prior permission that includes copying the ingredient list or entire recipe and posting in the comments on Pinterest. If you want to share this recipe, please simply link back to this post for the recipe. Thank you, Paula
For nutritional information click *here*
Other ways I've used Greek Yogurt:
Blueberry Swirl Pound Cake with Lemon Glaze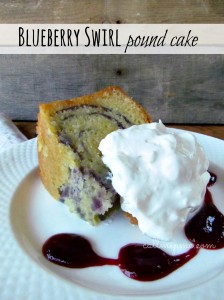 Snack Smart