22+ TASTY RECIPES USING FRESH PEACHES
This post may contain affiliate links that won't change your price but will share some commission.
Tasty Recipes Using Fresh Peaches. Summer and peaches go together like kids and ice cream. Peaches and watermelon mean summer to me. You just can't get good peaches or a juicy watermelon here except during the summer.
Maybe that's why they're so good… it's the can't have them all the time thing?
I'm not sure why. However, I do know that from now until I can't get them anymore I'll be eating fresh peaches with juice dripping down my elbows and I'll be making all the peaches things!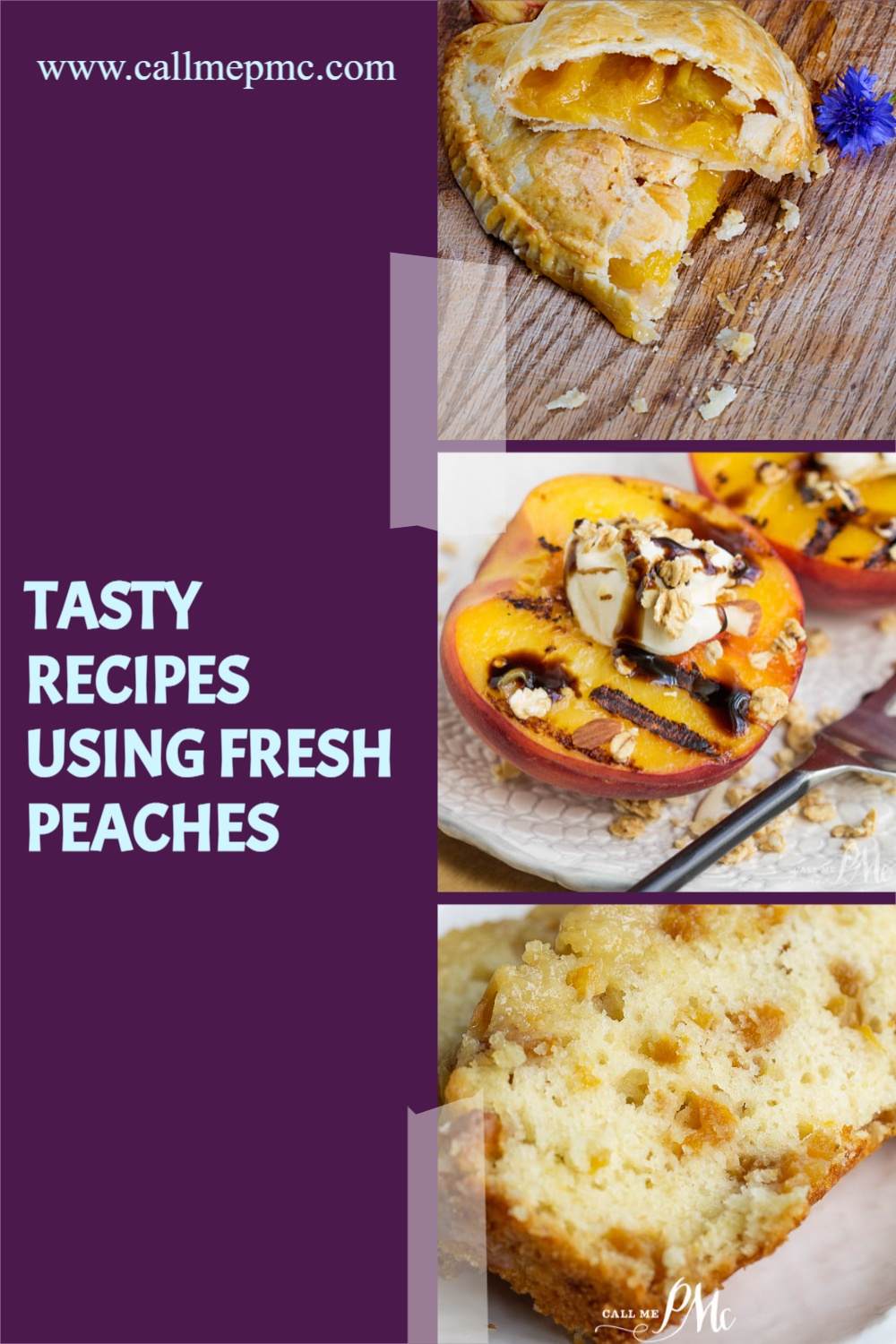 Tastiest Recipes using fresh peaches!
So you went a little crazy buying fresh produce at the farmer's market?
How do I choose a good peach?
Look for peaches that are a little soft but not mushy and without any visible bruises. Also, it should have a pleasant aroma. Avoid peaches that are green around the stem or those at the other extreme and have wrinkled skin.
If you're only option is slightly underripe peaches, simply put them in a brown paper bag, fold it, and let them sit on your countertop. It should take only one to two days for them to become fragrant and colorful.
What pairs well with peaches?
I like these spices: cinnamon, cloves, vanilla, nutmeg, mint, basil, ginger, honey.
Other stones fruits like stone fruits like nectarines, apricots, cherries, plums pair. As well, strawberries, raspberries, blackberries, lemons, and limes complement peaches.
Liquors that go well with peaches are bourbon, brandy, and amaretto. Additionally, white wine and peaches make a wonderful sangria.
For dairy pairings try vanilla ice cream, mascarpone, yogurt, and blue cheese, goat cheese, or feta cheese.
What can I do with lots of peaches?
You can freeze them. To freeze peaches, peel, then slice the peaches. Next, toss them in lemon juice. This will prevent them from turning brown. Next, lay a sheet of parchment paper on a baking pan (that fits in your freezer) and spread the peach slices on the parchment paper in a single layer. Freeze for 4 hours or overnight. Transfer the frozen peach slices to a freezer bag, and remove as much air from the bag as possible before sealing. They'll keep in the freezer for 2 months.
As well, you can make some of these recipes now with you peaches!
Click the photo or the title to get the recipe.
As an Amazon Associate, I earn from qualifying purchases. This post contains affiliate links. If you click the link and make a purchase I will receive a small commission at no cost to you. Visit all my recommended products at Paula's Picks on Amazon. Read my entire Privacy Policy here.