Pork Tenderloin Sliders with Bourbon Peach BBQ Sauce are stacked high with tender pork, creamy slaw and tangy, sweet Peach BBQ Sauce that's been spiked with bourbon.
This tender cut of pork is grilled to perfection. It makes a heavy appetizer for entertaining or hearty dinner.

Since the boys have been out of school and Lincoln loves to grill, he grills the protein for dinner while I get everything else ready. It's a great system!
I picked up a Hormel ALWAYS TENDER® pork tenderloin in a mesquite barbecue flavor. The ALWAYS TENDER® products are available in pre-marinated pork tenderloins, pork loin filets & pork roasts in a variety of flavors. Plus, Hormel products are always quick, easy, affordable and tasty.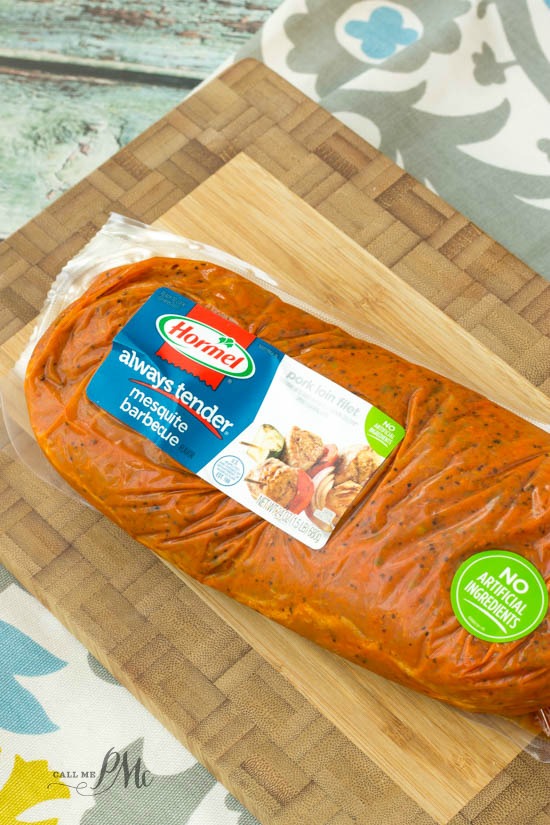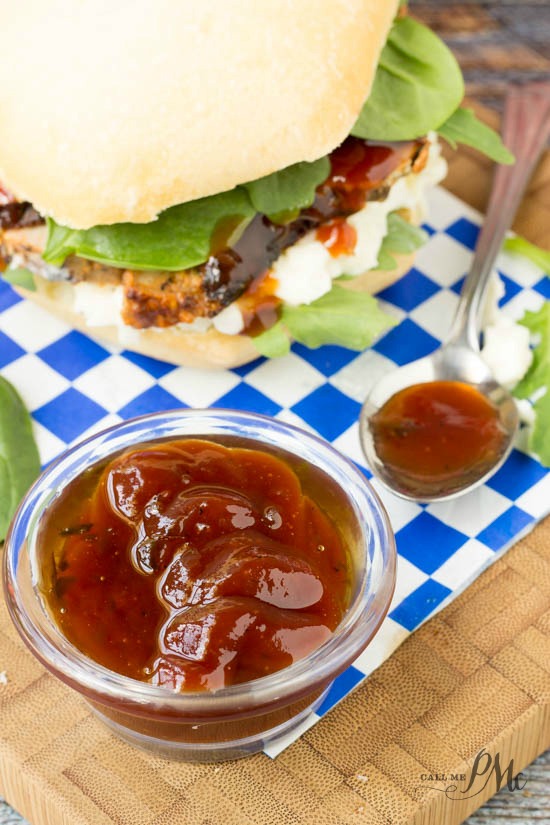 I wanted a quick meal and sandwiches are always my go-to for quick meals. Sandwiches are always welcome with my family, you can perk up any traditional sandwich with a special sauces. And, pork is so versatile and adapts easily different flavor profiles and worked beautifully with the Peach BBQ sauce I had been wanting to try. Who knew you could pack so many flavors into one sandwich?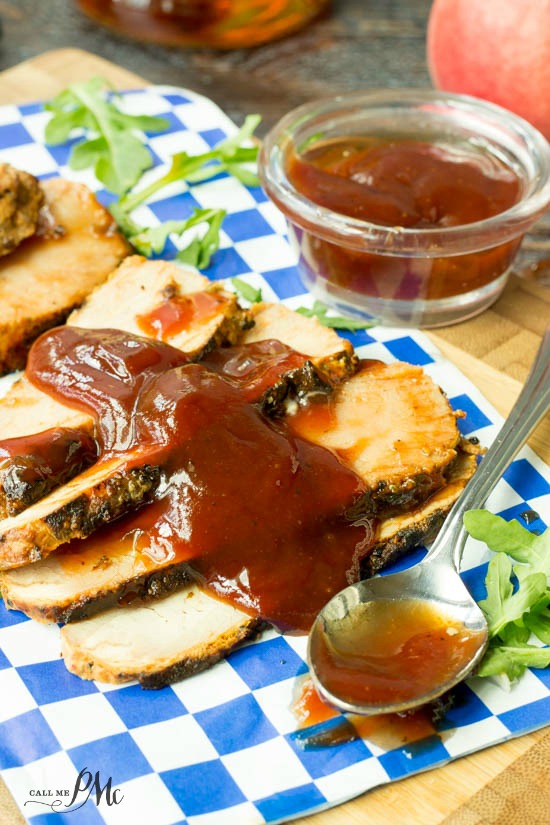 Pork Tenderloin Sliders with Bourbon Peach BBQ Sauce
Bourbon Peach BBQ Sauce is the perfect the perfect match for pork. It's tangy, sweet and slightly smoky from the bourbon. Don't worry the alcohol cooks out of the bourbon leaving just the flavor.
I also added a traditional coleslaw to our sandwiches. I love the crunch coleslaw adds. It takes about one half a head of cabbage for 4 cups.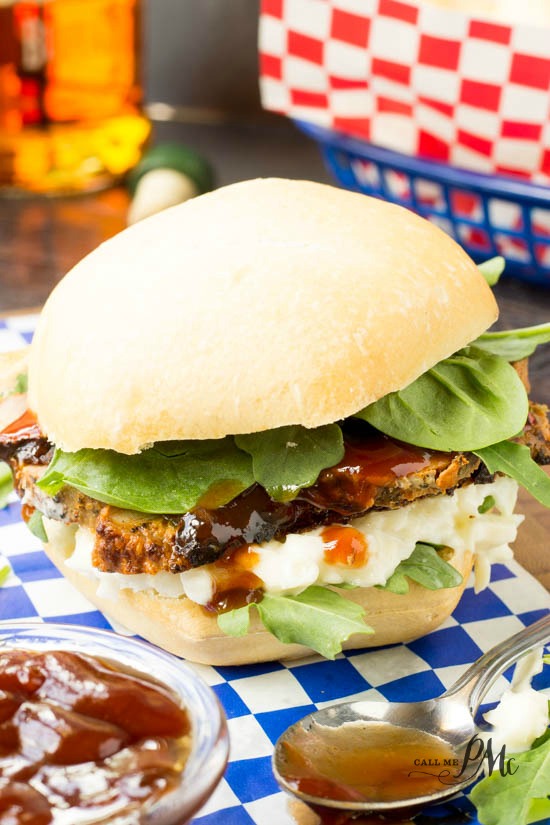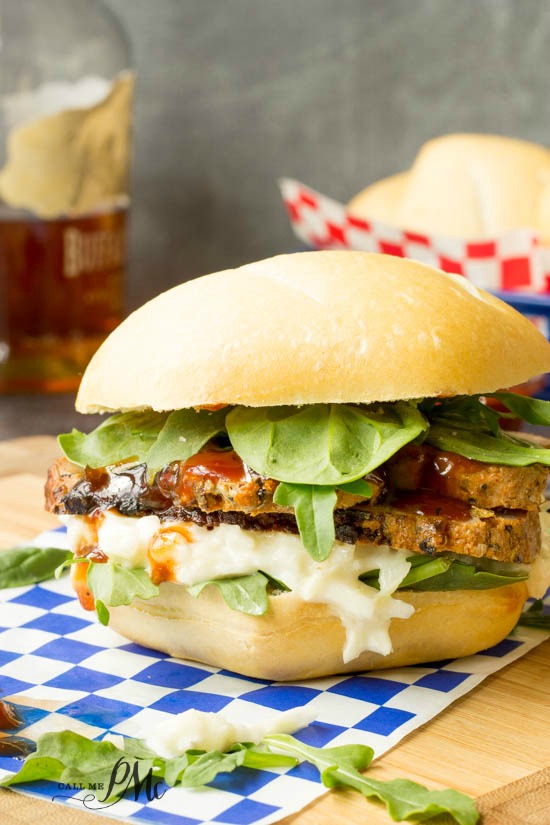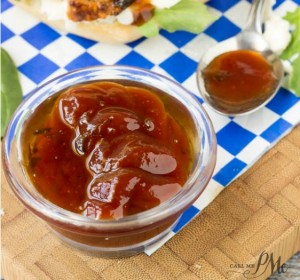 Print
Pork Tenderloin Sliders with Bourbon Peach BBQ Sauce
Yield 8
Ingredients
1 Hormel Always Tender pork tenderloin
8 to 10 slider rolls or buns
Greens, I used spinach and arugula
For the Coleslaw
1/2 cup mayonnaise
1 tablespoons Dijon mustard
1 tablespoon granulated sugar
2 tablespoons apple cider vinegar
2 tablespoons buttermilk
1/2 teaspoon celery salt
4 cups green cabbage, finely shredded
4 cups purple cabbage, finely shredded
2 large carrots, grated
For the Bourbon Peach BBQ Sauce
1/2 cup sweet onion, chopped small
1 tablespoon vegetable oil
1 clove garlic, minced
1 teaspoon fresh ginger, minced
1 and 1/2 cup ketchup
1/2 cup peach preserves
2 large peaches, about 1 cup
3 tablespoon bourbon
salt and pepper to taste
Instructions
For the Coleslaw
Whisk together the mayonnaise, mustard, brown sugar, vinegar, buttermilk, celery salt, kosher salt, and pepper in a large bowl. Add the cabbages and carrots and toss to combine. Cover and chill until serving time.
For the Bourbon Peach BBQ Sauce
Sauté onion in hot oil in a saucepan over medium heat about 2 minutes or until tender. Add garlic and ginger. Cook, stirring constantly for one minute. Add ketchup, peach preserves, peaches and bourbon. Reduce heat to low, and simmer, stirring occasionally, 30 minutes or until sauce thickens. Season with salt and pepper to taste. I use about 1/8 teaspoon each of salt and pepper. Remove from heat.
Grill Pork.
Heat grill. Cook tenderloin on first side 10 to 12 minutes. Turn to second side and watch closesly. Cook time will vary depending on temperature of grill and thickness of meat. You want the internal temperature to reach 150 degrees. The temperature will rise after taking it off the grill. The internal temperature needs to be between 145 and 160 degrees.
Build your sandwich.
Layer, greens, slaw, tenderloin and barbecue sauce on bun. Enjoy!