During hot weather the last thing I want to eat is something hot. I opted for this Zesty Greek Pasta Salad as a side with Big Daddy's stuffed smoked Pork Loin. I made a good decision the two flavors played off each other well.
Speaking of weather, is it hot where you live? I thought May was unseasonably cool in North MS but that can change quickly and did. We were in Florida on the beach the first week of June and it was very hot. The first two weeks of June in Tupelo has hovered around high 80s and low 90s. Now you may be thinking, that's not crazy hot! Think again. Have you ever visited the South during the Summer? That 90 degrees feels like over 100 degrees with the humidity! For real! It's unbearable. I run early and it's stifling even before sun up. The best plan is to stay inside unless you have a pool to cool off in.
Enough weather talk, let's get to this yummy Zesty Greek Pasta Salad. Do you like pasta salad? I adore pasta salads that don't use mayonnaise (hate those!) This Greek Salad has an olive oil base (not a mayonnaise base) with lots of seasonings and is full of veggies. Perfect!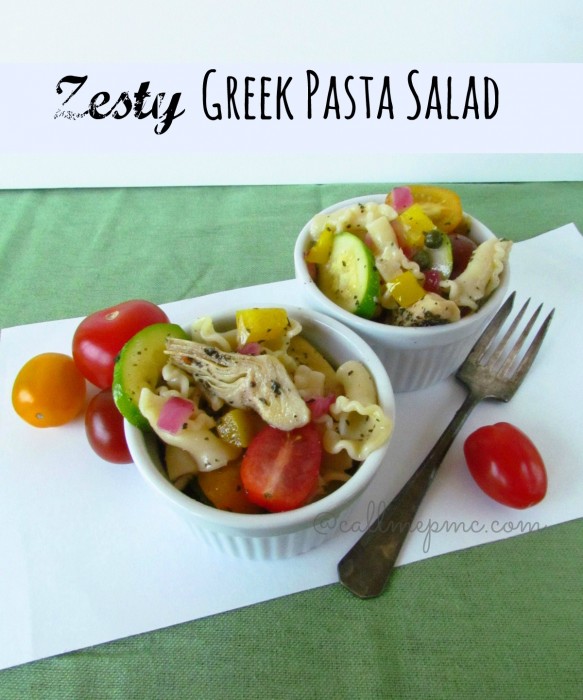 You could even add sliced pepperoni to zing this up your Zesty Greek Pasta Salad even more!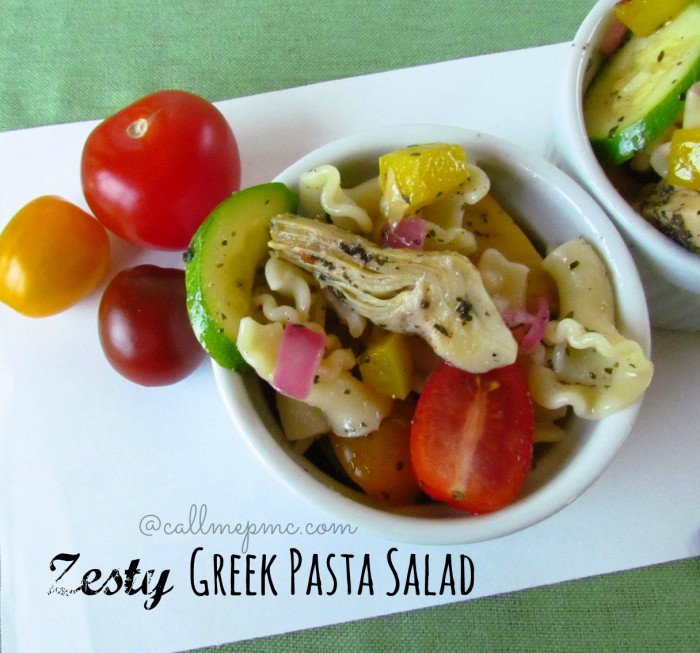 **I forgot to put feta in my salad so the recipe calls for feta, but my pictures don't have feta.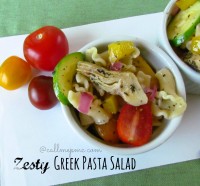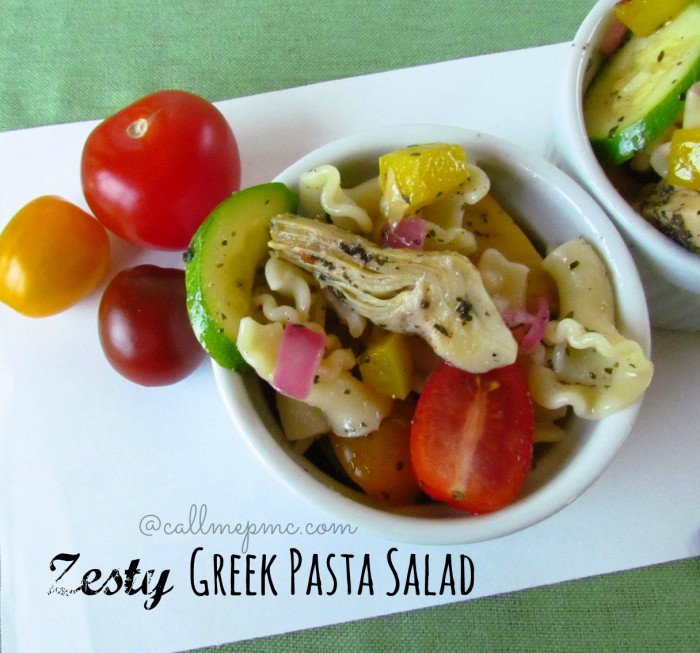 Zesty Greek Salad
Ingredients
2

c

dry pasta

3

T

red onion

diced

1

c

zucchini

sliced

1/3

c

yellow pepper

diced

1 6

oz

jar marinated artichoke hearts

drained

1/2

c

cherry tomatoes

halved

1

tsp

capers

2

T

olives

black or kalamati

1

T

sundried tomatoes

chopped

2

oz

feta cheese

crumbledDressing:

1/2

tsp

dijon mustard

3

oz

olive oil

2

T

red wine vinegar

1/2

tsp

onion salt

1

tsp

dried basil

1/2

tsp

garlic

minced

1/2

tsp

pepper

1/2

tsp

salt

*optional 2 oz sliced pepperoni
Instructions
Cook pasta according to directions to al dente. Drain. Do not rinse.

Combine all dressing ingredients. I use a mason jar with a lid; seal and shake vigorously to combine.

Combine vegetables; onion, zucchini, pepper, artichoke hearts, tomatoes, capers, olives, sun-dried tomatoes and feta with pasta.

Pour dressing over and toss gently.
Recipe Notes
Serve room temperature or cold from refrigerator
Here's your great Menu using Zesty Greek Pasta Salad:
For great blogging resources and information, check here
When you try my Zesty Greek Pasta Salad come back and leave me a comment below!