"This post is part of a social shopper marketing insight campaign withPollinateMediaGroup™ and eMeals all my opinions are my own. #pmedia #eMealstotheresuce http://cmp.ly/3/8vNxcO."
I may have a food blog, but that doesn't always mean I have time to plan my family's meals or make elaborate meals for them. Actually, I probably cooked more complex and complete meals before I started blogging. Blogging, when you do everything yourself, takes about 60 hours a week… ok, some of that is 'talking' with blog friends or cruising Pinterest. However, it is time consuming.
Also, when I planned my own weekly menu and cooked more elaborate meals, my boys will young and didn't have activities. Nowadays, they have a lot going on. Between the two of them, we have something extra almost every day. Between that, my husband's busy schedule and my blog and volunteer work, some day's it's all I can do to make grilled cheese or peanut butter and jelly sandwiches!
When I got the opportunity to work with eMeals, I was super excited, as was my husband!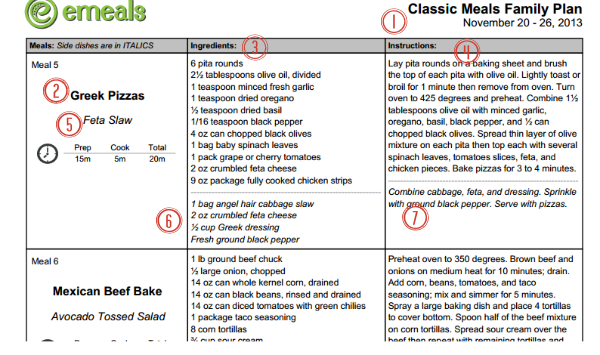 You'll receive a weekly meal plan basic on the Plan you choose. I chose 'Classic'.
This meal plan has seven days of meals.
It also gives your exact ingredients for the meal.
As well, it gives you easy-to-follow instructions. Even if you're not a cook, these instructions are direct, simple and very easy to follow.
You'll also receive side items to go with the entrée. Every side I've received has been super simple, nutritious and very easy to make or assemble.
You'll also receive ingredient list for the sides.
Most of the sides require little to no cooking.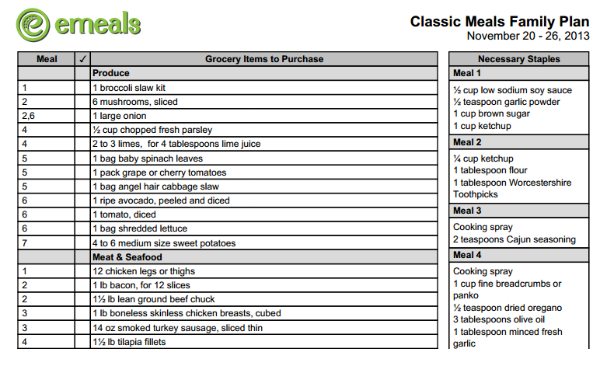 For me, the very best part is the grocery list. Along with your Meal Plan, you'll receive very simple grocery list. It's broken down by meals so if you're not going to prepare that meal just cross if off your list. You also have pantry staples listed. Check your pantry and if you already are fully stocked with that item, simply cross it of your list.
One of my first Meal Plans included a Baked Focaccia Sandwich served with chips and grapes. I improvised a little with the sandwich using only turkey instead of turkey and ham. My boys like turkey much more than ham. I also used Muenster cheese instead of provolone because that's what I had in stock.
This is a great tasting, easy to put together and took minutes to prepare.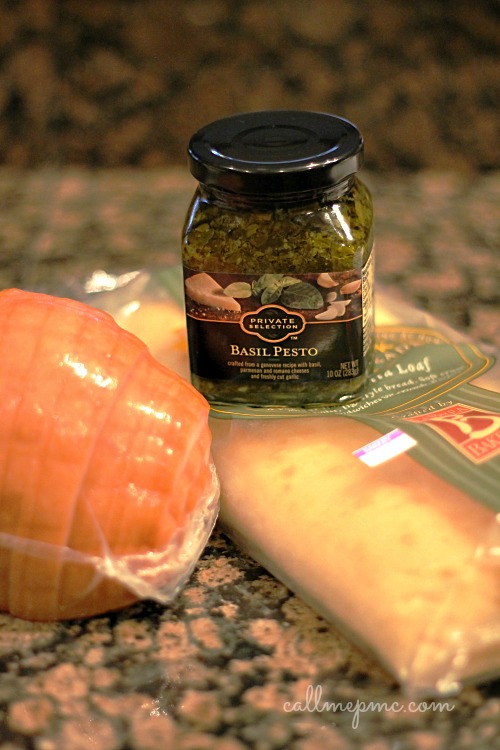 Pesto is the key to making this sandwich special.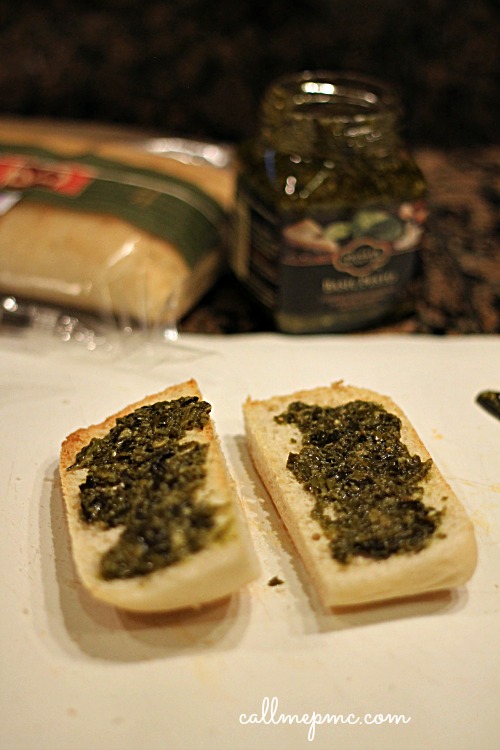 I made individual sandwiches for my family.
You could easily make one large sandwich if you like.
Spread the pesto on both sides.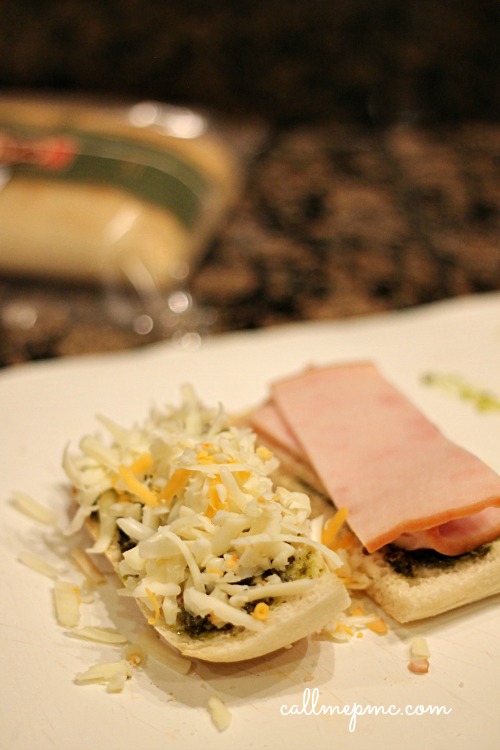 Next, you'll want to layer on the meat and cheese.
Sliced cheese would work better, actually, but, like I said,
I used what I had and what I had was grated Muenster.
If you don't follow a recipe to the letter, it's okay.
Make it your own, leave off or change what your family doesn't like.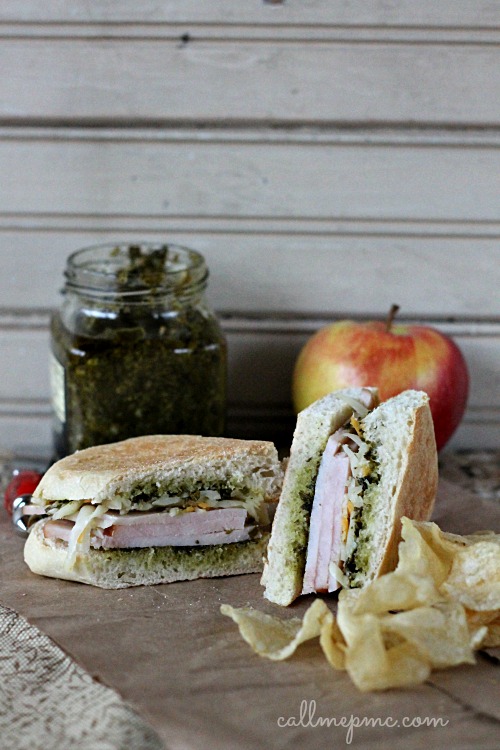 And, there she is. It was very tasty!
What I love most about eMeals:
Saves me time planning
Saves me time shopping
Recipes are easy and save me time preparing
Saves me money, because I now purchase only what I need thanks to the handy dandy shopping list!
Baked Focaccia Turkey Sandwich
Ingredients
1 large bakery loaf focaccia bread
3 oz jar prepared pesto sauce
1 lb sliced turkey (leftover holiday turkey would be PERFECT for this!!)
8 oz sliced muenster cheese (or provolone if you prefer)
Instructions
Preheat oven to 425 degrees.
Slice bread across horizontally.
Spread pesto evenly over both sides of bread.
Layer turkey on one side and cheese slices on the other.
Place top on sandwich and wrap in foil.
Bake 10 to 15 minutes or until heated through and cheese is melted.
Cut and serve.
http://www.callmepmc.com/2013/12/baked-focaccia-turkey-sandwich/
All recipes and images are original and the sole property of Paula Jones at CallMePMc.com with all rights reserved. All content herein is meant for your personal enjoyment only. Content on CallMePMc.com is in no way to be used for commercial purposes. Other than linking to a page or pinning an image only on Pinterest (complete recipe is not allowed to be copied to Pinterest or any other site), Call Me PMc asks that you do not copy or otherwise use images or original recipes for any other purpose. If you would like to use any of my pictures you must first contact Call Me PMc and get express written permission. Use of this site automatically constitutes your agreement to these terms.
Are you intrigued with eMeals? Would you be interested in a subscription?
For a limited time, you can save 35% off a 1 year subscription! Use code RESCUE when ordering. Offer expires December 15, 2013.
Sign up takes a mere 4 easy steps
Pick your Plan
Get Great Recipes
Shop and Save
Relax and Enjoy
Be sure to check out eMeals.com, follow on Facebook, Twitter, and Pinterest
You may also like this sandwiches!                               Mini Muffuletta