Bourbon Marinated Grilled Chicken Kabobs
have a rich, deep and slightly sweet flavor.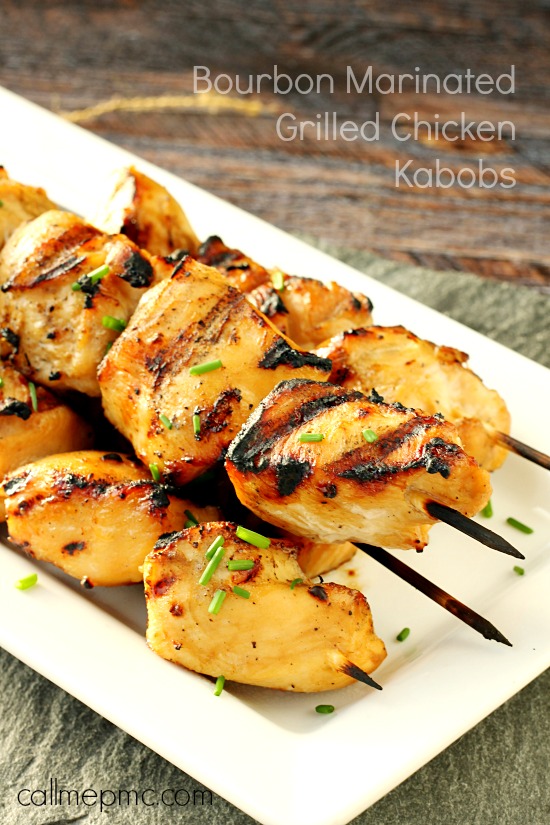 First, don't be discouraged if you have children and think you can't serve this because it has alcohol in it. The alcohol burns off and leaves a distinct flavor in its place. This chicken is safe to serve to children.
If you make kabobs, I would remove the chicken chunks from the skewer before serving to children. If your kids are anything like mine, they'll use anything as a weapon sword!
Like I said, bourbon leaves a deep, rich distinct flavor. I don't really like to drink bourbon unless I'm watching my team in 30 degrees weather. It would have to be a serious game for me to sit in 30 degrees! Like, it would mean we're either in a big bowl game or the national championship. And, we haven't been in the national championship game since the 60s, so, there's that… I digress, we were talking about drinking bourbon, I mean, cooking with bourbon.
I love a two-part recipe. I like to marinate this before I get the boys from school. By the time we get home, they do homework and whatever other activity they have, the chicken is ready to grill and dinner is quick and easy.
Another thing, you don't have to make kabobs with this marinade. I do because let's face it food on a stick is fun and my kids eat better if I have the fun factor. You may want to use chicken breast or chicken tenders. You can even use bone-in, skin-on chicken breasts; it would be awesome!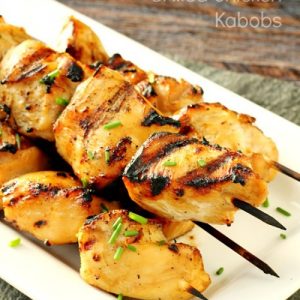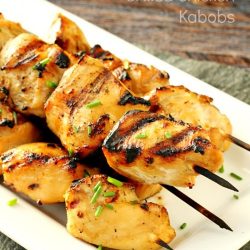 Bourbon Marinated Grilled Chicken Kabobs
Bourbon Marinated Grilled Chicken Kabobs have a rich, deep and slightly sweet flavor. Bourbon adds a unique flavor when grilled to meats.
Ingredients
2 to 2 1/2

pounds

boneless

3/4

cup

soy sauce

1/2

cup

bourbon

1/4

cup

Worcestershire sauce

1/4

cup

water

2

tablespoon

canola oil

3

garlic cloves

minced (or 3 tablespoons)

3

tablespoons

brown sugar

2

tablespoons

ground black pepper

1/4

teaspoon

fresh ginger

minced

1

teaspoon

salt

4

skewers
Instructions
If using wooden skewers, soak in water at least 10 minutes before grilling.

Cut chicken into 2 inch chunks.

Add soy, bourbon, worcestershire, water, oil, cloves, brown sugar, pepper, ginger and salt to bag and smush to combine. (Yes, 'smush' is an official cooking term.)

Place chicken in a bag and roll around in marinade to cover chicken.

Place in a bowl and refrigerate 30 minutes up to 4 hours.

Grill, covered with grill lid, over med-high approximately 4 minutes per side. Grill time will vary greatly depending on how large of chunks you have and how hot your grill is. Wathc them closely. Test with a thermometer, chicken will be done when temperature reaches 155 degrees F. Allow the chicken to rest 5 before cutting. Temperature will rise while sitting to about 160 degrees F.
Recipe Notes
Recipe from Paula @CallMePMc.com All images and content are copyright protected. Please do not use my images without prior permission that includes copying the ingredient list or entire recipe and posting in the comments on Pinterest. If you want to share this recipe, please simply link back to this post for the recipe. Thank you, Paula
More awesomeness! (click picture for recipe)