Slow Cooker BBQ Beans cooked low and slow to bring out the best flavors!
Slow Cooker BBQ Beans, you know, "Baked Beans", except I always make mine in the slow cooker. They taste the same and a slow cooker heats up the house less not to mention uses less electricity!  Since I usually make them in Summer that's a big deal in the Mississippi heat!
So everything goes in the big hot tub of a slow cooker and cooks, except the bacon, it will not get crisp in the slow cooker. The only thing I hate more than slimmy, uncooked bacon is potato salad…and beets…and brussel sprouts. I'll stop there.
My mother made a variation of these beans for years, I have tweaked her recipe until I have them just the way WJ and I like them.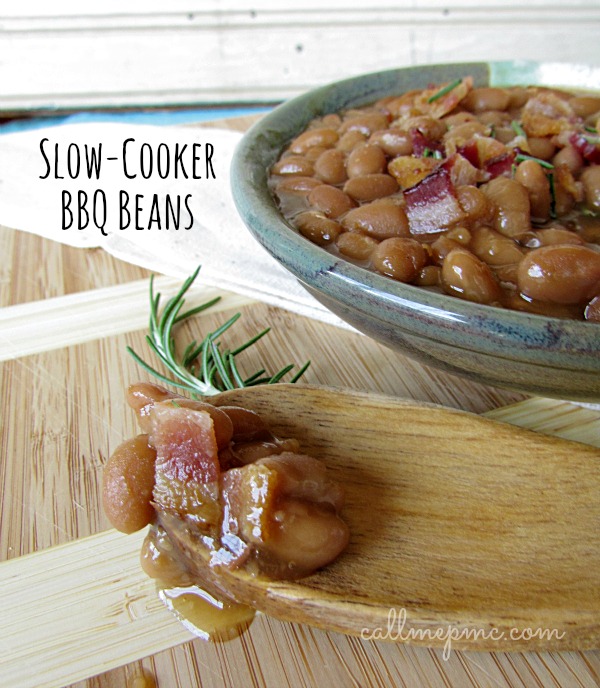 This week is Crock Pot Week, I'll be sharing slow-cooker recipes all week. We even have a giveaway for you! If you have slow cooker recipes to share, please link them at the bottom of this post!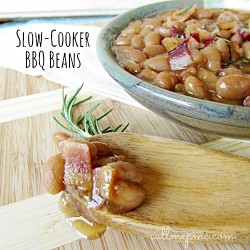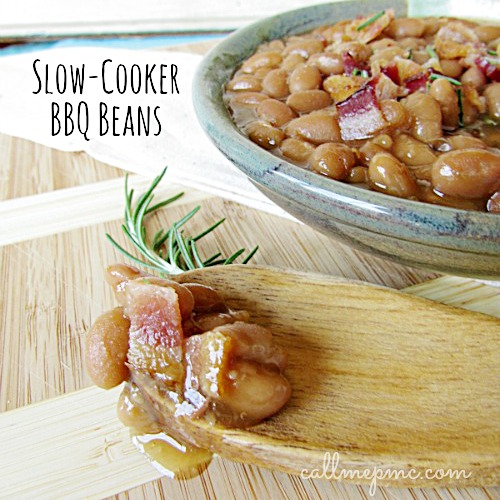 Slow Cooker BBQ Beans
Ingredients
1/2

c

molasses

3

T

Dijon mustard

2/3

c

ketchup

1/4

c

chipotle chiles in adobo sauce

2

large cans

28 oz pinto beans

1/2

tsp

salt

1/2

tsp

freshly ground black pepper

6

slices

crisp cooked thick cut bacon, chopped

1

T

fresh rosemary

minced
Instructions
Process chipotle chiles and sauce in a blender or small food processor until smooth. Put molasses, ketchup, mustard, chipotle mixture, beans, salt, pepper and rosemary in a slow cooker. Cook on low 3 hours. 15 minutes before serving add all except 2 slices of bacon and stir.

Serve in small crocks and top with reserved bacon.
I make BBQ Beans every time we smoked ribs or Boston butts. Some things just go tother. We can't have one without the other. Other sides dishes you may like with ribs and butts are:
Roasted Garlic Mashed Potatoes 
Three Ingredient Hashbrown Casserole