Slightly sweet and savory, Southern Cheesy Jalapeno Bacon Skillet Cornbread, is full of smokey bacon, spicy jalapenos, and cheese. Alone or as a side, this cornbread recipe is delectable!

Light and moist, Southern Cheesy Jalapeno Bacon Skillet Cornbread is filled with great flavors. I like to serve it with 'country-style' vegetables, as well as chili, stew, and vegetable soup.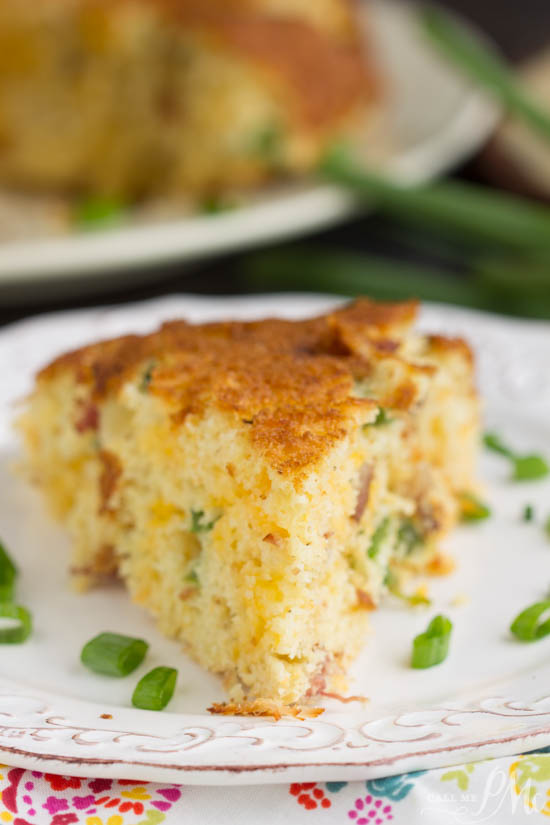 Being a Southern girl, I've had many different variations of cornbread. Growing up I had straight-up cornbread with no cheese, bacon, or sausage added.
Here are some more cornbread recipes you may like.
As well, the preparation can vary the taste and texture. I like a thick cornbread that crispy on the outside. I get this by pouring the batter in a super-hot cast-iron skillet. I always cook cornbread in a cast iron skillet. This one measured 9 inches in diameter. If you don't have a cast-iron skillet, you can use 9-inch square or 9-inch round pan as long as the sides are 2.5 to 3 inches tall.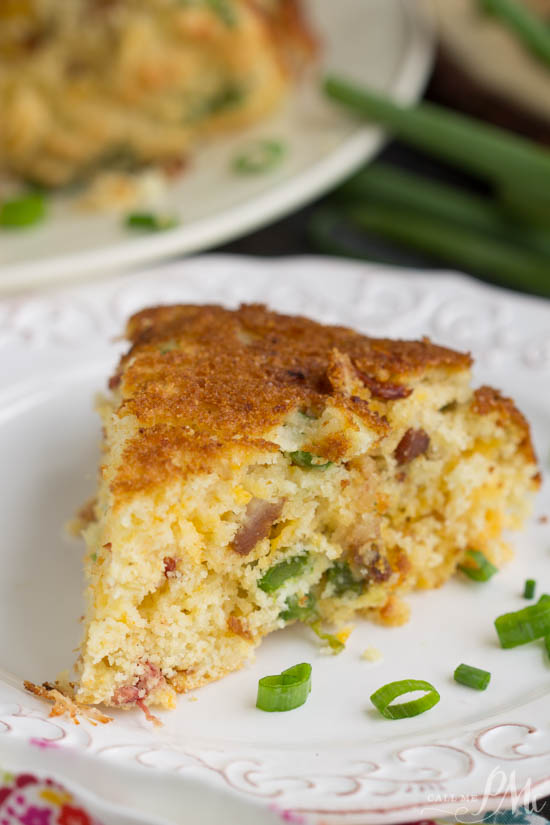 I'm a big cheese fan and put two cups of shredded cheddar cheese in this recipe. If you don't like cheddar, use your favorite cheese or leave it out altogether. As well, you can simply reduce the amount of cheese to one or 1.5 cup of cheese.
Furthermore, feel free to use more or less chopped jalapeno. I used one large jalapeno which measured about 1/3 cup. Also, jalapenos vary greatly in the level of heat they contain so I recommend tasting it before adding it to your recipe. You can then adjust the amount based on heat.
Then, of course, you can leave the bacon our or put more in. I added about 1 cup of cooked, chopped bacon. You'll want to cook it crisp so it doesn't become soggy in the batter. Additionally, you could add chopped ham to this instead of bacon.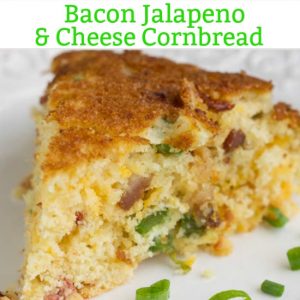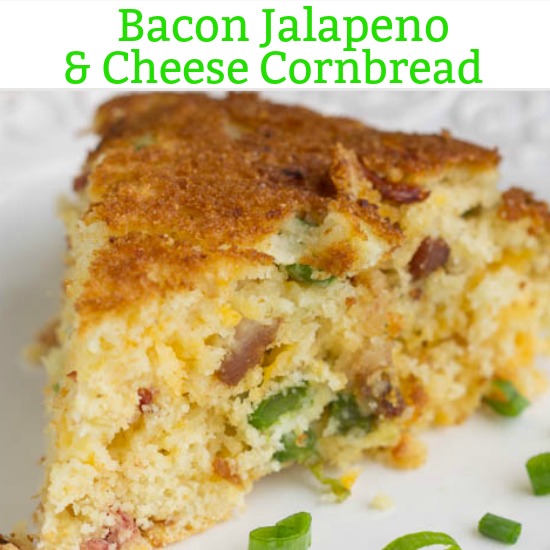 Print
Southern Cheesy Jalapeno Bacon Skillet Cornbread
Yield 8 slices
Southern Cheesy Jalapeno Bacon Skillet Cornbread is ever so slightly sweet. It's full of smoky bacon, spicy jalapenos, and creamy cheese. Alone or as a side, this cornbread recipe is so good!
Ingredients
6 slices of bacon, cooked and crumbled
1 large jalapeno, diced (about 1/3 cup)
1 small onion, diced (about 1/2 cup)
1 cup cornmeal
1/2 cup all-purpose flour
1 cup whole milk
1 tablespoon sugar (optional)
1 tablespoon baking powder
1/2 teaspoon salt (adjust if your bacon is salty)
2 large eggs, beaten
1/4 cup butter, melted
2 cups shredded cheddar cheese
2 tablespoon vegetable oil
Instructions
Preheat oven to 425 degrees. Place oil in skillet and place skillet in oven while the oven is preheating.
Saute onion and jalapeno in bacon drippings 3 to 4 minutes or until they begin to soften.
Cook and crumble bacon
 In a bowl combine cornmeal, flour, baking powder, salt, and sugar.
Combine milk, eggs, and butter in another bowl.
Pour milk mixture, onions, and jalapenos into dry ingredients and stir until just combined.
Stir in cheese. Do not over stir.
Pour batter into hot skillet.
Bake 23 to 25 minutes. Top will not get very brown. Cornbread is done when a wooden pick inserted into the center of the cake comes out clean or with dry crumbs.
Notes
Recipe from Paula @CallMePMc.com All images and content are copyright protected. Please do not use my images without prior permission that includes copying the ingredient list or entire recipe and posting in the comments on Pinterest for Facebook. If you want to share this recipe, please simply link back to this post for the recipe.
Courses side
Cuisine Southern