Sometimes you just need a good, hearty, stick-to-your-ribs meal.
I'd say this Steak Escape Steak Sandwich qualifies!
Make these soon!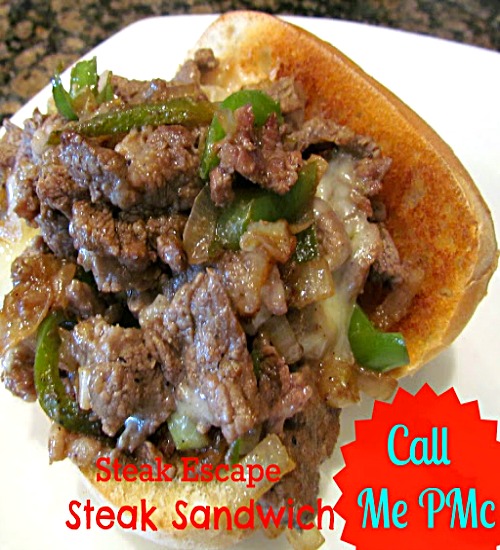 Prep all your ingredients before you begin cooking for this recipe.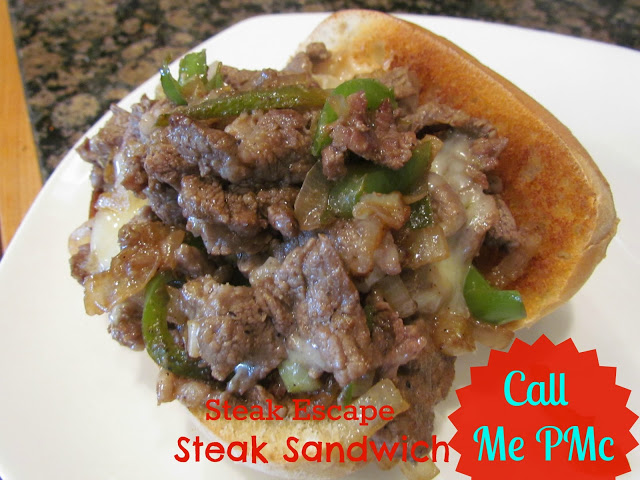 It doesn't take long for the steak to cook, you will not have time to slice the
veggies or cheese before the steak is done.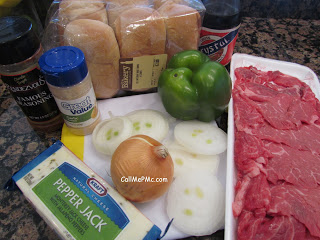 The Team – steak, cheese, onion, pepper, garlic salt, steak seasoning, soy sauce, rolls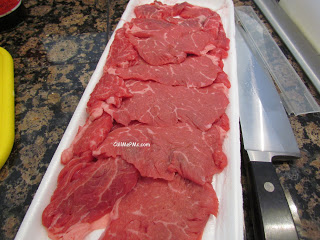 The store had this labeled as 'cheese steak beef', think Philly cheese steak.
It is actually thinly sliced Chuck Eye steak or roast.
Chuck Eye steak and Chuck Eye roast are the same thing, just packaged and sliced differently.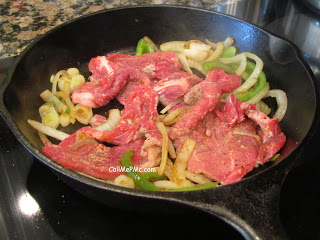 Season the meat and vegetables. Heat your skillet to med-high and toss in the meat & veggies.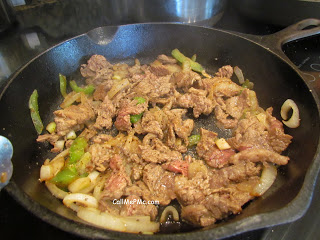 Toss to cook and cut up the steak as it cooks with two spatulas or knives
kind of stirring and cutting as it cooks.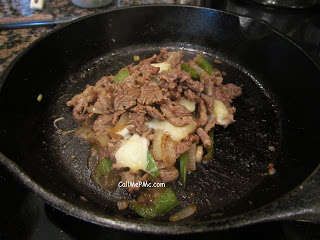 When steak is almost done, add cheese and allow to melt.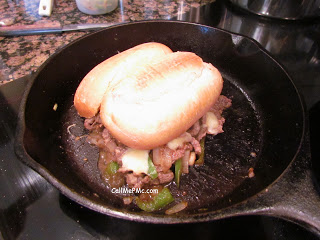 I toasted the bun first then place it on mixture. With a large spatula
'scoop and turn' the mixture onto the bun.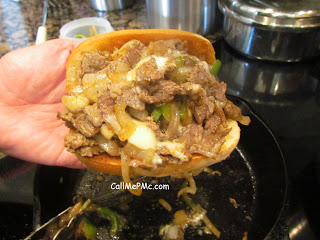 Like this! And it's really full!
You will either need a really big mouth for this sandwich or a fork and knife!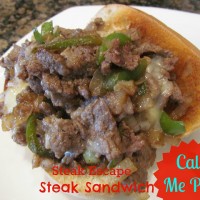 Print Recipe
Steak Escape Steak Sandwich
Ingredients
For one generous sandwich on a 4-inch hoagie roll:
Thinly slice chuck eye steak

about 2 slices or 4 oz

onion

2 slices or 1/4 c

pepper

2 slices or 1/4 c

mushrooms

if desired (1/4 c)

cheese

we used pepper jack, use your favorite or whatever you have on hand- 2 slices

buns

hoagie rolls, hamburger buns

garlic salt

1/4 tsp

pepper

1/4 tsp

steak seasoning

we used Rendezvous brand 1/4 tsp

soy or Worcestershire sauce

4 or 5 dashes

canola oil

1 T
Instructions
I like my meat-to-veggie ratio 3/4 meat to 1/4 veggies, but make it to fit what you like.

Slice onions and peppers in thin strips. Season steak with garlic salt, pepper, steak seasoning and soy or Worcestershire sauce. Heat a skillet to medium high. After it gets hot, add the oil, when oil begins to ripple add meat and veggies. Toss and stir mixture cutting meat with two spatulas or knives as you turn. Cook beef to medium rare. Add cheese over mixture and allow to melt. Meanwhile toast bun. Lay toasted bun on top of mixture and using a large spatula scoop and turn the mixture onto the bun. Serve immediately.
Notes
Recipe from Paula @CallMePMc.com All images and content are copyright protected. Please do not use my images without prior permission that includes copying the ingredient list or entire recipe and posting in the comments on Pinterest. If you want to share this recipe, please simply link back to this post for the recipe. Thank you, Paula
For more scrumptious recipes, fun projects, and exciting news, subscribe to Call Me PMc
Facebook, Twitter, Pinterest, Google+, Bloglovin'