Roasted Cheesy Garlic Spaghetti Squash is combined with a few simple ingredients for a fantastic healthy side dish that goes with everything.
PIN this recipe to make later!
Uhm, why hasn't anyone told me how good spaghetti squash is? This is totally one of those vegetables like Brussels sprouts and butternut squash that I would not have liked when I was younger, but, wow, just, wow!!! Since first testing recipes with spaghetti squash, I've gone back to the store and bought them multiple times now! I find myself daydreaming of what I can stuff in them!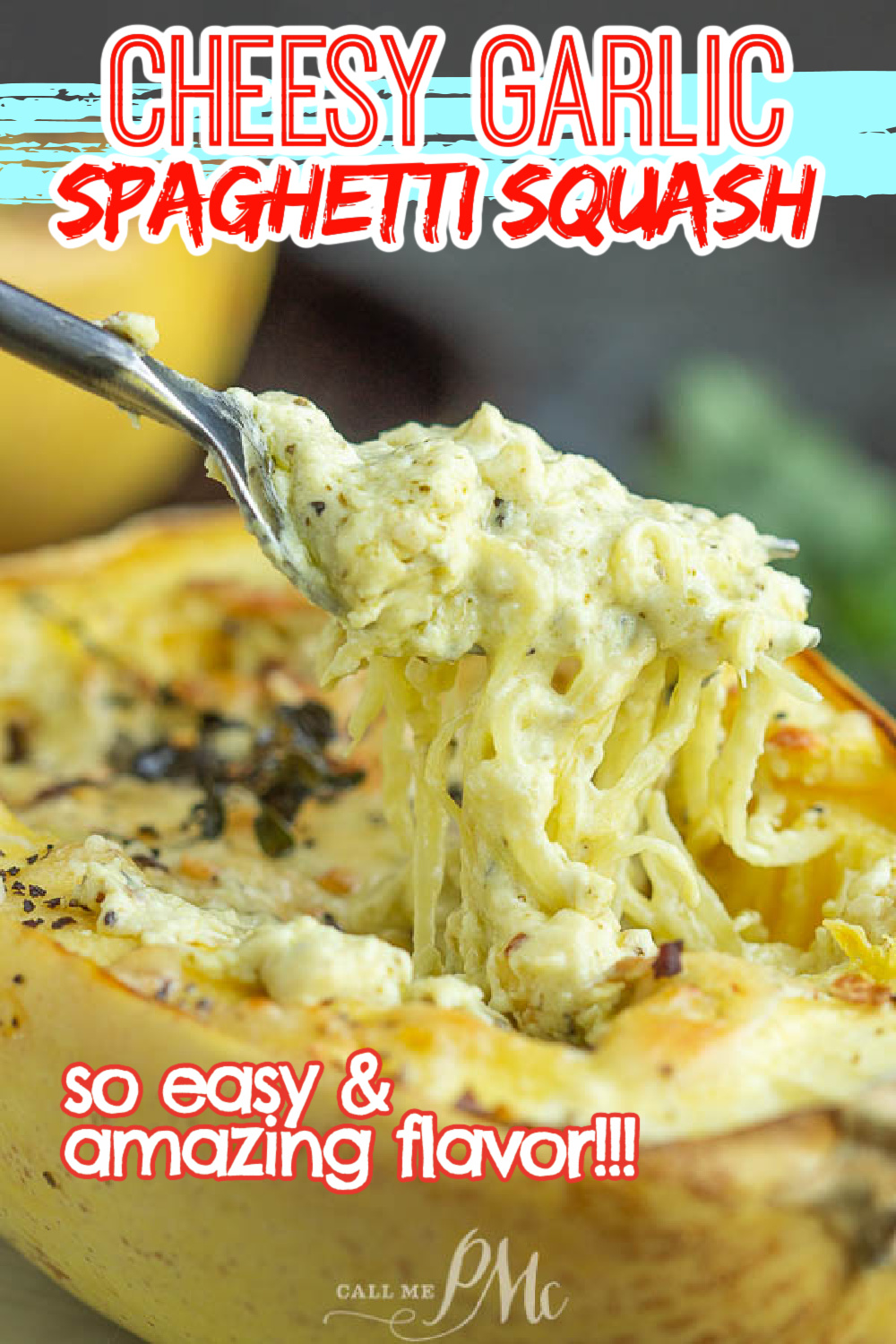 So this was my first attempt at roasting spaghetti squash. I played it safe with cheese, cream cheese, and pesto. Flavors I knew I'd love. I found that they needed a good sprinkle of salt and pepper. As well, they took longer to roast than I anticipated. But, all is well that ends well and it ended pretty dang tasty!
Here's what I did.
CHEESY GARLIC SPAGHETTI SQUASH
If you're new to the spaghetti squash game, here are a few nifty facts.
It's a winter vegetable and it really does separate into spaghetti-like strands after it's cooked. As well, it's naturally slightly sweet and buttery tasting without adding anything. (Literally, I'm eating this as I type and, coincidently, making a mess on my notes! It's so worth it though.)
This vegetable is just so dang easy to cook too! Other than popping a potato or sweet potato in the microwave, spaghetti squash is one of the easiest items to cook. You can simply slice it in half, season it, and roast it in the oven.
Spaghetti squash is a low-carb alternative to actual spaghetti. It's very versatile because it takes on whatever seasoning you add to it just like pasta.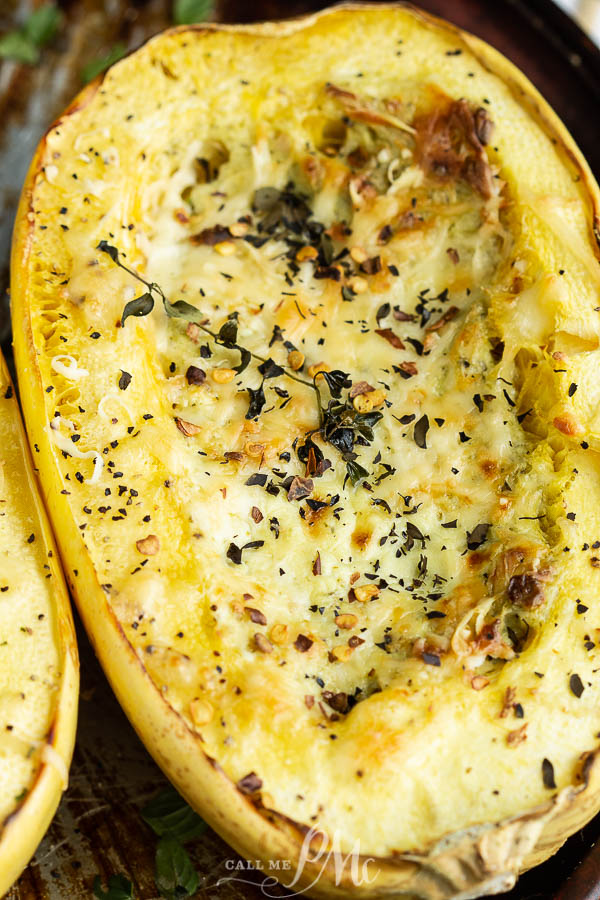 NUTRITIONAL FACTS
Spaghetti squash is low in calories and carbs but high in fiber, vitamin C, manganese, and vitamin B6. As well, it's rich in antioxidants, It also contains small amounts of thiamine, magnesium, folate, calcium, and iron.
TIPS AND MORE
First, spaghetti squash is large and cumbersome. It's just not easy to handle but I learned a nifty trick. Microwave the squash for a few minutes in the microwave. This makes them much easier to cut in half. Also, be sure you're using a sharp chef knife. I dull knife is much more dangerous than a sharp one. (I'm going to link some of my favorite chef knives below. They make great gifts!!)


I didn't want to make a roux so I chose cream cheese for the creamy base. Then I shredded white cheddar, mozzarella, fontina, and parmesan.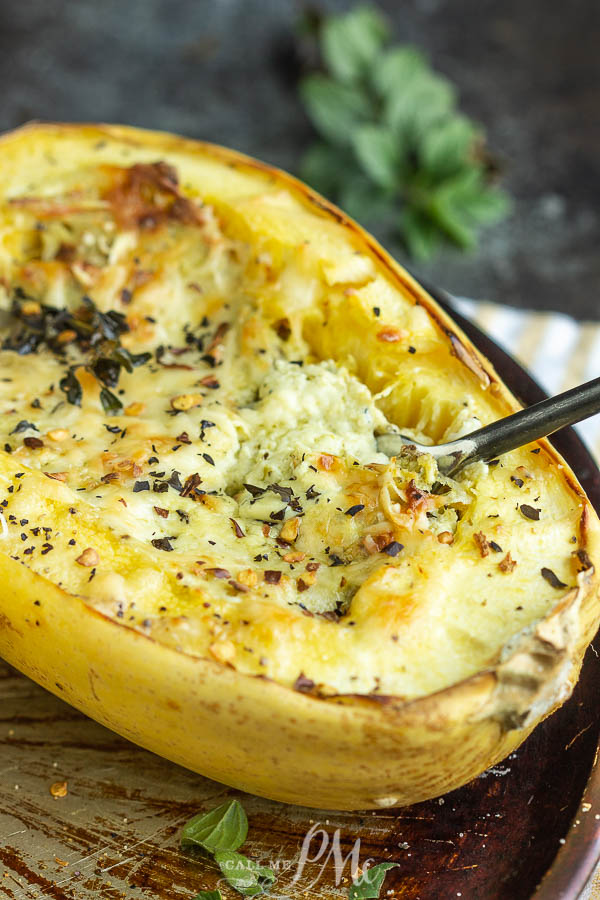 HOW TO MAKE CHEESY GARLIC SPAGHETTI SQUASH
You can use more or less of any of these ingredients to suit your taste. As well, you can sub any of the cheese. However, I don't recommend replacing the Parmesan. It adds so much flavor.
Microwave the squash and cut it in half.
Scrap the seeds out.
Sprinkle the inside with salt and pepper. Add red pepper if you want.
Mix the cheese, pesto, and cream cheese.
Cover with foil and bake.
Remove from the oven. Stir the cheese mixture into the squash.
Enjoy!
And that's just how easy it is!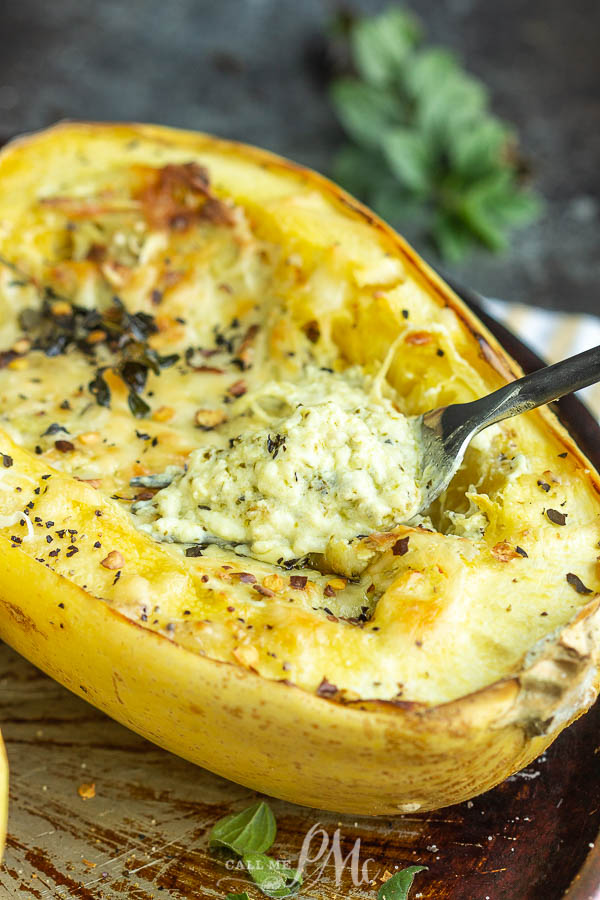 MORE TO MAKE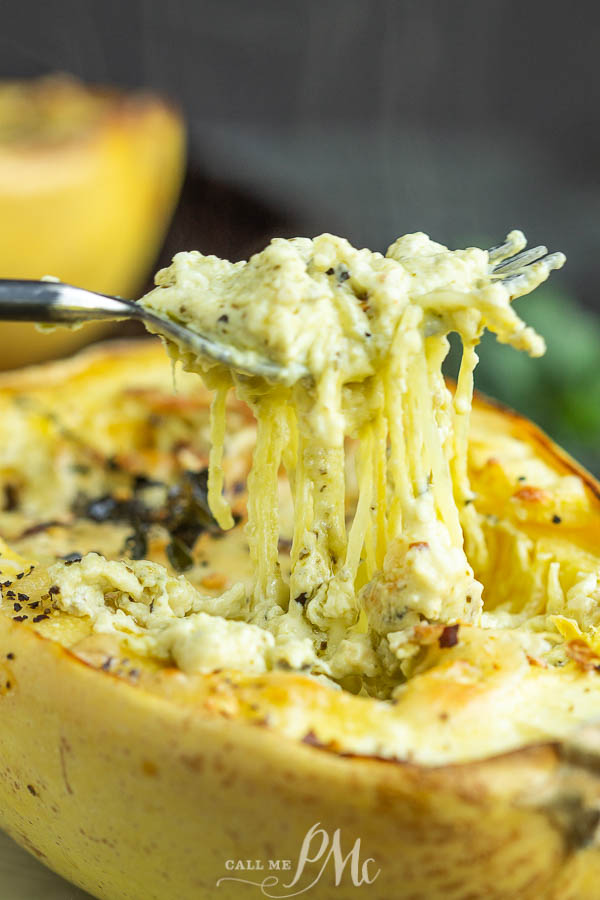 Got any questions? I'm happy to help. If you enjoy this recipe, I hope you'll leave a comment with 5 STARS. Thanks!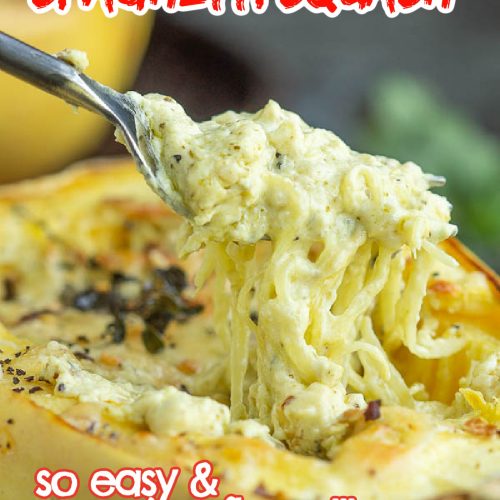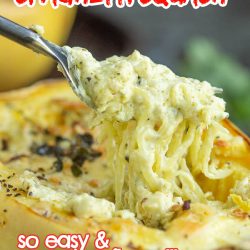 Ingredients
1

medium

spaghetti squash

4

ounces

cream cheese

½

cup

fontina

shredded

½

cup

provolone

shredded

¼

cup

mozzarella

shredded

2

tablespoons

Parmesan

grated

2

tablespoons

pesto

homemade or store bought

1

teaspoon

garlic

minced

½

teaspoon

salt

¼

teaspoon

ground black pepper

⅛

teaspoon

red pepper flakes

2-3

sprigs

fresh thyme
Instructions
You can use more or less of any of these ingredients to suit your taste. As well, you can sub any of the cheese. However, I don't recommend replacing the Parmesan. It adds so much flavor.

Preheat the oven to 425° F. Microwave squash a few minutes in the microwave and cut in half.

Remove the seeds and season with red pepper flakes, salt, and pepper.

In a medium bowl, mix together the cream cheese, garlic, pesto, fontina, mozzarella, provolone.

Place the squash in a baking dish. Season the inside with salt and pepper.

Evenly divide the cheese mixture between squash. Top with parmesan and loosely cover the squash with foil. 

Bake the squash for 30 minutes. Remove the foil and continue baking the squash for another 20 to 30 minutes, depending on the size, or until the squash is tender and the cheese is golden brown and bubbly.

Mix the cheese with the squash and serve.
Notes
Half the squash makes a meal. You may want to cut the half in half if you're serving this as a side.
Nutrition
Calories:
712
kcal
|
Carbohydrates:
40
g
|
Protein:
29
g
|
Fat:
51
g
|
Saturated Fat:
27
g
|
Polyunsaturated Fat:
3
g
|
Monounsaturated Fat:
12
g
|
Cholesterol:
139
mg
|
Sodium:
1709
mg
|
Potassium:
700
mg
|
Fiber:
8
g
|
Sugar:
17
g
|
Vitamin A:
2455
IU
|
Vitamin C:
12
mg
|
Calcium:
760
mg
|
Iron:
2
mg
Tried this recipe?
Please take a moment to comment letting me know how you liked it & consider giving it a 5 star rating. I love hearing from you!
Also, you can also find great recipes here and Weekend Potluck.