Nine Compound Butter Recipes and suggested uses. This is a 5-minute recipe that kicks up the flavor of whatever you pair it with.
Compound Butter is another name for Herb Butter. Butter enriched with herbs and seasonings elevates an everyday meal into a gourmet meal.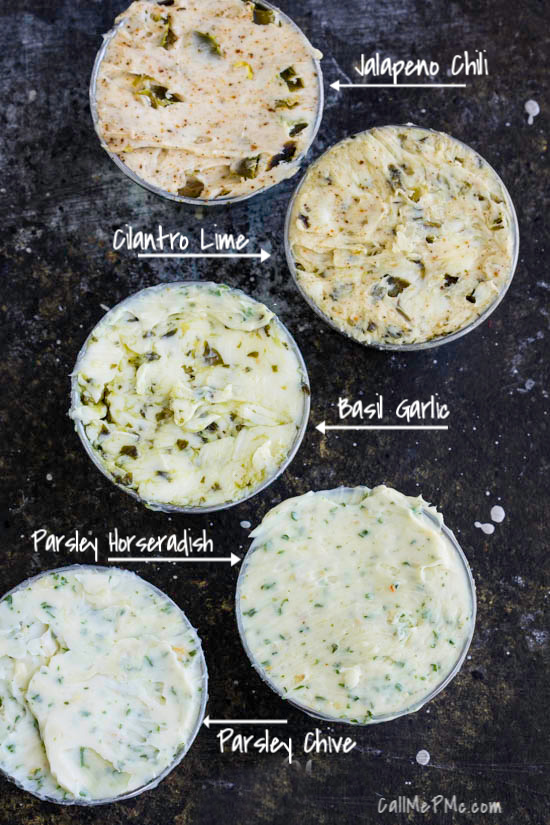 Compound Butter is an amazing low-carb condiment and perfect for those following the keto diet. They add amazing flavor to fish, steak, chicken, vegetables, corn, bread, etc.
The basic ingredient is butter mixed with herbs, spices, or other ingredients.
Herb Butters also make a wonderful homemade gift!
Make sure all the ingredients have reached room temperature before mixing them. In a medium bowl, mix the softened butter and your spices, herbs, and other ingredients. Alternatively, you can mix it in a food processor.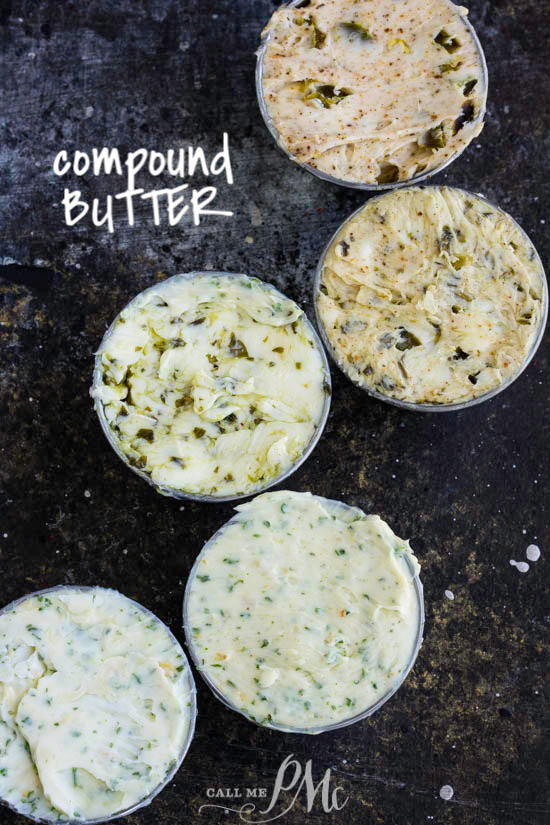 Compound Butter Recipes
Parsley-Shallot Butter
1/2 cup unsalted butter, room temp
1 shallot, minced
2 Tablespoons minced fresh flat-leaf parsley
1 teaspoon freshly squeezed lemon juice
salt and pepper
Combine butter, shallot, parsley and lemon juice in a food processor or bowl. Blend.
There are a couple of ways to make compound butter. You can mix it and leave it in a container (these bowls are perfect). As well, you can roll the softened mixed butter in plastic wrap. Roll into a log about 1 and 1/2-inch thick and twist the ends to close. Refrigerate at least one hour or until firm. Remove from refrigerator and slice into 1/2 inch 'coins' when steaks go on the grill.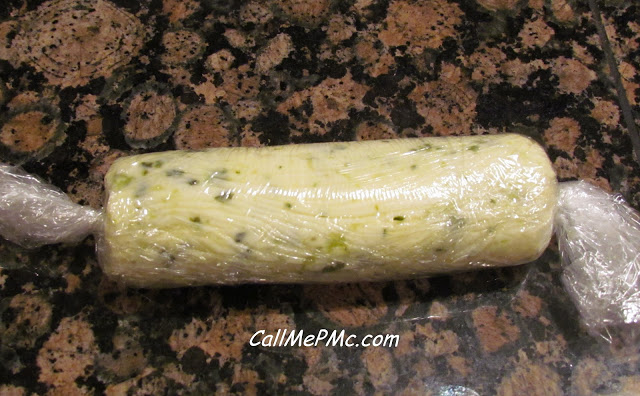 Combine the different recipes listed as described above. The same process will be used.
Chive-Mustard Butter
1/2 cup butter, room temp
1/2 teaspoon dry mustard
1 and 1/2 Tablespoons finely diced fresh chives
1/4 teaspoon pepper
Cilantro-Lime Butter
1/2 cup butter, room temp
1 teaspoon lime zest
2 Tablespoon chopped fresh cilantro
1 teaspoon fresh lime juice
Click "Make this recipe" for the full recipe!
Parsley Chive Butter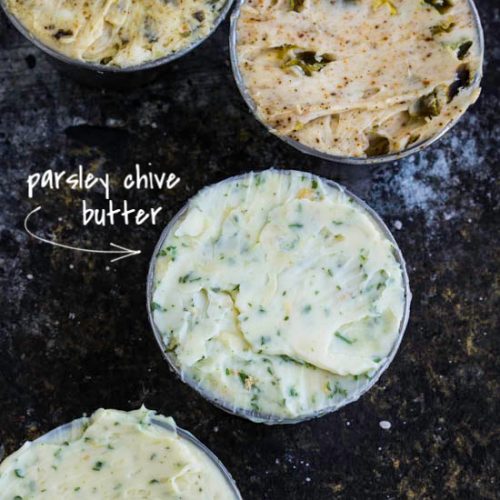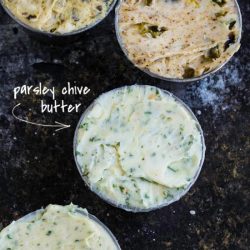 Parsley-Horseradish Butter is great on steak served with traditional baked potatoes and rolls.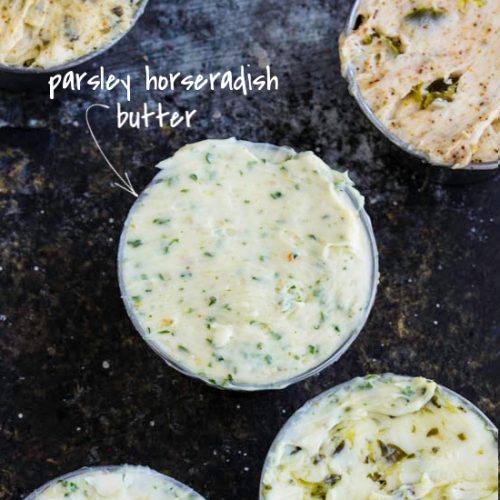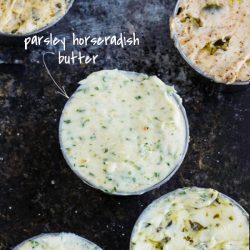 Basil Garlic Butter is one of my very favorite compound butter.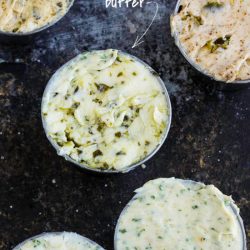 Jalapeno-Chili Butter  – Love this on Six Minute Flat Iron Steak served with Mexican Rice.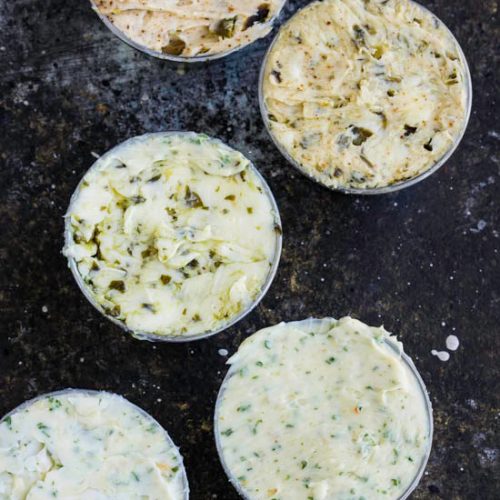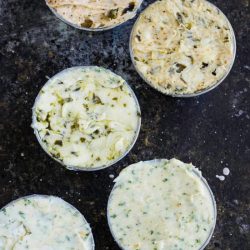 Jalapeno Chili Butter is a delicious compound butter with spicy jalapenos and chili.


make this recipe
Strawberry Butter is great on homemade sourdough bread, crusty French bread, pancakes, biscuits.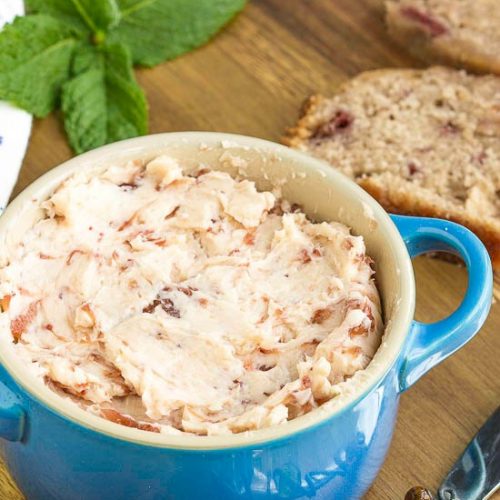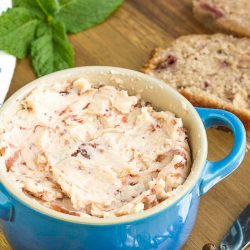 Made with just two ingredients Strawberry Butter is great on quick bread, yeast bread, biscuits, pancakes, toast, scones, and rolls.


make this recipe
Cinnamon Roll Filling is another name for cinnamon butter. It's glorious on toast, rolls, biscuits, and pancakes.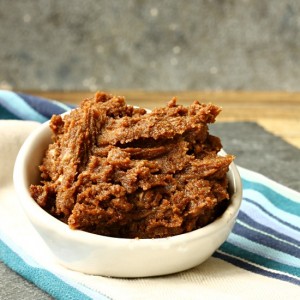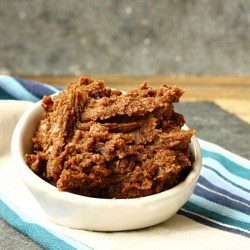 As an Amazon Associate, I earn from qualifying purchases. This post contains affiliate links. As well, if you click the link and make a purchase I will receive a small commission at no cost to you. Visit all my recommended products at Paula's Picks on Amazon. Finally, read my entire Privacy Policy here.